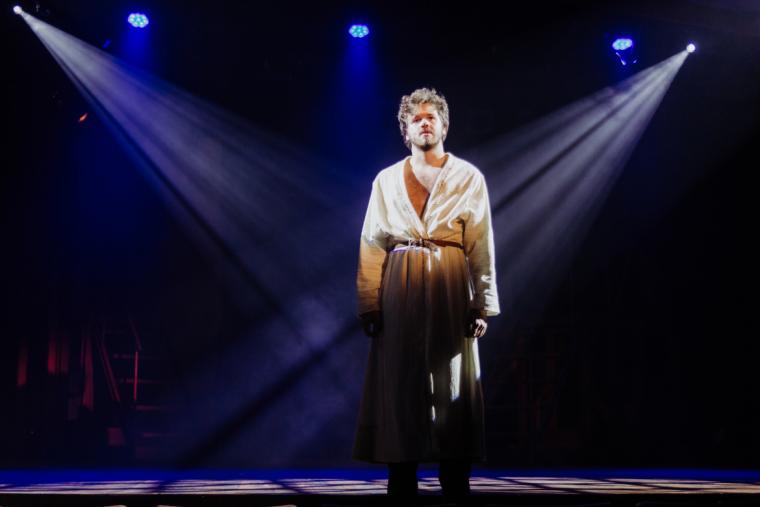 What's the buzz? I'll tell you what's happening over at the Clinton Area Showboat Theatre – the rock opera Jesus Christ Superstar. And from the outstanding choreography by Katie Johannigman to the stellar vocals by Jesus portrayer Ben Cherington, I was thoroughly entertained.
Directed by Matthew Teague Miller and with musical direction by Laurie Lewis, Jesus Christ Superstar has always been one of my favorites, and the Showboat cast pulled it off well. Composer Andrew Lloyd Webber's and lyricist Tim Rice's Broadway hit – a mostly sung-through musical with very little spoken dialogue – is loosely based on the Gospels' accounts of the last week of Jesus' life, as seen primarily from the perspective of Judas Iscariot (Nick Drake). We are introduced to Judas, a troubled soul hoping to figure out who Jesus really is. While he loves Jesus, he's also trying to distinguish between the man and the myth, convinced that J.C. is just a human being whom the other followers have become delusional about.
Beginning with his solo "Heaven On Their Minds," I felt as though Drake, at the June 7 performance, had a tough time connecting with the audience. Although his voice was strong and his dancing was awesome, I wasn't really feeling Judas' strength nor desperation until late in the show when he nearly loses his mind, at which point Drake seemed to really tap into his character's pain and desire to be accepted.
Jesus first arrives on the scene with the show's ensemble singing "What's the Buzz" dressed in great smocks, robes, vests, and flowing dresses courtesy of costume designer Scott M. Anderson. Cherington's falsetto, meanwhile, was so piercingly powerful that I was waiting to hear glass shatter, while his ability to change tempo and key while transitioning from song to song was most impressive. As for Claire Soulier, whose Mary Magdalene comforted Jesus with a lovely performance of "Everything's Alright," she was believable and well-cast in her role as the repentant prostitute who was falling in love with the man from Galilee.
Dom Pagliaro, who played the nefarious Caiphus, struggled to project his voice while trying to maintain an extremely low bass tone. While I hand it to Pagliaro for his effort, he's clearly more suitable as a baritone. As Caiphus' fellow antagonist Annas, Nick Berninger, a true tenor, nicely transformed into this haughty high priest dressed in a luxurious purple robe and gold crown. Berninger's stage presence and voice intonation were both right on point.
Hank von Kolnitz was another standout for me, doing a fantastic job in the role of Pontius Pilate – a character we love to hate. At one point on Thursday, the actor appeared to lose his balance during a quick set change in which he was positioned atop a high platform. But he recovered well, and wound up giving an engrossing portrayal, careening up and down those platforms like a genuine stuntman. Jahir Hipps (as Simon) and Jordan Reeder (as Peter) both had smaller roles, but truly shined with their style and agility. And Chris Streets tantalized the audience with his rendition of "Herod's Song," whose blend of flashy dance numbers and vicious sarcasm was rewarded by hearty applause.
As a whole, and despite some minor microphone issues, the entire Jesus Christ Superstar ensemble meshed well and delivered an outstanding night of music, drama, and dance, with the ensemble choreography including synchronized, hip-hop-style moves executed with crisp and concise follow through. Also worth mentioning was the exquisite lighting design by James Kyle Davis, who just blew me away with fabulous silhouettes of the cross and beautiful purple hues surrounding the actors. The lighting effectively set the tone for each scene and added that extra touch of professionalism, while scenic designer Steven P. House made great use of multilevel platforms and basic staircases that made for a more-than-satisfying viewing experience.
For me, Webber's and Rice's musical is one of those shows that I can watch repeatedly and never get tired of; I always find myself fascinated with its story of love and betrayal that also reflects the struggle of humanity in the pursuit of healing and purpose. Jesus is portrayed as a real person, with fears and doubts like the rest of us, but finally, as the Savior, he pays the ultimate price to save the very people who crucified him. The Clinton Showboat's Jesus Christ Superstar is worthy of my continued devotion.
Jesus Christ Superstar runs at the Clinton Area Showboat Theatre (311 Riverview Drive, Clinton) through June 17, and more information and tickets are available by calling (563)242-6760 or visiting ClintonShowboat.org.