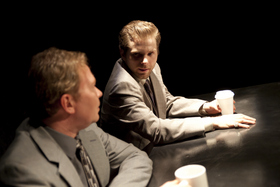 I want to see Thomas Alan Taylor bomb on stage, and actually fail to portray a role well. This isn't said out of disdain or schadenfreude, but because, to date, I've seen no evidence that he can do any wrong as an actor.
Taylor is an exceptional talent, successfully differentiating every single one of the roles he's performed in QC Theatre Workshop presentations. He can play drama (2013's A Green River). He can play comedy (2013's boom and Private Eyes). He can play dramatic comedy (2012's Red). So I'd like to see him fail just once, because such talent, which is on display yet again in the Workshop's Chicago-cop drama A Steady Rain, seems truly unnatural.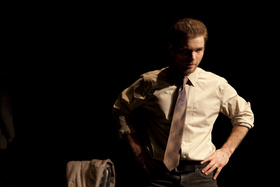 In his role as the policeman Denny, Taylor not only speaks with a flawless Chicago accent, but carries himself with a demeanor to match his tough-guy deliveries. There's a point in the story in which he's talking about shooting at a car after a drive-by bullet shattered his home's front window and critically injured his two-year-old son. During his re-telling, Taylor rolls his shoulders forward, as if he were flexing his lats in a display of strength, and he is Denny, both emotionally and physically. I believed every word Taylor said at Saturday's performance; it was as if he were sharing his own experience rather than speaking from playwright Keith Huff's script. I hurt for Denny throughout A Steady Rain, especially when he stared at his reflection in the set's mirror, forced to face the acts of perceived heroism that may have prevented his son from a fuller recovery, and when he left a crying Vietnamese boy in the hands of a man claiming to be the boy's uncle.
Taylor's performance is matched by the script, which is jaw-droppingly fantastic. With Huff's tale moving backward and forward in time, the author fluidly weaves in and out of conversations that are either directly spoken between Denny and his patrol partner Joey (Reader employee Mike Schulz) or shared with the audience in tandem or separately. Director Tyson Danner stages the piece with a pace that speeds up or slows down depending on the required emotion while keeping the two actors in almost constant motion, avoiding any potential dull moments for their lack of movement. Lighting designer Zach Meyer achieves a similar flow, with the lights cross-fading and changing yet doing so in artful ways that never distract from the performance. Even scenic designer Macy Hernandez's minimalist set is striking, notably for the white pattern of shattered glass painted on the black floor and partially up the rear wall.
While Taylor carries much of the weight of the story's dramatic elements, Schulz bears the responsibility of wielding its emotion. Though his accent tends to waver the more intense his speech gets, Schulz was responsible for the tears that welled up in my eyes at the climax of the plot. With his slow, careful delivery laced with obvious heartache (as evidenced by the tears in Schulz's own eyes), I had a hard time holding back my own emotions, given that I was so overcome by the feelings Joey both spoke of and displayed.
It says something about a production when it leaves you contemplating it on the way home, haunts your dreams, and occupies your thoughts throughout the next day, as is the case for me as I write this review. I'm still burdened with the heartache instilled in me by the QC Theatre Workshop's A Steady Rain, and in awe of the outstanding presentation of Huff's brilliant script. This one is well worth the emotional pain it inflicts.
(Full disclosure: My partner has been a financial contributor to the QC Theatre Workshop.)
A Steady Rain runs at the QC Theatre Workshop (1730 Wilkes Avenue, Davenport) through March 29, and more information and tickets are available by calling (563)650-2396 or visiting QCTheatreWorkshop.org.