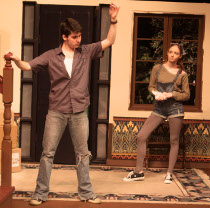 There's a lovely sincerity to the Playcrafters Barn Theatre's production of Bernard Slade's Moving, and Saturday's performance possessed such realism - with notable acting from every member of director Bryan Woods' cast - that I had to wonder how such an impressively produced piece could feel so mismatched with its script.
The problem, as I saw it, was that Slade's tale of a family's moving day is a comedy, and much of the humor was lost in Woods' realistic presentation. I mean, the show features a grandfather who talks about his sexual urges and brags about keeping his plant in constant bloom, not realizing it's plastic; a 15-year-old son who wants to lose his virginity before the moving truck pulls out of the driveway; a daughter who dropped out of college to pump gas simply because she's "mechanically inclined"; another daughter who unexpectedly returns from Oxford pregnant and looking like a rock-band groupie; and a moving man who, because he wants to dance, pliés his way between lifting assignments. This is overtly funny material, but Woods - whose humor I've enjoyed in several of his stage roles over the years - takes a subtler approach, turning Slade's comedy into more of a slice-of-life drama (at least in the first act, as the laughs do pick up a bit in the second).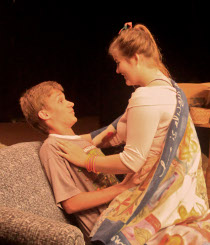 To be clear, Woods' gentle treatment of the script - despite failing to fully capture the urgency of the day - is still beautifully rendered, with its focus on the confusion and emotional impact of packing up and moving. Much of the piece's heart lies with Nancy Teerlinck, who portrays Barbara Hartman, the matriarch and owner of the family home. While Teerlinck was hilarious in the Richmond Hill Barn Theatre's Christmas Belles last year, she doesn't incorporate her natural comicality in this role nearly as much. That's both unfortunate, as the play could be funnier with her humor on display, and not so bad, because Teerlinck's fully shaped portrayal is so earnest that it's hard to find fault in such an emotional performance.
There's also notable chemistry between Teerlinck and Patrick Gimm, who matches her sincerity in his role as Barbara's ex-husband Charlie. When Charlie returns to tell Barbara that he left the "tart" he previously left Barbara for, and tries to patch things up between them, the two argue about selling the house, and the verbal spat between Teerlinck and Gimm had me believing the two had been married for years, their familiarity with each other evident in their argument.
Portraying their children, Alec Peterson blossoms when his horny teen Timmy pairs with girlfriend Lisa (played with sweet charm by Sydney Dexter) in a search for a hidden spot in which to do the deed; Stephanie Moeller's Jennifer - the tough, truck-fixing daughter - offers an amusingly butch moxie; and Liz Paxton's pregnant Hilary exudes a "c'est la vie" attitude that makes clear that her A-student's high-achievement life hit a breaking point, and that she's now taking life as it comes.
In addition to the "joys" of parenthood that Barbara is dealing with, she's additionally worried that her father Fred may be senile, with that unrecognized plastic plant a seemingly sure sign of it. (As Fred, Bill Peiffer adds a touch of soft humor to his aging but somewhat randy dad.) Barbara is also trying to handle the demands of pushy realtor Mavis Cruikshank, and enacting the role, Molly Wilkinson is one of two actors here who lean toward the sillier side of the script's humor, offering a frantic frustration that's more funny than fierce. The other actor who plays to the broad comedy is Steve Marriott, who, as moving-business owner Harry Picardo, incorporates a consistent Italian accent with inflections stereotypical of a man of lesser intelligence well-equipped for physical labor.
Alex Richardson manages to (thankfully) avoid caricature as a closeted gay man with dreams of being a ballet dancer, which the actor does by skipping the stereotypes typically employed for comic effect and, instead, playing the part with genuineness. And Cindy Ramos-Parmley offers a similar candor as Barbara's housekeeper Rosa, making the maid a stalwart anchor for the family, despite keeping a rather scandalous secret. With such nuanced performances from the cast, Playcrafters' Moving may not hit the right laugh notes, but Woods' production does impress nonetheless. At one point here, Barbara says, "It's kinda been a funny kind of day." Under Woods direction, this is also only kinda a funny kind of play, but it's definitely a memorable piece of theatre.
Moving runs at the Playcrafters Barn Theatre (4950 35th Avenue, Moline) through July 22, and information and tickets are available by visiting Playcrafters.com.