I sometimes joke that "God gave us friends to make up for family." But then another adage also comes to mind: "It could always be worse!" So if you think you have characters in your family, you may want to see the Richmond Hill Barn Theatre comedy In-Laws, Outlaws & Other People (That Should be Shot).
Written by Steve Franco and directed by Eugenia Giebel, In-Laws takes place on a blizzard-y Christmas Eve in a middle-class home in Brooklyn, where every year a family gathers for dinner. The play's extended clan consists of: sensible father Tom Douglas and his smart-aleck teen daughter Beth; a redneck uncle and fawning, intrusive aunt; their awkward teen daughter; an opinionated great-uncle and his clueless wife; and, outside the family unit, a nosy neighbor, a daughter's punk boyfriend, and that kid's mother and sister. When a pair of inept robbers intrude, the gatherers are alarmed, but soon carry on with their normal holiday tradition – much to the disbelief of the lead robber Tony, who fails to instill fear in his new "hostages." Personally, I felt the script could have been stronger, but if light comedy is to your liking, you will likely enjoy this family-friendly play.
As audience members, we are looking in on this family's home, and to the credit of Geibel and set designer Mike Skiles, doing so felt natural. Skiles' effective use of the theatre-in-the-round space boasted a living room that seated seven, a dining room table that seated 10, a kitchen area with full-size stove, a large lit Christmas tree, a front-door entryway, and a hall leading to the bathroom. Amazingly, the creative layout still left plenty of space for actors' movement. Lighting designer Jennifer Kingry also helped create separation of different areas with her use of darkening and brightening effects.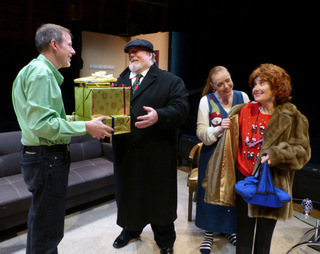 On Thursday, Don Faust and Faith Douglas, who play Tom and Beth, got off to a shaky start in their first scene with a few line stutters by Faust, and Douglas dropping the ends of her sentences, and talking so fast that Beth's snarky remarks didn't garner the expected laughter. But once they got past the opener, both settled into a comfortable rhythm; Douglas held her own as Beth's banter rang clear throughout the rest of the play, and Faust portrayed the only "sensible" figure around with an ease that anchored the cast of zanies. Unfortunately, Ann Keeney-Grafft's Aunt Bunny and James C. Amble's Uncle Bud were characters from New Jersey, but didn't sound like it. If the intent was to present "cloying aunt" and "macho uncle" stereotypes, these characters were underdeveloped, and even dressed in her bad Christmas sweater and his camo, they were a bit subdued for my tastes. They also needed better lines.
But then: Enter Great Aunt Rose, as played by Diane Greenwood. Her New York accent was spot-on yet understandable and her comedic timing impeccable, and my favorite Greenwood moment was actually an ad lib. While everyone was seated eating dinner, a pesky fly could be seen hovering around the real food on the table. Greenwood, true to Rose's character, removed her sparkly gold pump, swatted at the fly, and then slammed her shoe down on the table just as Aunt Bunny was finishing one of her inane comments. Now that was funny!
John Van De Woestyne's turn as Rose's long-suffering husband Leo was imposing but not bombastic, with the pair's frequent bickering becoming the bane of Nicholas Waldbusser's Tony. Besides Greenwood, Waldbusser was the only actor with a New York accent, and it complimented his portrayal of this nervous thief whose plans have gone awry. Even though the script had Tony doing things that didn't make sense (such as forcing Tom to invite friends and neighbors into the house), Waldbusser played his desperate, exasperated robber with feisty energy. Meanwhile, as his dim-witted partner Vinny, Jim Strauss exuded the right amount of pathos and simplicity while delivering some of the script's funnier lines, with Vinny never quite understanding why the robbers remain with this family.
With its wacky characters (some wackier than others) in an absurd situation In-Laws, Outlaws & Other People (That Should Be Shot) resembled a Carol Burnett skit, albeit one stretched by Franco into a 105-minute play – and one clearly enjoyed by opening night's laughing audience. So if you like your holiday comedies light, with no sex, no drugs, no swearing, just a smidgen of violence, and only about 10 seconds of a Christmas carol, this should be your cup of eggnog.
In-Laws, Outlaws & Other People (That Should Be Shot) runs at the Richmond Hill Barn Theatre through December 11, and more information and tickets are available by calling (309)944-2244 or visiting RHPlayers.com.