Stephen King. John Mellencamp. T Bone Burnett.
Three instantly recognizable names. Three iconic artists with enormous fan bases and lengthy lists of professional accomplishments. And, taken together, three of the last people you might expect to find collaborating on a musical for the stage.
That, however, is precisely what book-writer King, composer Mellencamp, and producer/musical director Burnett did, and what resulted was Ghost Brothers of Darkland County, a song-filled, supernatural Southern Gothic that had its world premiere last year in a run at Atlanta's Alliance Theatre.
Yet when local audiences see the show - which they'll be able to when the touring Ghost Brothers of Darkland County lands at Davenport's Adler Theatre on November 3 - it won't be quite the same one that audiences in Atlanta experienced. For one thing, this current production stars noted film and television actor Bruce Greenwood, famed for roles in such big-screen entertainments as Thirteen Days (in which he played JFK during the Cuban missile crisis), Flight, Capote, and director J.J. Abrams' Star Trek movies, which found the actor portraying the (Spoiler Alert!) doomed Captain Christopher Pike.
"This was just something that was so different for me," said Greenwood, during our phone interview, about his present, momentary break from filmmaking. "But I thought, 'Well, you know, yeah - let me take six weeks off and go have a different kind of fun.'"
But an even more crucial difference between the Ghost Brothers of Atlanta and the Ghost Brothers of its current, 20-city tour is that the musical in question is, technically, no longer a musical. It's now, as director Susan V. Booth explained in an e-mail interview, "a kind of live radio play" that "really is a whole new version of the show.
"We didn't just pack up the set and the costumes and hit the road," Booth wrote during the rehearsal process for Ghost Brothers' tour (which debuted in Bloomington, Indiana, on October 10). "The actors deliver the material around a radio mic, with very little else but their spirits and voices. ... It's ending up making the show much more powerful, by making it much more entwined with the audience's imagination."
"It's a really interesting format," Greenwood added. "It's a very spare environment. But of course, the environment of terror that Stephen creates is ... . The demon is between your ears, you know? It's not so much in your physical surroundings."
Landing the Fish
Booth currently serves as artistic director for the Alliance Theatre - recipient of the prestigious 2007 Regional Theatre Tony Award for "outstanding achievement by a professional, non-profit regional theatre" - and stated that getting to work on Ghost Brothers had been a dream long before she even knew of its existence.
"Years ago," Booth said, "I had been asked what projects I'd hoped to bring to the Alliance Theatre during my time there. I said I hoped to get John Mellencamp to write a musical, because I always thought that his songs were these brilliant character studies. A few years later, a mutual friend reached out to me and told me that he had, in fact, already written one, and that he'd partnered with no less than Stephen King.
"I started trying to land that fish then - and it only took another few years before the conversation began."
The collaboration between longtime friends Mellencamp and King (and, as of 2010, Burnett) began in 2000 with a true story told by the Grammy-winning rocker involving two brothers, a girl they both loved, an accidental killing, and a car crash. Over the next decade - and with Mellencamp providing bluegrass, gospel, and roots-rock voice for the characters - this tale morphed into a more recognizably King-ian narrative, complete with buried family secrets and a mysterious, Satanic entity referred to as "The Shape."
"The Alliance has a rich history of developing and producing new American musicals," said Booth, "so the fit was good. And as a Midwesterner who grew up reading King and listening to Mellencamp - and now living in the South - I felt like the world of the play made personal sense to me, so I put up my hand and said I'd like to direct."
Happily for Booth, "they were good enough to say yes." (In a 2011 press conference, King - as quoted by the Atlanta weekly Neighbor Newspapers - stated, "We wanted a place that was cosmopolitan but not out-of-touch with country roots. Atlanta seemed like the middle of the bull's eye.")
Yet Booth said it was clear even from the start of Ghost Brothers' 2012 rehearsals that the show - befitting its eclectic behind-the-scenes talent - wasn't going to be any kind of traditional musical-theatre experience.
"I think the silliest thing you could do, when you're working with three artists who are lions in their fields, is to try to shoehorn their talents into some existing mold," she said. "'Theatre works like this, so please conform.' Can you imagine what we would lose?
"No - this has been a process of leaning into the utterly unique DNA of these three guys in this project. And this concert tour feels like we've gotten closer than ever to what that wants to feel like."
Even Booth's description of the current Ghost Brothers as a "concert tour" suggests just how much has changed since the first Atlanta preview on April 4, 2012.
While the New York Times, in reviewing the Alliance Theatre production, praised "the witty, literate cackle of Mr. King" and admitted that "the show does resist cliché," it also wrote: "This sprawling show ... stitches together dynamic elements that never satisfyingly cohere." But Booth suggests that this issue has been solved through the simpler, and more evocative, telling of this tale in radio-drama format.
"I was delighted that we'd finally made the piece walk and talk," said Ghost Brothers' director of its Atlanta run, "and was ready to roll up my sleeves and figure out how next to refine and deliver it. What I think will appeal to audiences of this version is that, rather than doing all the work for you with elaborate special effects and staging, we're asking you to draw up around the story and do what we all do with a great Stephen King story - imagine the best, the worst, the most wild ride we can. I love the role the audience's imagination is asked to play in this version."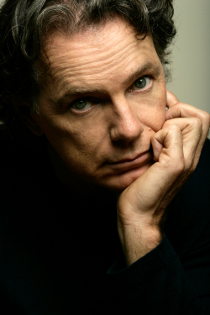 "Well, Hell, Yeah"
Among the characters added to King's interpretation of Mellencamp's true-crime story is that of Joe McCandless, the anguished father of Ghost Brothers' warring (and living) siblings, and a man routinely visited by ghosts of his own. The role, said Greenwood, promised to be a rich one, as Joe "was carrying the weight of a secret that he swallowed and kept down his entire life, since he was a child, and it altered his ability to navigate in the real world."
Greenwood, however, said that his initial interest in participating in the project stemmed from a pretty basic instinct. "I got a call from my agent, and my agent said, 'Look, they're doing this thing with John Mellencamp and Stephen King ... . Should we submit you?' And I went, 'Well, hell, yeah.'"
Although Greenwood has been a near-constant presence in films and television since the mid-1990s, with more than 60 credits since 2000 alone, the Canadian actor, as he said, is "no stranger to theatre. That's how I started out. I worked all across Canada. I did a bunch of musicals and did some touring stuff, and a lot of new plays - you know, just lots of stuff for 10 years before moving to L.A."
Yet while he has still made occasional returns to the stage over the years - such as his limited engagement in A.R. Gurney's Love Letters, which Greenwood performed this past spring for British Columbia's Blue Bridge Repertory Theatre - he felt the chance to tour with Ghost Brothers was definitely worth taking a six-week hiatus from Hollywood.
(And, he admitted, from Hollywood paychecks. "I'm taking a break from making money," he said with a laugh. "Which is fine. But if you've got a mortgage, you know, you've got to dole this kind of thing out ... sparingly.")
"Stephen's peopled this ... with a bunch of characters that have a lot of damage," said Greenwood of the performance opportunities provided by Ghost Brothers. "And you know, John has a particularly strong, spare voice, also, in terms of his writing. He tells bald truths. And this story is as much about the corrosive power of secrets as it is the redemptive power of truth."
Regarding his procurement of the role, which boasts haunting bluegrass-rock solos in numbers such as "How Many Days?" and "What Kind of Man Am I?", Greenwood said, "I fool around on the guitar and write a bit of music, and so when they asked me if I wanted to participate last year, part of what I had to do was send John a couple of songs. And I guess they thought, 'Okay, well, the guy can carry a tune ... . We won't give him too much heavy lifting, but ... .'"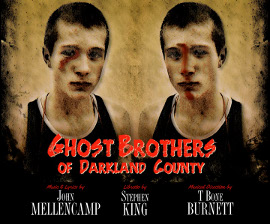 Booth, however, sees it differently. "Bruce Greenwood is obscenely talented," she wrote. "It's really kind of unfair. Fantastic actor who turns out to have this bluesy, killer, moving voice, and a kind of utterly vulnerable presence on-stage that makes you want to hold your breath."
Upon landing the role of Joe, Greenwood was first asked to join Booth and the show's creators in New York, where, the actor said, "we workshopped it for 10 days or so, which was really informative and fun. And then they tweaked it for another year," during which time the former Ghost Brothers musical became Ghost Brothers the staged radio drama - albeit one with gorgeous music.
"The songs are beautifully written," said Greenwood, "and they tie right into the story, which continues as the songs unfold. So now it's about bringing a certain physicality to those scenes that end in conflict, but doing it within the conceit of a radio play. There's not a lot of big sets. There's a bunch of actors on-stage, there's a bunch of foley actors on-stage, and there's a band. And the agony and the ecstasy - what little there is of it [the ecstasy] - basically takes place in the minds of the characters."
Consequently, the new Ghost Brothers of Darkland County does indeed suggest more of a concert than a musical for the stage, which, Greenwood said, extends to its participants' traveling schedule. "We're doing the whole rock-and-roll-style thing, where you do the show and then you get on a bus."
But the actor, laughing several times, admitted that he was looking forward to the experience. "We'll have to see just how easy it is to get decent rest, you know, and still manage to drink and have a lot of fun. It could be very tricky to figure out just how much we can drink and party and still show up - how we can balance the partying with actually doing a gig."
Booth, meanwhile, said, "What I love about this piece - and particularly this version of its staging - is that you simply can't compare it to anything else. There's no 'been there, seen that' going on.
"And I think that's what we all want these days, isn't it? Something that truly is new? That truly doesn't fall into some neat category? I think it's a ride the audience has never been on before, and that's what will continue to give it great life."
Ghost Brothers of Darkland County will be performed at Davenport's Adler Theatre (136 East Third Street) on Sunday, November 3, at 7 p.m., and tickets are available by calling (800)745-3000 or visiting AdlerTheatre.com.
For more information on the show, visit GhostBrothersOfDarklandCounty.com.