With its charm, high spirits, optimism, and infectiously fun tunes selected and arranged by Steve Przybylski, there's a wonderful specialness to playwright Warner Crocker's Southern Crossroads. And in the Circa '21 Dinner Playhouse's current production of the show, what's particularly special about what is already a good musical has a lot to do with director Curt Wollan's cast members, who have an apparent love for the material and exude a palpable enjoyment in their performance of it. This piece transcends traditional musical theatre in a way that's all too rare, pulling in its audience through a spell of song and hope.
Set in a small town in Virginia in 1933, represented by set designer Susie Holgersson's nicely dilapidated theatre front (the same one used in Circa '21's production of the musical last year), Southern Crossroads is a jukebox musical filled with Depression-era hits such as "Tom Dooley" and "Little Brown Jug." These songs are performed by The Greene Family Singers, who, upon arriving in town for their latest concert, discover their theatre has closed. With their hotel and train money seemingly stolen, they set up and perform their concert in front of the shuttered venue - trying to earn enough donations to buy train tickets to make it to the next stop on their tour - and also find themselves facing the local bank owner and his wife, who try to prevent the Greene family from performing.
Although a musical, the songs in Southern Crossroads are not used to further the story. Instead, the story is a device used to add theatre to what's otherwise a concert of early-20th Century hits, and with its live music played very well by the cast members, the show would hold up as nothing but a concert. However, the addition of a story and the setting add to the fun, particularly as the audience gets to participate by booing Tom Walljasper's comical-bad-guy banker William while he's ordered around by his marriage's pants-wearing Matilda, played with deliciously condescending self-importance by Lora Adams. (On Saturday, Walljasper was also up to the challenge of bantering with certain, obviously inebriated members of the audience.)
It's Rachelle Walljasper, however, who best embodies the tone of the piece in her ever-hopeful, sincerely friendly Shannon, the lone female member of the Greene Family Singers. Walljasper is a pleasure to watch as she meekly floats around the stage thoroughly charmed by the music that she and her brothers are playing, clapping and dancing and offering kind words of encouragement and wisdom when needed. As yin to her yang, Ryan Edward Wise's Rusk is the voice of pessimism and distrust in the family, with an effectively cold nature and darkness about him. His spirit does lighten up while performing music, although Rusk's chilling rendition of "House of the Rising Sun" is particularly strong.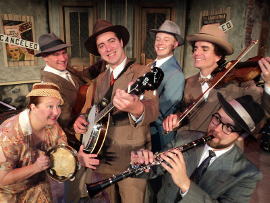 Andrew Crowe and Jody Alan Lee offer similar changes in tone as the brothers-of-few-words Ewell and Willis, whose faces beam with smiles the neighbormoment their music starts, and return to blank states after the last notes are played. Tristan Layne Tapscott's Loomis, though endearing in his love for Kimberly Steffen's forlorn, doe-eyed Marian, is most noteworthy while drumming - especially considering that, with Loomis having pawned his drum set in another town, he's using found objects such as metal buckets, bottles, chains, and a fire hydrant. As the leader of the family (and musical group), Brad Hauskins impressively balances his Wallace's appropriate air of authority with a stubborn refusal to change. And Pat Flaherty offers a memorable turn as Jake, the maintenance employee of the now-closed theatre and narrator of the story, whose character grows endearing through his humility and eagerness.
Yet it's the energy of the musical performances that truly drives Southern Crossroads, and Saturday's audience was on its feet at the end of the show, eagerly accepting the Greene Family Singers' offering of an encore. The act was befitting of Circa '21's production, which is just as charming as last year's presentation, and worthy of an encore run so soon after its debut.
Southern Crossroads runs at the Circa '21 Dinner Playhouse (1828 Third Avenue, Rock Island) through September 21, and more information and tickets are available at (309)786-7733 extension 2 or Circa21.com.