David Lindsay-Abaire's Rabbit Hole won the 2007 Pulitzer Prize for drama, one year after winning a Best Actress Tony Award for Sex & the City star Cynthia Nixon. A movie adaptation is currently being filmed, starring Academy Award winners Nicole Kidman and Dianne Wiest.
When Geneseo's Richmond Hill Barn Theatre opens its presentation of Lindsay-Abaire's acclaimed play on August 13, it will feature popular local performers Jessica Nicol, Denise Yoder, and Susan Perrin-Sallak, and boast direction by Bryan Tank, much admired for his work in such Quad City Music Guild productions as Jekyll & Hyde, Evita, and the recent All Shook Up.
And, as Tank himself understands, Richmond Hill's Rabbit Hole is still no slam dunk.
"I remember reading a synopsis for the show," he says during a recent interview, "that started with, 'After the death of their small child ... .' And I thought, 'Well, we've lost half of the audience already.'"
Yet while Rabbit Hole does concern a young couple coping with the loss of their four-year-old son, Tank stresses that what makes Lindsay-Abaire's piece so affecting lies in "this surprising sort of humor that runs throughout. It's really this beautiful tale of how we, as people, do rise above the things life throws at us."
And Angela Rathman, a veteran Richmond Hill performer and current president of the theatre's board of directors, adds that while the storyline "is a heartbreaker, I think the overall tone of this play is about healing. And there are funny moments in it, just like in any sad part of a person's life, you know? Someone dies, but you get together with the family, you still laugh, you have memories, you have discussions and lighter times.
"The play is not," she says with her own laugh, "constant, pounding sadness."
To be sure, though, the play is sad. (Reviewing the Broadway production, the New York Times' Ben Brantley wrote that Rabbit Hole "inspires such copious weeping among its audience that you wonder early on if you should have taken a life jacket.") And given that the majority of Richmond Hill's theatre-in-the-round fare consists of more conventionally audience-pleasing comedies, mysteries, and thrillers, a staging of this modern and rather weighty drama might seem like a considerable risk.
The Richmond Hill Players, however, have hardly shied away from risks, with recent seasons including such challenging and divisive works as Tom Stoppard's esoteric, time-jumping comedy Arcadia, David Auburn's math-genius drama Proof, Hugh Whitemore's espionage thriller Pack of Lies, and Steve Martin's surreal farce Picasso at the Lapin Agile. And Rathman -- who has participated in more than 20 Richmond Hill productions since her Barn Theatre debut in 1992's The Last of the Red-Hot Lovers -- says that her organization prides itself on the diversity of its options, even if that diversity doesn't necessarily ensure sold-out houses.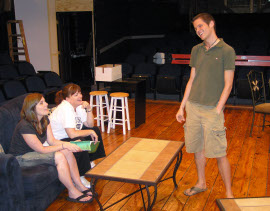 "We have no wish to offend our loyal audience base" of largely senior-citizen patrons, says Rathman. "And that's sometimes a dicey thing for us. It is difficult these days to find a 'new' play that doesn't include some offensive language or adult situations. Richmond Hill has a tradition of not being too risqué, and we want to continue to do that; the newer theatres in the area are more able to do those kinds of shows." (Laughing, Rathman says, "We couldn't do [David] Mamet or something like that over here. We'd have to cut the swearing and there'd be no script left.")
Still, she continues, "we also want to remain current and attract young audience members, and attract younger directors and actors and volunteers, and so we have been trying to find scripts that are a little more progressive. And Rabbit Hole is a good example of that."
It was Tank -- a Rock Island native who lived in Geneseo during his middle- and high-school years, and is currently pursuing a master's degree in ,usic at the University of Northern Iowa -- who first brought Lindsay-Abaire's play to Richmond Hill's attention.
"I've always been someone who just loves reading scripts," he says, adding that while living in New York in 2006, "I was out at a bookstore, and I picked up my usual three or five scripts, and [Rabbit Hole] was in the pile. And I just fell in love with it, because it's so realistic, and it's not overly sentimental. It could be such a cheesy sort of after-school special, but it's not at all. It's exactly the opposite of that."
What he found most moving about the play, says Tank, was that "it's not really a story about loss. I think it's more a story about human resilience. There's something so powerful about seeing these characters hold their emotions in and still move forward -- although it's not moving forward in the sort of hopeful, optimistic way that you expect. It's moving forward how we actually move forward in life, which is through baby steps, you know?
"And there's so many comedic elements to the play," he continues, stating that the show's characters frequently offset their discomfort and pain with recognizable, familial teasing and funny, oftentimes darkly funny, banter. (Izzie, the sister of Rabbit Hole's grieving mother, opens the production with a hilarious description of her recent bar brawl, and their mother, Nat, offers a high-comic rant on the notorious "Kennedy curse.")
"They all have their moments of humor," says Tank. "It's like the way we all sort of handle catastrophic events a lot of times -- the first thing we use, 'the best medicine,' is humor."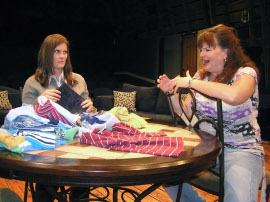 While he was instantly taken with Lindsay-Abaire's piece, Tank says, "I knew I didn't see myself in the play at all. But I knew I wanted to direct it," even though his directorial experience was limited to small-scale productions and scene work at Geneseo High School and Decatur's Millikin University (from which Tank received his undergraduate degree).
Yet after returning to Illinois in 2007, Tank submitted Rabbit Hole, and his direction of it, for consideration at the Richmond Hill Barn Theatre -- the venue where he made his community-theatre debut in 1997's The Foreigner.
"It was me and John VanDeWoestyne and Stan Weimer and Mike Miller," Tank says, listing some of the noted Richmond Hill veterans he worked with in that production. "Just the best possible way to start, and from then on, I was hooked."
Prior to his series of leading roles with Quad City Music Guild, Tank remained closely involved with the Geneseo theatre, and consequently, says Rathman, "We were thrilled when he submitted to direct. Richmond Hill people were very familiar with Bryan. He did several shows here in high school, and when he came home from school in the summers, and it's been a joy to watch him go from that kid to the guy he is now."
(It's also been a joy, Rathman adds, for more personal reasons. "I've known Bryan since he was in middle school. He used to babysit my kids; he was one of their favorite babysitters. One night, we came home from going out and our entire living room had, like, sheets spread over every piece of furniture, because they decided to make the biggest fort in the world.")
Rathman says that Tank's lack of directorial credits wasn't a serious issue, especially given his previous experience with Richmond Hill's theatre-in-the-round -- a space that can pose challenges for even the most seasoned of directors. "If you're unfamiliar with Richmond Hill," she says, "and have not done shows there, or haven't been involved in a show in our facility, we ask that you mentor under a director before you do your own show. That you be their stage manager or an assistant, to get an idea of how things work. But we are very open to accepting new directors."
Yet as far as Rabbit Hole itself was concerned, Rathman admits that while the play-reading committee adored the script, "there certainly was some trepidation" about how well the show might play at Richmond Hill.
"A lot of audience members just want to go and laugh and have easy theatre that doesn't really make them think -- that's just a good time," she says. "And so you do worry about that. Certainly comedies sell better, and while we try to find shows that actors are going to be interested in auditioning for, sometimes the shows that actors love are not the shows that audiences love.
"But on the other hand, we think it's important that we do a show like this. Theatre, in many ways, is supposed to reflect life or make you think about life, and I think Rabbit Hole serves that purpose."
Plus, Rathman continues, "sometimes those [risky] shows pay off. Picasso was a good show as far as making money. But it was a strange show, and not everybody's cup of tea. With Arcadia, we had a faction of our audience that just didn't get it. But that's okay, you know? Not every one of those shows is a stellar box-office success, but that's not our mission.
"Our mission isn't to go broke," she adds with a laugh, "but our mission also isn't to just make a profit. We're a not-for-profit theatre. Our mission is to give the community a place to perform and something to watch. And we're proud of the work we do here."
Tank, meanwhile, is proud to be making his community-theatre directorial debut at his old stomping grounds, and is particularly pleased to be directing Rabbit Hole in the Barn's theatre-in-the-round setup, which he calls "probably my favorite type of stage to see plays on. God, when the spacing is right, I just don't think there's anything better than theatre-in-the-round, because it makes the audience feel like they're literally in the middle of these people's lives -- much more than with a proscenium or any other type of stage.
"Seriously, we've been having more fun with this than anyone should have," he says with a laugh. "Because of the space, and the [show's] humor, and because of the layers and layers of subtext that are in this play. It's incredible. So until we open the show -- and probably beyond -- I think we'll still be in this fun place of discovery."
He laughs again. "That's why we all do theatre."
Rabbit Hole runs August 13 through 23, with Thursday through Saturday performances at 7:30 p.m. and Sunday performances at 4 p.m. For tickets and information, call (309)944-2244 or visit RHPlayers.com.