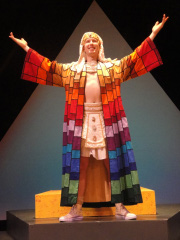 Driving home from the Circa '21 Dinner Playhouse on Friday night, after seeing the opening performance of the musical Joseph & the Technicolor Dreamcoat, I asked my husband, "Can you honestly think of anyone who wouldn't like this show?" We couldn't. And I still can't. With its appealing confluence of technical effects, engaging storytelling, musical styles, memorable characters, and lessons in forgiveness, humility, and hope, even those grudging types who would rather be dressed in bologna and tossed into a shark tank than see a musical can find something in Joseph to laugh at, mull over, be inspired by, or appreciate on a sensory level.
This British musical was written in 1968 by Andrew Lloyd Webber and Tim Rice, and was popularized in America by the Broadway performance starring Donny Osmond. It's based on the Old Testament story about a motivated young man who suffers betrayal at the hands of his 12 spiteful brothers, and then uses his talent as a dream interpreter to fulfill his own destiny, and the most impressive aspect of the elaborate plot is the fact that every word of it is sung. There are no dialogue breaks to catch the audience up on important details - they're all tucked inside the clever lyrics of the 21 songs that range in style from country-western to '50s rock.
As the Narrator in Circa '21's production, Jennifer Stone was a captivating performer who maintained physical poise and authority throughout the performance. And in the lead role of Joseph, Don Denton deftly portrayed both the naïve amicability of the young dreamer and the confidence required of a second-in-command to the Pharaoh. (He succeeded at giving me goosebumps at the end of the wrenching "Close Every Door.") Other vocal stand-outs were Bret Churchill as Reuben and Nick Madson as the swarthy playboy Potiphar. I was less impressed by Circa '21 favorite Tom Walljasper, who was an appropriate choice for the more exaggerated qualities of Jacob, but who didn't have the dominating physical presence I would have preferred for the role of the Pharaoh.
It was clear that director/choreographer Ann Nieman, who also directed the theatre's 2005 production of Joseph, allowed the cast members to explore and have fun with their roles. She achieved an impressive fluency in the staging and transitioning of so many cast members - over 30, including the children's chorus - between each song. The only moments when I questioned her staging occurred whenever Joseph directed his lyrics or his reaction to another character's behavior toward the rest of the ensemble on stage, instead of toward the audience. While I don't believe he always needed to face front, like a performer in a talent show, I do think that as the lead performer in a musical, his facial expressions are an important gauge for audiences, allowing them to interpret the emotion behind each action.
Such a vibrant show calls for vivid costumes, but I found that some of the clothing choices, though colorful, were lacking in function. The gold-sheaf dresses the wives wore had an unflattering slit that extended all the way up the back to their black underwear, and didn't seem like a practical choice considering the number of high leg kicks the young women directed toward the audience. If costume designer Greg Hiatt's intention for these dresses was that they serve as a neutral palette for each scene - the Egyptian palace, the Texas ranch, the American Bandstand-like arena - they achieved that much. But they also enforced the idea that these female characters were important only as interchangeable set pieces, instead of as the counterparts to the male characters, who wore bright and occasionally garish garb - too bright, it seemed, since their garments should have seemed drab in comparison to Joseph's vibrant new coat.
These costuming issues, though, were just a bothersome snag in my opening-night experience at Circa '21. I wouldn't have cared if the actors had performed in gunnysacks up there, Joseph's songs made me feel so darn good.
For tickets and information, call (309)786-7733 extension 2, or visit Circa21.com.
Jill Walsh recently completed her master's degree in creative writing, and prior to graduate school served as the River Cities' Reader's theatre reviewer from 2002 to 2005.