Friday, February 17, through Saturday, February 25
The Mockingbird on Main, 320 North Main Street, Davenport IA
A Pulitzer Prize-winning play that inspired an Academy Award winner for Best Picture, Alfred Uhry's beloved comedy-drama Driving Miss Daisy enjoys a February 17 through 25 run at Davenport venue The Mockingbird on Main, the work described by The Theatre Guide as "both touching and amusing … a classic with enduring themes, characters, and heart."
With Uhry's acclaimed play set in Atlanta and spanning a 25-year period from 1948 to 1973, Driving Miss Daisy opens not long after the stubborn, elderly Southern widow Daisy Werthan crashes her new car into the neighbor's garage. Consequently, her eternally patient son Boolie forces her to take on a chauffeur, and he employs Hoke Coleburn – much to his mother's chagrin. At first, Daisy refuses to rely on a Black man to get her from one place to the next and Hoke spends two weeks sitting in the kitchen doing nothing. Gradually, however, Daisy's prejudices are broken down and, against all odds, he becomes a friend, not that his employer would ever admit it. As Daisy teaches Hoke to read and write and Hoke encourages Daisy to let go of her insecurities, this delicately funny drama explores the experience of aging while the world around you moves forward at a swift pace.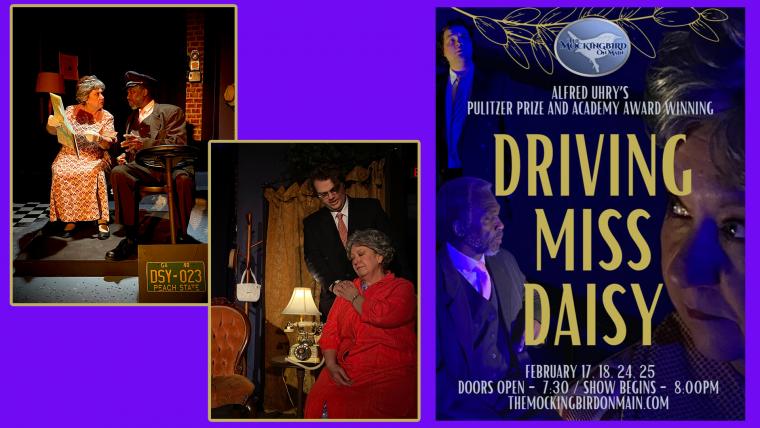 Directing Driving Miss Daisy for the Mockingbird is Jeremy Littlejohn, a castmate in the venue's productions of A Christmas Carol and Murder at Mistwell Manor who also helmed the Circa '21 Dinner Playhouse's recent Elf: The Musical. With Littlejohn's three-person cast all making their Mockingbird debuts with Uhry's Pulitzer Prize winner, Daisy Werthan is portrayed Shelley Walljasper, a frequent Circa '21 performer seen in such presentations as Disaster!, Disenchanted!, and The Savannah Sipping Society. Joseph Obleton portrays Hoke Coleburn, the actor familiar from Playcrafters Barn Theatre presentations of A Lesson Before Dying, Second Samuel, and A Woman Called Truth. And Daisy's son Boolie is enacted by Bradley Heinrichs, who was seen in such recent Augustana College productions as Noises Off, The Madwoman of Chaillot, and The Curious Incident of the Dog in the Night-Time.
Driving Miss Daisy runs in downtown Davenport from February 17 through February 25, with performances on Fridays and Saturdays at 8 p.m. Admission is "pay what you can" ticket pricing at the door, and more information and reservations are available by visiting TheMockingbirdOnMain.com.