I love going to the Circa '21 Dinner Playhouse – not just for the great shows, but for the memories that the old theatre brings. And on the day after Thanksgiving, I had the good fortune to take my eight year-old grandson John to the opening matinée of Fancy Nancy Splendiferous Christmas, Circa '21's current children's musical under the direction of Andrea Moore.
During our lunch, John was wide-eyed as he asked me about the building's features and was surprised to learn that, when I was his age, I used to see movies at the same theatre. Circa '21 has lots of history and traditions – one of them being their annual Christmas kids' show – and we were both excited to be present for the day's program.
I had not previously heard of the Fancy Nancy books and Googled them prior to my visit, and found there are dozens of titles related to this character (with the official Web site reflecting quite a related franchise). This particular Nancy story, based on the book by Jane O'Connor, was written by Cara Lustik and Matthew Hardy with music by Randy Klein and lyrics by Matthew Hardy, and features all of the required elements of the holiday: finding Christmas trees and special presents, making trimmings for the tree, and decorating cookies. Its story is told mostly in music, and its score contains clever and somewhat sophisticated lyrics, always accompanied by lively, happy beats.
Fancy Nancy Splendiferous Christmas centers on the titular grade-schooler (portrayed by the talented Miranda Sloane) and her desire for an extra-special Christmas-tree topper. But Nancy doesn't have enough money to buy it, so with the permission of her parents (nicely played by Sarah Hayes and TJ Besler), she opens a boutique in her living room where she plans to sell clothes to raise some cash.
Nancy's first (and only) customer is her next-door neighbor Mrs. Devine (an elegant Antoinette Nebinger – née Holman – dressed all in white from pantsuit to hat). Watching the scene in the boutique with the très chic Mrs. Devine – who had just returned from Paris, no less! – harkened me back to my girlhood fondness for the tale of Eloise at the Plaza, which, at the time, made me feel quite sophisticated. And the Splendiferous Christmas musical numbers were charming throughout. But despite the presentation's positives, my appreciation for the show didn't hold up throughout its entirety, due to its lackluster writing.
The tale's conflict concerns a pretty gold necklace that Mrs. Devine finds in Nancy's boutique. Unfortunately, Nancy's little sister Jojo (energetically played by Caitie Moss) had fallen in love with it prior to Mrs. Devine's visit. But even though Nancy had observed Jojo's interest, she sells it to Mrs. Devine, apparently without giving a second thought to her sister. And from thence there is a problem, for Nancy decides she has to somehow get the necklace back from Mrs. Devine for Jojo.
Creating a gripping narrative for young children that also captures the imagination of adults is no mean feat. The elements of good theatre, however, are the same no matter the age group, and to me, Nancy's decision to retrieve the necklace seemed to come from nowhere, as she hadn't previously shown any internal conflict about selling the necklace her sister loved. Had we seen this, the story would have had elements of drama and tension, and could have resulted in some character development. None of that, however, was present.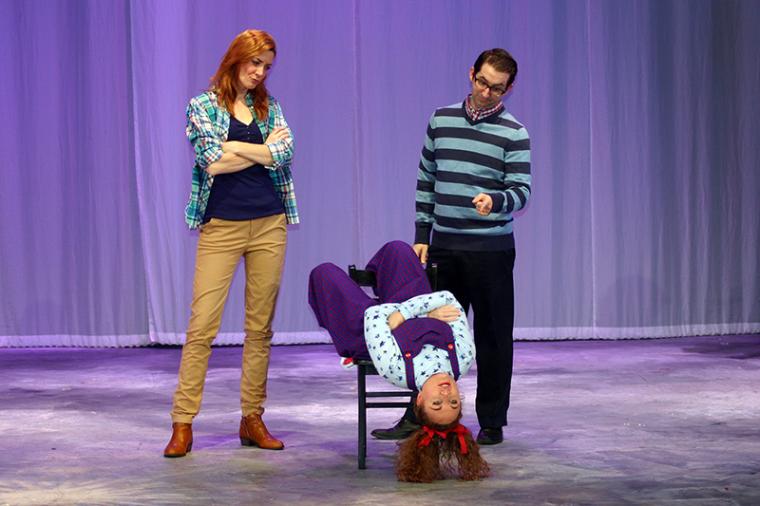 The story progresses with Nancy's attempts to get the necklace back from Mrs. Devine, and as events unfold, the unexpected happens, resulting in a creative solution. Yet despite the story's O. Henry-like twists and the show's charming musical numbers, the story still didn't provide me with a lot of satisfaction.
And although my grandson was politely attentive, his reaction afterwards was also quite lukewarm. Having enjoyed previous Circa '21 presentations, he was anticipatory in the beginning. But other than Brad Hauskins' lively entrance as Grandpa, which made him sit up in expectation, Splendiferous Christmas, I'm afraid, didn't manage to keep him very well-engaged, either.
Yet that's not to say that this musical doesn't have its charms, or that it didn't have its admirers. During the performance, I often looked around to see the reactions of the young girls sitting at tables adjacent to ours, and it appeared that they were really engaged by the activities taking place on-stage, with their parents seeming very happy, as well. Judging by this, one could consider Fancy Nancy Splendiferous Christmas a success, for ours was really the sort of crowd that the story of Nancy and her sister and the necklace was written to please.
Fancy Nancy Splendiferous Christmas runs at the Circa '21 Dinner Playhouse (1828 Third Avenue, Rock Island) through December 26, and more information and tickets are available by calling (309)788-7733 extension 2 or visiting Circa21.com.