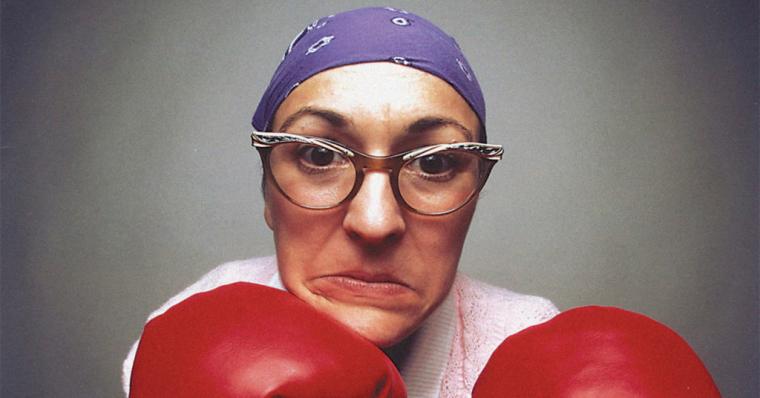 Thursday, March 8, 7:15 p.m.
Circa '21 Dinner Playhouse, 1828 Third Avenue, Rock Island IL
Making a local stop on her latest national tour, Kentucky-based comedienne and Southern Fried Chicks headliner Etta May brings her reputation as "The Queen of Southern Sass" to the Circa '21 Dinner Playhouse, her March 8 event – and her tour's title – promoting the low-rent pleasures of "Box Wine & Gas-Station Chicken."
According to her press-release biography, Etta May was born in Bald Knob, Arkansas, as the only girl in a family of 10 siblings, with her father a "potpourri farmer" and her mother "bedridden from constant child-bearing." In reality, as reported by North Carolina's Mountain Xpress, she's a highly in-demand constructed character who has been played for the last two decades by Des Moines native Brenda Ferrari – although it's Etta May who has received the career accolades, touring engagements, and awards.
The 1999 winner of the American Comedy Awards' citation for Standup Comic of the Year, Etta May has appeared on The Oprah Winfrey Show, My Two Dads, Comic Strip Live, and as a guest commentator on CBS Sunday Morning. She performs alongside fellow comediennes Mia Jackson, Trish Shr, and Sonya White as part of the touring hit Southern Fried Chicks, and is a regular on both the syndicated Bob & Tom Show and Sirius Radio's comedy channels. Entertainment Weekly, meanwhile, has dubbed Etta May "the funny voice of reason," while her portrayer's hometown newspaper the Des Moines Register wrote that in her observational-comedy stylings and Southern-flavored quips, the comic "hits a home run."
Etta May's evening of comedy will feature an opening set by Donny Townsend – winner of Circa '21's regional-standup competition "The Laugh Hard Challenge" – and tickets to the 7:15 p.m. show are $25-30. For information and reservations, call (309)786-7733 extension 2 or visit Circa21.com.