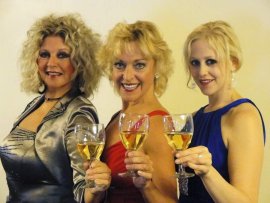 At last count, there were a whopping 46 area-theatre productions scheduled between September and December, and included among the titles are A Dog's Life, The Big Funk, Scrooge!, Don't Hug Me, and Mid-Life! The Crisis Musical. It's the season that my editor, Jeff, has been waiting for!
Actually, it's hard to imagine what fan of the stage wouldn't be looking forward to this autumn's lineup. With plays by such noted authors as Anton Chekhov, David Mamet, Tom Stoppard, Edward Albee, John Patrick Shanley, Neil LaBute, and good ol' William Shakespeare, and musicals running the gamut from Altar Boyz to Zombie Prom, the Quad Cities and its surrounding areas will send you to the theatrical destination of your choice, be it South Africa, England, or under the sea.
All three locales, in fact, will be stops in Iowa City's fall-theatre tour, as Dreamwell Theatre presents Athol Fugard's apartheid drama Master Harold ... & the Boys (running September 25 through October 3), while the Englert Theatre hosts the Iowa City Community Theatre production of Lerner & Loewe's musical classic Camelot (September 24 through 27) and the stage adaptation of Marcus Pfister's children's book The Rainbow Fish (November 8).
Meanwhile, the Iowa City Community Theatre's home venue - at the Johnson County Fairgrounds - will house the infectious fun of the musical Zombie Prom (October 16 through 31), while the city's Riverside Theatre offers a musical comedy about a man and his pooch in A Dog's Life (September 11 through October 4), and a haunting Holocaust memoir in The Diary of Anne Frank (October 22 through November 8), a co-production with Cornell College.
Elsewhere in Iowa, Theatre Cedar Rapids presents a terrifically eclectic theatrical trio: the cheeky boy-band spoof Altar Boyz (September 11 through 27), Tom Stoppard's European kaleidoscope Rock 'n' Roll (October 16 through 25), and that red-headed Broadway belter Annie (November 20 through December 6). And the Amana Colonies' Old Creamery Theatre will deliver Las Vegas high jinks with Shady Business (October 16 through November 15), and a Minnesota-based musical comedy with what might be the fall's most intriguing title, Don't Hug Me (September 10 through October 11).
Musical comedies will, of course, also be in full force in the Quad Cities. Rock Island's Circa '21 Dinner Playhouse presents its debut of the forgetfulness-can-be-funny pastiche Mid-Life! The Crisis Musical (September 2 through November 7), Davenport's Adler Theatre welcomes the touring production of the 1980s celebration The Wedding Singer (October 26) and a lavish staging of The Wizard of Oz (November 29), and Bettendorf's Lodge Hotel will host the latest mystery/comedy by the It's a Mystery players - A Vacation to Die For - on September 25, October 23, November 13, and December 11. (Okay, granted, that last one isn't technically a musical. But I know a bunch of those performers; I'm betting that somebody's gonna break into song.)
The Village Theatre will be perpetually booked this autumn, with the East Davenport venue housing the Curtainbox Theatre Company's presentation of David Mamet's joyously acerbic Glengarry Glen Ross (September 11 through 27), and New Ground Theatre's stagings of the Adam Bock comedy Swimming in the Shallows (October 15 through 24) and Kate Fodor's much-lauded 100 Saints You Should Know (November 29 through December 12).
Taking a trek across town - and up a hill - the city's Harrison Hilltop Theatre has four offerings planned: Edward Albee's two-character The Zoo Story (September 17 through 27), the time-warp wackiness of The Rocky Horror Show (October 17 through 31), the John Steinbeck adaptation Of Mice & Men (November 19 through 29), and a series of monologues on childbirth titled, appropriately enough, Birth (December 10 through 20).
From across town we now venture across the river, where Moline's Playcrafters Barn Theatre will deliver British farce with See How They Run (September 11 through 20), Geneseo's Richmond Hill Barn Theatre houses a world of wonders in Around the World in 80 Days (October 1 through 11), and Galesburg's Knox College takes on the Russian melancholy of Anton Chekhov with The Three Sisters (November 4 through 7).
Our area's other educational institutions will offer entertainment ranging from light comedy to really, really dark comedy, with Scott Community College also delivering some seasonal scares in John Pielmeier's Haunted Lives (October 22 through 31). Iowa City's University of Iowa presents a laffer by the brother-sister team of David and Amy Sedaris with The Book of Liz (October 8 through 18), followed by the musical adaptation of one of cinema's true classics - Reefer Madness (November 13 through 21). Moline's Black Hawk College offers three one-acts by the late playwright Wendy Wasserstein in An Evening of Wassterstein: Bette & Me, Waiting for Philip Glass, and The Man in a Case (November 19 through 23).
Rock Island's Augustana College delivers a dramatic comedy with Pulitzer Prize-winner John Patrick Shanley's The Big Funk (October 16 through 25). And Davenport's St. Ambrose University stages family-friendly music and humor in A Year with Frog & Toad (December 5 and 6), plus a pair of shows that you should probably think twice about bringing the young uns to: a studio-theatre take on Neil LaBute's corrosive black comedy Fat Pig (September 10 through 12), and - ahem - The Best Little Whorehouse in Texas (October 9 through 11). Is Sister Joan Lescinski aware of this?
Much younger students of theatre will take part in the fall lineup as well, with Davenport Junior Theatre presenting Winnie-the-Pooh (October 17 through 25), plus - in a really-late-fall offering - the Christmas Carol adaptation Scrooge! (December 12 through 20). A Christmas Carol itself will actually be staged at Maquoketa's Ohnward Fine Arts Center November 20 through 22, and these Charles Dickens productions are but two of numerous holiday-themed titles on-hand this fall.
Anamosa's Starlighters Theatre delivers the theatrical version of a beloved movie with Irving Berlin's White Christmas (December 4 through 13), while Riverside Theatre offers seasonal monologues in Walking the Wire: Holiday Tales (November 19 through 22), and the Old Creamery presents country-Western caroling in the Honky Tonk Angels Holiday Spectacular (November 19 through December 20). The Clinton Area Showboat Theatre, meanwhile, will briefly re-open its summer-stock doors for The Best Christmas Pageant Ever (November 27 through December 13), with Muscatine's Pearl City Players asking What Are You Giving for Christmas? at the city's Central Middle School (November 20 through 22).
Here in the Quad Cities, Moline's Quad City Music Guild delivers a new adaptation of the holiday classic Babes in Toyland (December 3 through 6), and Playcrafters brings audiences an early gift with the seasonal comedy Papa's Angels (November 6 through 15), while Circa '21 offers its own presents in the song-and-dance revue Holly Jolly Christmas (November 11 through December 31) and the button-nosed family musical Frosty's Magic Hat (November 27 through December 26).
And finally, the area's classical-theatre troupe the Prenzie Players again take to the Village Theatre stage, with their imagining of Shakespeare's The Winter's Tale, running November 13 through 22. Yes, I know, the Bard's play doesn't really have anything to do with the holidays, or even with winter all that much. But this still seemed like a graceful way to exit. Pursued by a bear.
For more information on the fall's theatrical productions, visit RiverCitiesReader.com/calendars/reader-theatre-calendar.