I left Friday's opening-night performance of Brighton Beach Memoirs – the final show in the Mississippi Bend Players' inaugural season – with several thoughts on my mind: (1) How do I review something of this caliber? (2) Everyone should go see this, so they, too, can realize how lucky we are to have such talent in the Quad Cities. (3) This show is so good I wish I was a part of it!
Needless to say, I was a little blown away by this production, though I'll spare you hundreds of words on how much I love Neil Simon's writing, this script being no exception. Brighton Beach Memoirs is the tale of 15-year-old Eugene Morris Jerome and his Jewish family in 1937's post-Depression Brooklyn. Eugene narrates and guides the audience through his memoirs, explaining what it was like growing up in a cramped house with his parents, older brother, aunt, and two girl cousins, one of whom Eugene has a crush on.
Director Corinne Johnson is at the helm, and has pieced together a superb ensemble cast and fully realized coming-of-age story that's both hilarious and touching. A perfect Tristan Odenkirk plays the innocent, puppy-like Eugune whose only goal in life seems to be his seeing the "Golden Palace of the Himalayas" – a.k.a. a naked woman. With a little help from his older brother Stanley (Sam Jones), Eugene learns the ins and outs of going through puberty through scenes that are so genuine and real you'd think these two actors were actual brothers.
Odenkirk's performance is impeccable. His energy perfectly captures a hormonal teenage boy with the curiosity of a cat, but he's also a magnificent storyteller during moments in which he speaks directly to the audience. With his Brooklyn accent and peppy tone, Odenkirk reminded me of a young Billy Crystal, and with the funny one-liners to boot.
The boy's parents Kate and Jack are portrayed by Megan Cox and Reader employee Mike Schulz. Cox's performance in this show just astounded me. She reveals the quiet strength of a mother trying to keep it all together, but also has the necessary fierceness to keep all the men in her family in line; everything down to Cox's inflections and mannerisms completely drew me into the whole show. And Schulz delivers yet another pitch-perfect performance, playing Jack with the weight and strain of carrying six other humans on his shoulders. With just a simple look, you know when Jack is an angry father contemplating his responses that are frequently in contrast to the calm, insightful words he actually speaks.
Which leads me to a great thing that director Johnson successfully does in this production, in that there's so much being said that isn't actually being said. (Did you follow me on that?) From Kate trying to gather the strength to hide tears so no one sees after an argument, or Jones' Stanley silently struggling through scenes – even those he's not actively participating in – after losing his weekly salary, there was nothing in this enjoyable show that was entertaining on a mere surface level.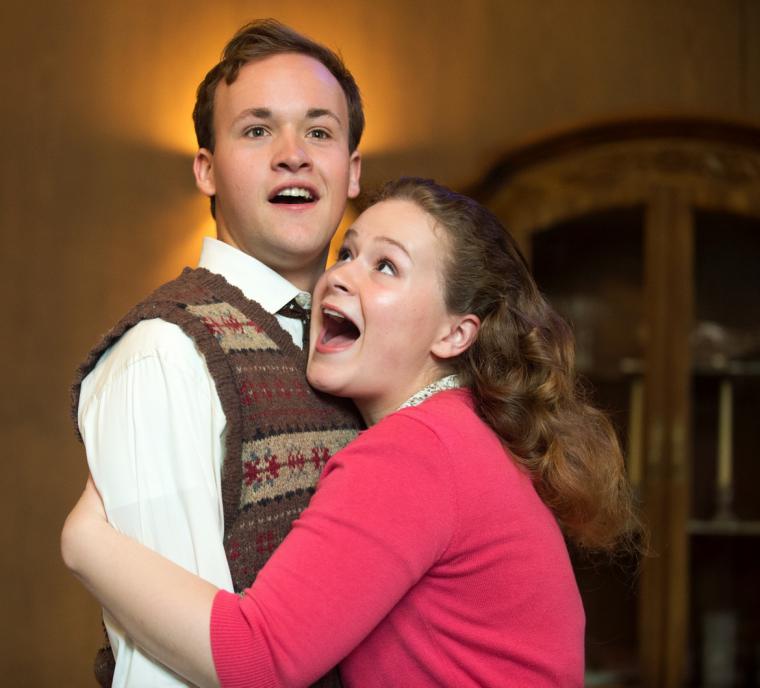 Emily Gulden plays the role of quirky cousin Laurie, and delivers many of her laugh-out-loud lines so dryly that even the finest British comedians would be proud. And Megan Clarke delivers a very emotional performance as cousin Nora. The girls' mother Blanche (Becca Brazel) has moved her family in with the Jeromes after her husband passed away, and Blanche is now grappling with parenting on her own while Nora wants to be more independent. In a very intense scene between Clarke and Brazel, Nora confronts Blanche about why she isn't more affectionate with her, and how she always feels like she's competing for her mother's love, and Clarke has a few moments that moved me so much that I questioned my own relationship with my oldest child.
Yet it's clear that this production wasn't made spectacular by the cast alone. Susan Holgersson's excellent set design – a two-story home with bedrooms, a living room, a dining room, and a hallway – caught my attention the second I walked in the theatre. Lighting designer Kristofer Eitrheim employs perfect amounts of illumination to give us glimpses into each room of the house depending on where you look. Costume designer Dianne Dye dressed every character period-perfectly, and culture and dialect coach David Manning helped make everyone's accents match, as they would in a real family.
Each character here is one that somebody can relate to. The adolescent teen unsure of the changes he's going through. The high-school graduate just trying to prove himself. The young woman wanting to make her own decisions. The middle-aged woman trying to find the strength to bounce back from a tragedy. The mother trying to hold it all together. The father wanting everyone he loves to be safe and healthy. This show is not only hilarious, but heartwarming. And as far as stage performances go, this Brighton Beach Memoirs is truly the "Golden Palace of the Himalayas." So to speak.
Brighton Beach Memoirs runs at Augustana College's Brunner Theatre Center (3570 Seventh Avenue, Rock Island) through August 13, and more information and tickets are available by calling (309)794-7306 or visiting MississippiBendPlayers.com.