I've enjoyed every Prenzie Players production I've seen to date, but perhaps none more so than Pericles, Prince of Tyre. That's actually odd to say, since William Shakespeare's tale of the world's luckiest unlucky prince - a seafarer who really should just avoid the sea altogether - wouldn't necessarily be called "fun." Director Andy Koski and his cast, however, manage to find the humor in the script and bring it to the forefront, embellishing it and even adding quips of their own, and elicited lots of laughs from Saturday night's audience.

It's actually quite difficult to review Pericles, simply because so few actors portray so many characters. I couldn't possibly comment on every performer in each of their roles, but I can say that every single cast member makes impressive use of his or her on-stage abilities. While some are stronger than others, no one offers a weak performance, and the actors are able to deliver shadings to their portrayals that clearly differentiate their various roles.

I can, however, mention my favorite roles played by each actor. Don Faust shines brightest as Simonides, particularly when he delivers an angry tirade of a wedding blessing, amusingly turning his emotions on a dime. Cole McFarren, with slight fear and a spark of desperation evident in his eyes, is most notable at the moment his Thaliard realizes that he's damned if he kills Pericles, and damned if he doesn't. Alaina Pascarella manages to avoid merely portraying "evil" when her Dionyza plots her adopted daughter's death; mixing in sly looks and feigned affection, Pascarella offers a nuanced characterization.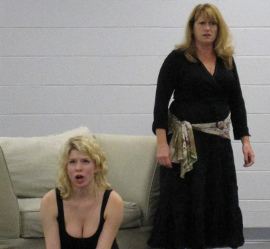 Maggie Woolley has her fair share of roles to cover - covering them, as usual, wonderfully well - and most impressed me in her smallest one. As the daughter of Antiochus, she manages to be even more sensuous than she usually is on stage, with her slow, fluid movements and raspy voice. (Considering it's her character's father she's behaving this way with, Woolley is effectively creepy, repulsive, and remarkable.) Michael Carron is frighteningly lusty as his Bolt attempts to rape Woolley's Marina, seeming to salivate while eyeing his prey. Jeb Makula's composed, militaristic stance melts movingly as he is re-introduced to someone he thought lost. And Angela Rathman, as a bawd, is a real crowd-pleaser, tickling the audience by shifting her boobs to be more appealing, and physically and verbally lashing out at Marina with fierce rage and fire in her eyes.

My favorite acting moment, however, came from Catie Osborn. There's a point in the play where her character, Thaisa, confesses her love for Pericles, and the performer was so heartfelt, so seemingly sincere, that I was moved to tears. Osborn manages to express an uncontainable inner joy, bubbling forth as she speaks of her love, and the emotion is beautiful in its believability.

The cast is led by J.C. Luxton, the only actor confined to one character, that being the titular Pericles. I'm used to seeing Luxton in more manic roles (such as the Fool in Genesius Guild's King Lear, which I still remember well despite having seen it 14 years ago) or more menacing ones (such as the Prenzie Players' Troilus & Cressida earlier this year and The Taming of the Shrew in 2008.) Here, though, he's much calmer, playing the hero in a sometimes genteel manner, his features softened by his love for another. This was unexpected but impressive; his work here showcases a range that's even wider than that which I thought Luxton capable of, offering even more reason to admire this local actor.


Helming the production, Koski makes some beautiful choices for the script's chorus, using a different cast member to introduce each new sequence while holding a candle, and walking through the otherwise darkened stage space. He also establishes characters with the use of colored scarves, each color (or pattern) designating a different group of people, typically by geographic region. In the most stunning use of this stylistic device, Koski has cast members change scarves and other costume pieces in full view of the audience - two or three actors will finish a scene and stand at attention as several other actors enter, switch their scarves and crowns, and exit. By doing this, it's made clear that the same actors we just saw in one scene are now completely different characters in the next.

Long-impressed with Prenzie Players productions, I never expected to be even more amused by this one than by any of their performances I've seen in the past. For me, however, Pericles, Prince of Tyre takes the cake. It's utterly delightful and beautifully executed.
 

Pericles is being performed at St. Peter's Episcopal Church, at 2400 Middle Road in Bettendorf. For more information, visit PrenziePlayers.com.