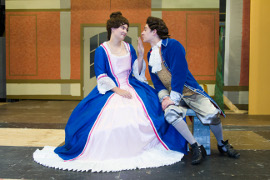 Augustana College's Figaro is a fine example of how witty, self-referential humor makes for a better farce than does banal innuendo and silly, unrealistic door slamming. Playwright Charles Morey's recent adaptation of Pierre Beaumarchais' The Marriage of Figaro (written in 1778) is sharply funny, filled with references to Beaumarchais' original trilogy ("It would take an Italian opera to describe [the plot.]") and digs at the rich ("How clever of you, sir, to be rich rather than smart.") There's still sexual innuendo and slamming doors, but Morey's script is so much quick-paced, pointedly humorous fun that the two-hour presentation rises above the level of most bedroom farce, especially considering that this production is populated by such a well-cast ensemble.
Directed here by Jennifer E. Popple, the play follows the schemes of Joshua Pride's wily Figaro, who is about to marry Leslie Kane's smart Suzanne - that is, if Figaro can prevent John D'Aversa's less-than-observant Count from consummating his relationship with Suzanne before he does. To that end, Figaro sets up a scheme that involves a garden rendezvous, letters from secret admirers, switched identities, dowries, and cross-dressing. And despite declaring "What could possibly go wrong?" regarding his plans, things do go wrong, and other schemes are formed (some of them with the intent of tricking Figaro himself) while Figaro still gets his girl, the Count's money, and a "thank you" from the Count, as well.
Pride's magnetic Figaro is hard to resist for his charm, wit, and coolness, and the actor doesn't miss a comic opportunity on any of Morey's humorous lines. His Figaro also has the added benefit of being the only character here aware that he's in a play; he frequently speaks to the audience, declares "I know my cues" after Suzanne is surprised by one of his entrances, and throws in nods to such other works as The Importance of Being Earnest (while referring to his existence as a foundling) and Sweeney Todd (while shaving the Count with a straight blade.) However, while a comedic talent, Pride also shows great dramatic depth toward the end of the play, when he delivers a serious monologue filled with pained emotion and internal conflict upon learning that Suzanne might be planning to be unfaithful to him.
As Suzanne, Kane seems to enjoy her character's battle-of-the-sexes humor as she makes multiple digs at men, often referring to them as stupid even before such stupidity is displayed by male characters; Suzanne's moxie is not only a good match for Figaro's wiles, but renders her the better half of the two in terms of cunning. The chemistry between the two makes it clear that they would be the life of any party, entertaining guests without even trying simply because they're so dynamic and captivating in their intelligent comicality.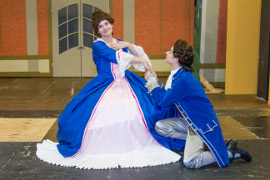 As the object of their mocking tricks, D'Avera manages to pull off a Count that's befuddled without seeming daft. Confident and comfortable in his position, but still clueless behind his self-assured facade, he claims that, in his estimation, he misses nothing, but manages to miss everything. The Count's wife, on the other hand, seems pained underneath her beautiful exterior. Despite Rebecca Knapper's Countess appearing most stately, with a poise fitting of royalty and careful inflections and grace, there's a sadness below the surface, caused by the woman's awareness of her husband's philandering ways. (She eventually joins Figaro and Suzanne in their mutual - and, later, separate - schemes to trick her husband into paying loving attention to her again.)
Drawing from Figaro's source material, Morey also throws more characters into the fray, including Lilli Pickens' Marceline, a wealthy woman who has her sights set on marrying Figaro and implements her own plan to trick him into becoming her husband, considering that Michael Currie's baritone-voiced, composed Dr. Bartholo won't marry her. There's also Rowan Crow's Cherubin (a male character portrayed by a female actor), the Count's page, who is adored by the Countess and imagines himself a Don Juan to all women. Crow seems to relish the role, playing up the young man's physical interest in the female characters and managing to look disheveled and uncomfortable in one of Suzanne's gowns when Cherubin is employed in the cross-dressing part of Figaro's scheme.
Another of Cherubin's conquests is Fanchette, the castle gardener's daughter, who Sydney Crumbleholme pleasingly portrays as a brainless flirt reminiscent of a Bimbette from Disney's Beauty & the Beast. Her father, Antonio, is played by Jacob Kilburg, who shapes his character as a straight talking man who just happens to spout hilarious lines. (Kilburg also portrays the self-important and often flabbergasted Bazille, the Countess' music master, and the stuttering Bridoison, a judge summoned by the Count in a scheme to force Figaro's marriage to Marceline - so the Count can have Suzanne.)
While Figaro is presented in period costumes (gorgeously rendered by costume designer Adam Parboosingh) in order to stay true to the source material, Morey's script and Popple's presentation of it has a decidedly modern flair. With jabs at the rich 1-percent and overreaching, ineffective government types among the butts of jokes, there's a timeliness to the adaptation that aids in making Morey's already hilarious script all the funnier. Augustana College's latest both delights and sets a high standard for the season to come.
Figaro runs at Augustana College's Potter Theatre (Bergendoff Hall of Fine Arts, 3701 Seventh Avenue, Rock Island) through October 27, and more information and tickets are available by calling (309)794-7306 or visiting Augustana.edu/arts/tickets.