Don Faust has accomplished a very difficult achievement: He has written a play. Having written three of my own (two of them produced on-stage), I have something of an understanding of how daunting a task this is, and despite what I felt were some problematic areas in writing and acting, I admire much of what he has done in his play Dad & Me, which I attended on its opening night.
It is no small task to create believable characters with conflicting desires and goals, yet Faust has created an interesting family dynamic with relatable characters that I cared about. The story centers on Brian (Dana Moss-Peterson), a gay, single man, and his father (John Turner), who has come to temporarily live with him as he awaits admittance into an assisted-living facility. Rounding out the family unit is Brian's sister Becky, portrayed by Chris Sanders-Ring, who, in her first significant stage role, provides a well-grounded portrayal of a sarcastic but very likable character.
It's also no small feat to create dialogue that sounds spoken by "real people," and Faust has also very successfully achieved this goal. All throughout the play, there doesn't seem to be a false note in this regard, and much to the delight of the opening-night audience, the script is peppered with some very funny lines that elicited a great deal of laughter. In addition to heart, there are many segments in Dad & Me that have a lot of entertainment value.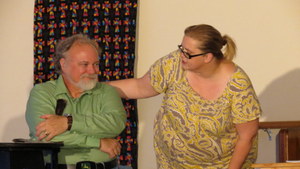 Play development is often advanced through a workshop process – what sounds good on paper doesn't always translate to the stage – and in briefly speaking to Faust prior to the performance, he commented that the rehearsal process was much like a workshop, wherein he made script changes as rehearsals progressed. But in addition to his role as playwright, Faust also directed the show, which was a choice that, for a couple of reasons, I thought didn't work well. Quite a bit of the acting was of an elementary level, and I felt that stronger direction could have greatly enhanced those performances that, for me, detracted from Dad & Me's overall quality. Yet Faust was also, perhaps, not seeing the trees for the forest. Playwrights need feedback on what is clear, what is working, and whether or not objectives are being met. Here, however, there was confusion for me regarding motivations and character development, and I couldn't help but speculate on how things could have been clarified through deeper workshopping or collaboration with a director, instead of Faust's opting to do it all himself.
For example, Dad's character doesn't seem consistent regarding his feelings about his son's sexual identity. Perhaps I missed the cues, but I wasn't really clear on what Dad knew about his son's lifestyle or when he knew it. In the first bar scene, he seemed inquisitive, charmingly chatty, and kind of not-too-bothered by his son's gay lifestyle. But later on, in a dramatic confrontation, he tells his son how ashamed he is of him – and yet not too much time after that, he offers some lovely, touching words about how he wants his son to be happy. No doubt Dad is understandably conflicted; I, however, was confused.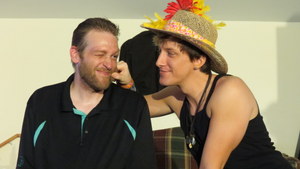 In addition, there was the birthday-card scene featuring Brian's friend Roger. Portrayer Adam Cerny has a unique charisma and plays the scene with true emotion. However, there was no setup to it; the situation was dropped into the storyline with no foreshadowing or prior knowledge of Roger's relationship with his father. Had we known in advance that Roger had sent a birthday card and was awaiting a response, the scene would have had the relevance and import that it was sadly lacking.
The play's climax focuses on the future prospects of father and son, and Turner made me feel happy for what lay ahead for Dad. Yet was there a change in our protagonist Brian? This possibility was hinted at by his initiation of a phone call. But while this call could be potentially life-changing, it didn't signal the change-of-heart I had hoped for, as it wasn't related to the central, familial conflict of the play. As the show ended, I felt adrift, not knowing just what had been resolved between its leads, if anything.
Despite the play's shortcomings, though, I still admire many aspects of Dad & Me. Faust has some real talent, and I celebrate his desire to write and his efforts thus far. Not only is playwriting an incredibly complex and demanding challenge, but the act of putting one's thoughts and words "out there" takes courage indeed. So bravo on your work, Don, and please keep on writing and putting that work on stage!
Dad & Me runs at the Metropolitan Community Church of the Quad Cities (2930 West Locust Street, Davenport) through June 26, and more information is available by calling (563)349-2675 or visiting MCCQC.com.