Playwright Dan LeFranc's The Big Meal deserves every superlative I can, and will, use to praise it. The forward progression of his plot about the life of a couple from first meeting to final resting place is extraordinary, and Timber Lake Playhouse's production does it justice. This is a presentation that tickles the funny bone, pulls the heartstrings, and turns on the waterworks. It is, quite frankly, emotionally stunning.
What surprised me, though, is how easy it is to follow, considering that I presumed I'd be lost after reading this description in the Big Meal program: "As the characters age, their 'essences' pass from younger to older actors." Um ... what? As staged, however, that note makes sense. The story revolves around Nicole and Sam, first portrayed, in their younger years, by the dynamic, intriguing Paige ManWaring and the subtly humorous Cullen Rogers. As time passes, signified by a "ding" that sometimes lands mid-scene, the nicely textured Brigitte Ditmars and Matt W. Miles take over as an older version of the couple. Then, they pass Nicole's and Sam's "essences" on to seasoned actors Judy Knudtson and Brian Pauley for the couple's final years. The charming Jaguer Heier and Victoria Kuzlik, meanwhile, portray their children, and later their grandchildren, while all of the actors take on various additional characters, such as siblings, parents, grandparents, and friends.
Director Chuck Smith's pacing keeps things moving speedily; it's not so fast that you miss moments, but it does allow you to feel many emotions in quick succession. I was not once bored, and never did my mind wander during Saturday's 80-ish-minute, intermission-less afternoon presentation. I loved every second of The Big Meal, especially the scene in which ManWaring, as Sam's and Nicole's daughter Maddie, is introducing her boyfriend to her parents. Rogers portrays the boyfriend - who ends up being Maddie's boyfriends, plural, as his character sometimes changes mid-sentence, leaving Miles' Sam fittingly confused. The stage effect, however, is perfectly clear, and we're left to understand that the teenage Maddie, in stereotypically teen fashion, cycles through boys so rapidly that her father can't keep up.
Smith's most chilling staging, though, lies in how character deaths are depicted. With each one, a server brings out a tray with a plate of food on it and sets it before an actor. Lighting designer Kent Sprague then shines a single spotlight from above on the actor, who takes a few bites before standing up and exiting to the back of the stage with the tray. It's the only time anyone actually eats during The Big Meal (which takes place in various restaurants and bars), and while this presentational device is confusing the first time it's employed, once I figured it out, my heart clenched every time I saw that server enter with that tray of food.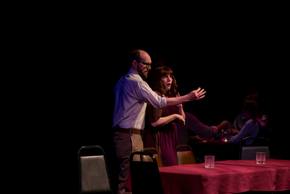 What's most fantastic about LeFranc's script and Timber Lake's staging of it, though, is the honesty behind the emotions and interpersonal relationships displayed. There's a familiarity in its depictions of the first meeting, the infatuation, the falling in love, the excitement of parenthood, the boredom of marriage, and the joys and sorrows of family that, though not exactly my experience (nor, probably, most of the rest of the audience's), still rings true, and serves as one's sympathetic connection to the play. This story is less about the details and more about the total experience of family and its many stages throughout life, and the happiness, sadness, and anger are all beautiful here for the sincerity in which LeFranc, Smith, and his cast portray them.
I know that plays, traditionally, don't sell as well as musicals, and to a degree, that's understandable. In this case, though, that would also be a tremendous shame, as the Timber Lake Playhouse's The Big Meal isn't one to miss. While it does include stronger language and more adult situations than the theatre's audiences may be accustomed to, this remarkable production is well worth seeing for the earnest, devastating, and striking ways in which love and family are depicted.
The Big Meal runs at the Timber Lake Playhouse (8215 Black Oak Road, Mt. Carroll) through June 27, and more information and tickets are available by calling (815)244-2035 or visiting TimberLakePlayhouse.org.