Reading through the program for the Playcrafters Barn Theatre's Marrying Terry filled me with eager anticipation for Friday's performance, as the cast is mostly composed of newcomers to either the Playcrafters stage or any stage. While it's fun to see familiar actors in different roles, it can be even more exciting to see fresh faces take to the theatre, and with this production, the new talents are a blend of fine actors and those who, with time, could become fine ones, too.
Playwright Gregg Opelka's clichéd, predictable, overly lengthy script doesn't help matters, though. Opelka uses too much of the first act of his story - which is about a man and a woman who share the same name of Terry Adams (Melissa Hummel and David Lane) - to set up the setup. First, we're given an explanation about how Hummel's Terry expected her flight-delayed boyfriend to propose to her when he arrives for New Year's Eve. Her friend Janet (Jaime Bauschka) convinces Miss Adams to rent a room at the Drake hotel to make the engagement even more special; however, due to the holiday and an unforeseen snowstorm, the only room available is the $3,000-a-night presidential suite.
Then enters Lane's Dr. Adams, who was recently pressured - and sort of tricked - into an engagement by his girlfriend of three years Penny (Terri Nelson), which we learn after even more exposition explaining that he was once engaged before, and left his fiancée at the altar. Dr. Adams, a radiologist, then realizes he mistakenly brought home a set of x-rays that a surgeon will need the next day, and rushes to meet the confident, ready-to-drink doctor Harlan (Shawn Sutton) at the Drake's bar. After he joins Harlan and his friend Sam (Victor Angelo) for drinks imbibed to the point of passing out, Harlan checks Dr. Adams into the hotel. Bearing the same name as the Terry Adams whose credit card was mistakenly left at the desk during check-in, Dr. Adams is taken to Miss Adams' room as if it were his. She enters to find Mr. Adams lying in her bed, boxer-shorted-butt sticking up, and hilarity ensues. Or could have ensued were Opelka capable of sharper humor or blessed with an editor to tighten his script.
According to her bio, this is Hummel's first time acting, and admittedly, it does show, as her wooden Miss Adams lacks chemistry with Lane's charmingly awkward and unassuming Dr. Adams. Hummel's diction and projection, however, are commendable, so I have little doubt that, with more experience on stage, she'll blossom into a fine actor. And while Lane's performance is enjoyable, it's actually Marrying Terry's supporting characters that shine the most, particularly Angelo's suave, self-assured Sam; Sutton's fun-loving yet borderline-douchey Harlan; and Eric Landuyt's dismissive, condescending, forcefully polite Reservation Clerk and his angry, East Coast-accented Jonathan, Miss Adams' would-be fiancé.
Unfortunately, director Greg Bouljon isn't able to prevent Bauschka, Nelson, and Cindy Ramos Parmley from crossing the line into over-acting, though the former two don't move too far into that territory. In truth, Nelson's performance becomes comedy gold when Penny ends up at the Drake bar herself. As Penny first meets Jonathan, there's a palpable bitterness and camaraderie in Nelson's and Landuyt's chemistry that renders their mutual, easily anticipated arc not only bearable, but welcome, and downright amusing.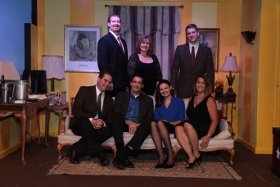 Bouljon's greatest success, beyond the comically appropriate pacing, is his set design, particularly the upstage half of the stage's thrust portion. Scenic artists Sara Wegener and Tom Vaccaro painted this section blue and ornamented it with elaborate, curved shapes in yellows and golds so that the floor looks like an expensive carpet installed in the lobby of a grand hotel. The proscenium section of the stage, meanwhile, is split down the middle with a partial wall to separate the bedroom and the sitting room of the presidential suite, with a server, two chairs, and an end table at the front of the thrust for scenes taking place in Dr. Adams' condo.
It's a shame that Marrying Terry's script isn't funnier, more natural in speech, and shorter, as the two-hour-and-15-minute production (including intermission) did feel long, especially given the over-abundant exposition in the first act. Still, my partner's 15-year-old-daughter, who was forced to attend with me, actually enjoyed the performance, and there's definitely something to be said about that. And I, too, found enough humor to consider Playcrafters' entertainment worthwhile, and look forward to seeing these actors - especially those I've just seen for the first time - perform again in the future.
Marrying Terry runs at the Playcrafters Barn Theatre (4950 35th Avenue, Moline) through September 21, and more information and tickets are available by calling (309)762-0330 or visiting Playcrafters.com.