The Circa '21 Dinner Playhouse's production of Boeing-Boeing is a colorful rendition of French playwright Marc Camoletti's classic farce - and that's just the set and costumes. Scenic designer Susan Holgersson's and costume designer Gregory Hiatt's combined use of bright primary and secondary colors is stunning, with Holgersson's seven-door set providing delight even before the opening of this comedy's proverbial curtain.
For this story of Bernard (Cory Boughton) and his conundrum involving three fiancées he unexpectedly finds at his Paris apartment at the same time due to changes in their flight-attendant schedules, Holgersson chose to paint Bernard's flat purple, with patterned lavender accents painted in to resemble wallpaper. Even more beautiful to behold are the seven paintings set in the transom-window spaces above each door, which are themselves placed in receding layers flanking the central entrance. (These pieces of art are also items in a silent auction, being held during the run of Circa '21's production, to benefit liver-cancer research.) Behind each door are muted-yellow, forest-green, or brick-red backgrounds - among other, paler colors - of rooms that are impossibly narrow in layout, but forgivable given the slamming-door element of this farce. Even the floor of the Boeing-Boeing set is stunning, with parts of it realistically painted to look like marble and wood flooring.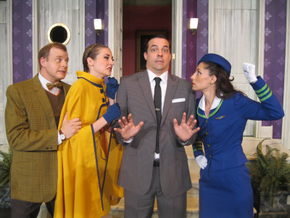 Just as irresistibly appealing are Hiatt's creations, with Camoletti's three flight attendants dressed in defining colors that remain consistent through each of their wardrobe changes. Jacqueline Keeley's American, self-made Gloria is the first to appear, wearing a vibrant, lusty red negligee as she breakfasts with Bernard before setting off on her next flight. It's obvious from the start why Bernard is keeping this independent woman around (hint: it's not for love), even if she proves a bit overpowering and, in her feminine ways, would obviously wear the pants in their marriage while Bernard suffered her demands.
The playboy's Italian fiancée, meanwhile, is a spirited individual who, rather than being domineering, is more of a jealous partner, and while Cara Moretto's Gabriella is a romantic, she also shows a complete lack of trust in her fiancé. Still, that significant relationship flaw aside, Moretto has a liveliness that's as alluring as Gabriella's blue ensembles trimmed in green - the color of envy.
Theresa McGuirk, however, drew the long end of the stick in landing the role of German fiancée Gretchen, and the actor gratifies to no end as she portrays this siren with a bipolar romanticism. She's confident and dismissive one second and passionately sexual the next - and with a flawless German accent to boot - as Gretchen toys with Bernard's visiting college friend Robert (Tristan Layne Tapscott in prime comedic form, his controlled deliveries greatly tickling Friday's audience). Displaying adept timing as her character's passions turn on a dime, McGuirk is truly titillating here, and I couldn't get enough of her performance.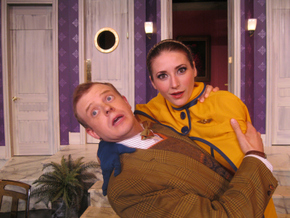 That was also true of Elizabeth Loos in the role of Bernard's French housekeeper Berthe, considering her eternally beleaguered and judgmental pessimist is as funny as she is curt. Loos' Berthe reminded me of Young Frankenstein's Frau Blücher, but with a French accent, and without the strange gait and scenery chewing - though Loos does nibble at it with pleasing comicality. So does Boughton whenever his character loses control and he does a prancing march about the stage with arms flailing, a display that had me giggling every time it was employed.
What's also impressive here is director Warner Crocker's pacing. Rather than pausing to allow punchlines to build, Crocker's cast keeps the laughs coming with the quickest of deliveries, as when Robert tells Bernard that he's going to get married. When Boughton asks, "Who are you engaged to?", Tapscott doesn't allow even a beat to pass before saying "No one," and this kind of rapid-fire reply forces the audience to keep up with the comedy, which, for me, makes it all the funnier, and shows that Crocker and his cast aren't pandering to patrons. Boeing-Boeing's timing, in large part, is what makes the Circa '21 Dinner Playhouse's Boeing Boeing a humorous delectation that's as colorful in its staging as it is in appearance.
Boeing-Boeing runs at the Circa '21 Dinner Playhouse (1828 Third Avenue, Rock Island) through September 19, and more information and tickets are available by calling (309)786-7733 extension 2 or visiting Circa21.com.