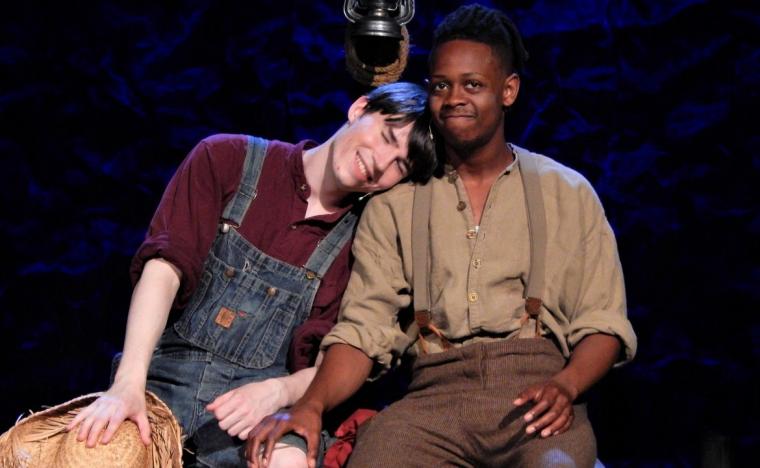 Bravo to the Mississippi Bend Players for magnificently transporting patrons back in time – back to when Huckleberry Finn (Quinn Rigg) and his humble slave companion Jim (LaRon Grant) traveled along the banks of the Mississippi River on a meager log raft – in the powerful musical Big River. Friday's opening-night performance at Augustana College's Brunner Theatre Center was simply stunning, with the entire cast reminding me why I love the fine arts.
From the beautiful scenic design by Susan Holgersson complete with barrels, large stones with vegetation, and multi-level wood platforms to lighting designer Chris Howard's glowing purple backdrop to the extremely well-cast actors, I found myself fully engaged in this classic tale of an unexpected friendship between two young men whose life experiences are worlds apart.
Rigg had me mesmerized as Huck Finn, and with his flawless deliveries as both narrator and protagonist keeping us interested in the storyline and Huck's ornery shenanigans, I felt like I was watching a live-action Disney classic. Jim's final song performed with fellow slaves, "Free at Last," was truly a monumental moment for Grant. And together, Rigg and Grant were pure magic, especially when harmonizing on such songs as "Muddy Water" and "River in the Rain."
Adapted by William Hauptman from the Mark Twain novel Adventures of Huckleberry Finn, and with music and lyrics by Roger Miller, Big River is set in a tumultuous time in which slavery was a reality and racism was the norm in the United States. This musical reminds us, painfully, of how African Americans were treated inhumanely with such disdain and dishonor, and director Shelley Cooper did an outstanding job with the material, wisely leaving in the racial epithets that were authentic to the era and that help give the production its emotional impact.
With the show's music direction by Saul Nache, the opening number begins with the company thumping their bibles in the religiously toned "Do You Wanna Go to Heaven," in which Widow Douglas (Kelly Hill) and Miss Watson (Kayla Lansing) try to teach Huck the value of reading and writing, specifically in regard to the Holy Book. Kelly appeared in a conservative, black-and-gray, high-necked dress (designed, like all the show's costumes, by Christina Johnson) with her gray-tinged hair pulled back in a bun, and delivered an outstanding performance, her character reminding me of Almira Gulch in The Wizard of Oz. Lansing was also convincingly pious with her sharp voice and rigid facial expressions.
Huck's friends, played by Keegan Harry, Keenan Odenkirk, Tristan Odenkirk, and Joseph Oliger, knocked it out of the park with their youthful exuberance and a fantastic dance number choreographed by Grant. The multi-cast Keenan Odenkirk particularly shined in every role he tackled, brandishing impeccable timing and a wonderful ability to project his voice, and Harry performed an adorable version of the song "Arkansas" that made me just want to pinch his cheeks. And this tale wouldn't be complete without the wild plans and imagination of Tom Sawyer (Jaryd Whitmore), whose stature and nimble movements were delightfully presented. Whitmore's boyish good looks and charming acting ability captivated me.
The entire Big River company was very impressive, but one of my favorite actors was George "Big G" Schulz, who portrayed Huck's abusive, drunken father Pap and the con man King. Big G's performances were nothing short of genius from the second he stumbled on-stage as Pap to the moment he put on a blond, braided wig portraying Romeo & Juliet's Juliet. Clearly, Schulz's 18 years of experience performing improvisational comedy most definitely honed his craft. The other talented Schulz is multi-cast Reader employee Mike, who serves as the Mississippi Bend Players' producing artistic director this season. Personally, I most enjoyed his matter-of-fact, at times quite-funny take on Tom Sawyer's Uncle Silas, a simple farmer in bib overalls whose practical approach to life and justice included snapping his belt with the threat of corporal punishment when Huck was out of line.
Other notable talents included John D'Aversa as King's counterpart and criminal companion Duke and Catherine Groth as Alice, both of whom were excellent. D'Aversa's portrayal, with its extravagant gestures and attention-getting lectures, was like a continual soliloquy, while Groth's soulful singing and heart-wrenching rendition of an enslaved mother with fierce love for her daughter was commanding. It felt like Groth's voice was coming from a deep place in her soul, which made for a very moving performance.
Friday night's production of Big River helped me remember both the good and the evil in the world, but most of all, it reaffirmed my belief in the strength of love and the power of the human spirit to overcome adversity. The Mississippi Bend Players' talent and hard work were very apparent in this memorable musical production.
Big River runs at Augustana College's Brunner Theatre Center (3520 Seventh Avenue, Rock Island) through July 1, and more information and tickets are available by calling (309)794-7306 or visiting MississippiBendPlayers.com.