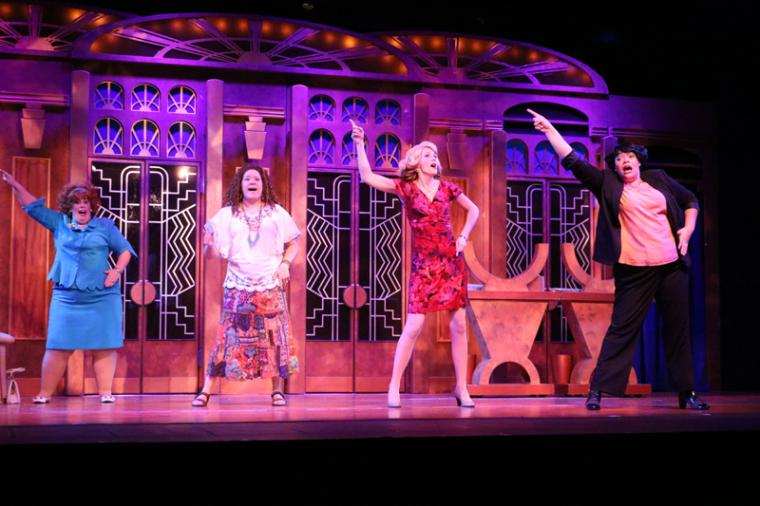 Being a 33-year-old male, I don't know that I'm the prime demographic for the Circa '21 Dinner Playhouse's Menopause: The Musical. But then again, maybe I am. I certainly learned a lot about the "change, change, change," as they refer to it in the opening number set to the tune of "Chain of Fools," and at the July 5 preview performance, I witnessed a very polished performance – even if I did find myself asking a lot of questions.
Director Patty Bender's musical plays more like a musical revue, considering there's no real storyline. In the show, four women meet for the first time in the underwear section of a department store, and suddenly these four strangers become best friends singing about how they're all going through menopause. The characters are not even given actual names, but are simply listed in the program as "Professional Woman," "Soap Star," "Earth Mother," and "Iowa Housewife." This lack of proper names consequently makes for very broad caricatures instead of characters, and the score is all popular songs you've probably heard before, but with satiric lyrics. It's like a 90-minute improv in which the audience's suggestion is "Menopause!"
The show's four actresses – Whitney Hayes, Sarah Hayes, Megan Opalinski, and Donnalynn Waller, almost all of whom have been on the Circa '21 stage before – delivered very clean, confident performances. And it was apparent that they were all comfortable with their production, with each actress having standout moments. Waller plays the conservative "Iowa Housewife" and displayed the most comedic range, at one point commandeering the stage and earning much laughter without saying a word – for five solid minutes – as she tried desperately to wiggle her way into a scandalous negligee. It was a very Mr. Bean scene that, in my book, could've lasted another 10 minutes, and Waller's physical choices during the whole show were fun to watch.
Whitney Hayes, as the "Professional Woman," showcased a very strong, beautiful voice, particularly on her song about having a hot flash in which she went out into the audience and had some fun with whatever items she could find on the tabletops. For me, this was the most pleasing moment of the night, as Hayes really got to cut loose vocally and you could see that she was truly enjoying herself. A similar moment came when Sarah Hayes, the "Soap Star," took her hot-flash song into the audience, and caused a hot flash of her own after choosing an audience member to seduce. This breaking of the fourth wall really pulled Wednesday's audience's attention back in after a somewhat repetitive sequence of songs about hot flashes (which this production is not short on). And Opalinski's "Earth Mother" speaks, hilariously, to the aging person in all of us as she tries to read a menu by holding it farther and farther from her face.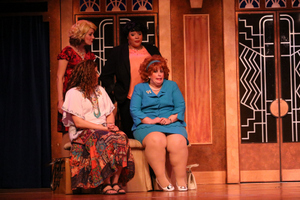 Menopause's big finale brings audience members on stage to dance and celebrate something that could be frightening or unpleasant with a "New Attitude." And while the show definitely seemed to appeal to those who've gone through "the change," there's a little something in here for everyone. The number I could relate to most was "The Great Pretender," in which the ladies described how they now pretend to remember things – the reason they walked into a room, for example, or where they left their car keys … things I've done on more than one occasion. The examples and symptoms mentioned in the song even made me start to ponder on whether I myself was headed toward menopause. But like I said, I learned a lot at this show, and thankfully, no. I am not. That's not possible.
Menopause: The Musical has loads of laughs, and a ton of songs with a lot of punchline choruses. If you have gone or are going through it – or if you're a man who has someone in your life who has gone or will go through it – this show provides a little takeaway for everyone.
Menopause: The Musical runs at the Circa '21 Dinner Playhouse (1828 Third Avenue, Rock Island) through August 27, and more information and tickets are available by calling (309)786-7733 extension 2 or visiting Circa21.com.