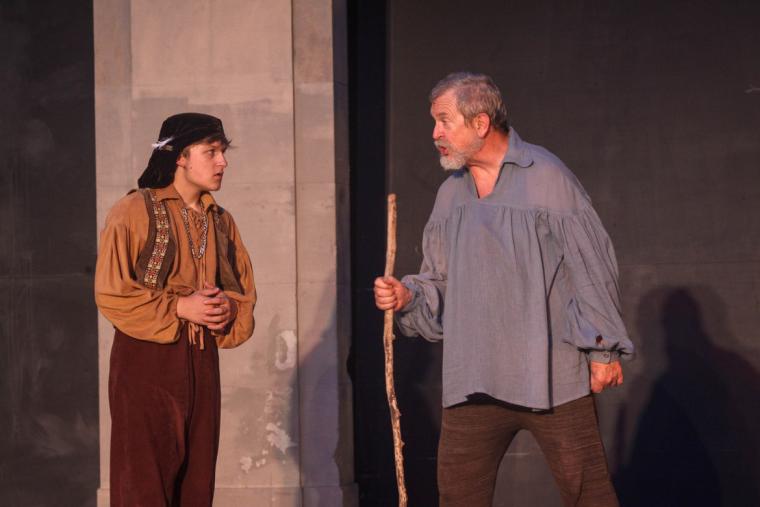 At Friday night's final dress rehearsal of Genesius Guild's As You Like It, there were instances in which performers were forced to overcome numerous distractions from around the park. The distant sounds of children on the playground, a flock of birds singing their twilight song, an occasional motorcycle passing by … even the noise of a rushing freight train from the bottom of the hill.
One could make the case that these distractions would lessen the overall enjoyability of this Shakespeare production. But I found the opposite to be the case, for they reminded me that this is public theatre at its finest – an opportunity for all to come and enjoy classical theatre no matter the emptiness of their pockets (though donations are gratefully accepted), and even if performed in the sweltering mid-June heat, by actors with true love for and dedication to the art.
Added to the mix is that this show marks the debut partnership between Guild and local high-school-theatre departments, as 16 of the area's finest young actors have been cast alongside some of Lincoln Park's most seasoned veterans. Lincoln Park, meanwhile, turns out to be the perfect venue for As You Like It, in which the majority of the action takes place in the Forest of Arden, home to noble exiles, outcast nieces, renegade younger brothers, melancholy travelers, and lovesick shepherds.
There are many notable performances here, not the least of which is Pierce Howard's fearless turn as Orlando, whose comic wrestling (yes, wrestling – there's something for everyone in a Shakespeare play!) was duly matched by his verbal sparring ability with both his romantic interest Rosalind (the endearing Anna Myatt) and the melancholy Jacques (Matt Walsh). Example – Jacques: "By my troth, I was seeking a fool when I found you." Orlando: "He is drowned in the brook; look but in, and you shall see him."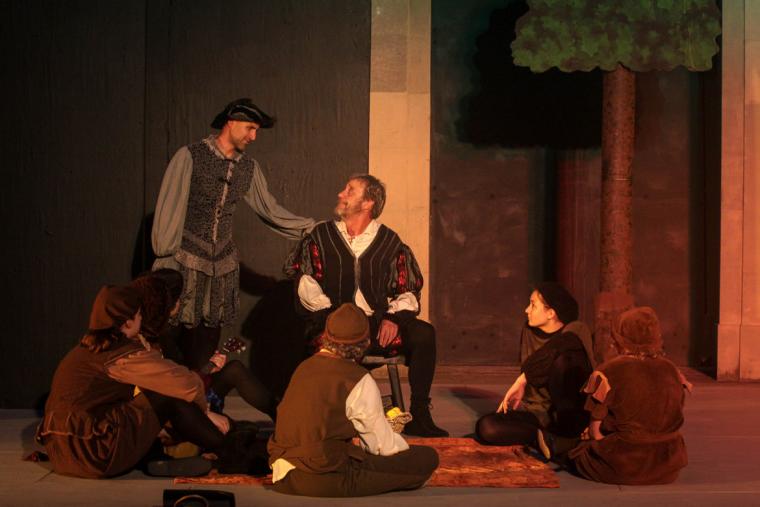 Walsh not only delivered some of the funniest lines in the show ("I can suck the melancholy out of a song, as a weasel sucks eggs"), but some of Shakespeare's most famous, including the "All the world's a stage, and all the men and women merely players" soliloquy. I was most impressed with Walsh's ability to change vocal characteristics and mannerisms as he described the seven parts men play in the course of their lives.
Several characters actually spend a good portion of their time mocking Orlando in one form or another. The servant Touchstone (Ethan Homeyer), for instance, seemed to take great delight in parodying the abysmal love poems to Rosiland that Orlando has posted on every tree in Arden Forrest, as when he says, "Truly the tree bears bad fruit." Then there's the banter, performed with terrific chemistry, between Celia (Joie Stoefen) and her cousin Rosiland, who have decided to run off together after Celia's father Duke Frederick (Merlin Nelson) banishes her. Stoefen makes the most of her opportunity to gently mock both Orlando and Rosiland's affection for him: "But for his verity in love, I do think him as concave as a covered goblet or a worm eaten nut."
Of course, there are also fine performances by a number of Genesius Guild veterans. Michael Carron, playing the aging servant Adam, objects to being called an old dog by saying, "Is 'old dog' my reward? Most true, I have lost my teeth in your service," and decides to accompany Orlando in his exile. Carron's belly flop of a stage fall was somehow both sad and humorous at the same time.
And let's not forget Pat Flaherty as the exiled Duke Senior. Although there were some minor delivery gaffes during the final dress on June 15, Flaherty portrayed the Duke with ease and affability, treating his banishment as if it were a camping vacation with fraternity brothers. Only a villain would want to banish this hail-fellow-well-met character to the woods … and Duke Frederick (Merlin Nelson) is just such a villain. With a generous blend of arrogance, peevishness, and intimidation, Nelson, as the direct (or maybe indirect) cause of the banishments to the Forest of Arden, shows the fruits of greed. ambition, and jealousy.
Director Jeff Coussens is to be commended for a production full of energy and vigor. (Methinks it doth help to have a youthful cast, by my beard!). And although there were some minor performance issues from time to time (this was a rehearsal, after all), the overall pacing was quite good. In fact, at times, a little too good, as some of the speeches were almost too fast to be understood. My only other complaint was that while the overall vocal projection of most cast members was adequate to excellent, there were moments, especially in the first act, in which the dialogue was nearly unintelligible. As it turns out, the lines we missed were some of the most important expository ones in the play, which made it more difficult to understand the basic plot for much of the show.
That being said, As You Like It – and you will like it, by my troth! – is a wonderful way to spend a summer-weekend's night in the park. Lawn chairs optional; bug spray strongly recommended.
As You Like It runs at Lincoln Park (11th Avenue and 38th Street, Rock Island) through June 24, admission is free, and more information is available by visiting Genesius.org.