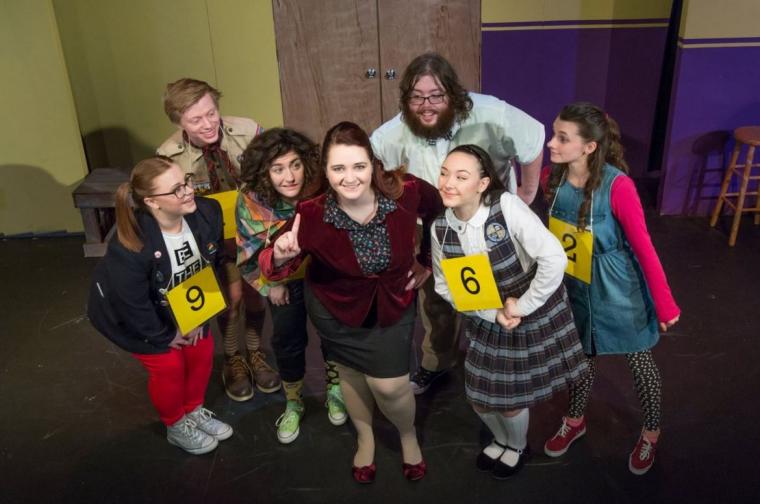 Prior to December 8, the last time I had been at a spelling bee was when I won one in the fourth grade. And although it's a great memory, that bee can't hold a candle to the competition I saw in Friday's Black Box Theatre presentation of The 25th Annual Putnam County Spelling Bee.
Composer William Flynn's music and lyrics and Rachel Sheinkin's book (with additional material by Jay Reiss) are so full of wit, heart, and humor that I think even a "C"-average delivery would still please. Director Becca Johnson, however, has created a wonderfully paced and creatively performed production, featuring terrific talent that includes the five-member pit orchestra of Peter Letendre, Becky Holland, Sandra Blom, Kyle Jecklin, and music director Kyle Schneider. This show gets an A+ in my book, as there was hardly a moment in which I wasn't under its, ahem, spell.
Putnam County's spelling bee is under the charge of three grownups led by Rona Lisa Peretti (Kathryn Jecklin), who, upon entering, recalls winning her own childhood bee by spelling the word "syzygy." Christopher Tracy portrays Vice Principal Douglas Panch, who provides the contestants with the words and definitions – the cast sings "The Goodbye Song" to mis-spellers as they are eliminated from the contest – and Keenen Wilson's Mitch Mahoney consoles each one with a juice box in fulfillment of his court-mandated community service.
The action takes place in a middle-school gym with bleachers for the contestants. Across the stage from them, the adult moderators sit at a desk just under a basketball hoop that has a basketball caught in the net hanging strategically over their heads. And the contestants' microphone is center-stage, making each one the appropriate focus of attention.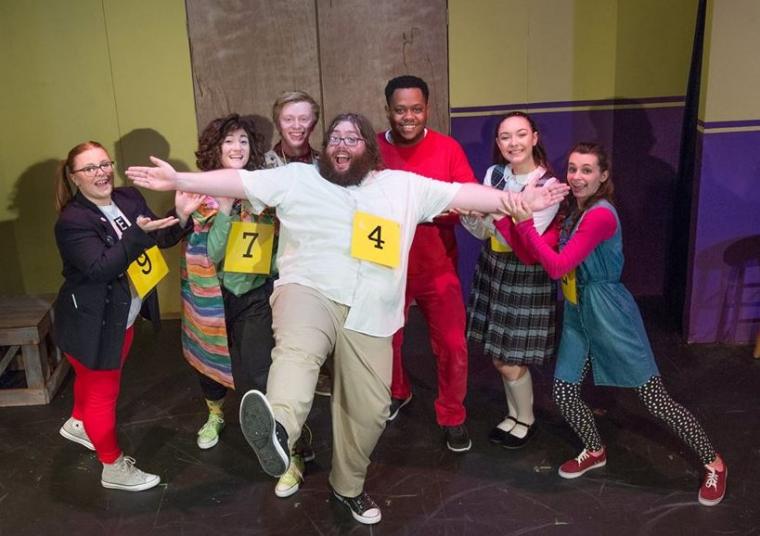 One of Putnam County's unusual elements was the interactive quality of the show, as four audience members were also called up and invited to participate in the contest. While each one was provided with some instructions, there was also an element of ad lib involved, and their participation was fun to watch.
While the adult characters and audience participation certainly did their share in contributing to the evening's laughter and enjoyment, it was the show's six middle-school spelling-bee participants that really stole my heart. Although the actors portraying them were of varying ages, most of whom I would estimate to be near or in their twenties, there was never a moment in which I didn't believe I was watching a bunch of charming pre-teen characters battling it out for the title of championship speller.
As each of the "children" stood in front of the microphone, there was a mixture of comedy and poignancy. All of them stalled for time, asking for a word's definition and use in a sentence, and the responses from Tracy's Panch were quite hilarious. However, the characters really came to life through their flashbacks, wherein we learned, through song, the sources of their frustrations and fears. In this way, the show really delivered on "heart," allowing us to genuinely love these characters as they blossomed before our eyes.
Who couldn't love Kelci Eaton's earnest Logainne SchwarzandGrubenierre – dressed in a "Be the Change" T-shirt with a jacket adorned with buttons for various causes – who is under tremendous stress from her two dads and sings an appropriate "Woe Is Me"? And then there's Leslie Munson's irresistibly exuberant Leaf Coneybear, who prances around in a makeshift cape telling us "I'm Not That Smart," and McKenzie Lofgren's intensely serious Marcy Park, who, in her parochial-school uniform, is under extreme pressure to realize perfection while singing "I Speak Six Languages."
Benjamin Graham delivers a charming portrayal of William Barfée ("Bar-fay," as he is always reminding the vice principal), whose secret to success is his "Magic Foot" that he uses to "write" each word before spelling it. And when Eagle Scout Chip Tolentino, as played by Daniel Williams, is aroused by his thoughts of a girl in the audience's front row, he gets even more flustered when asked to spell the word "tittup." Even the title of Chip's solo, "My Unfortunate Erection," is enough to make you smile.
The last of these characters, Olive Ostrovsky (Cydney Weitzel), was perhaps my favorite. Olive, who was admitted into the competition even though she didn't have the entrance fee, is a quiet, lonely girl whose absent father is still at work, and whose mother is at an ashram in India. Weitzel has a beautiful voice and was so realistic and natural on Friday that her understatement took me aback. She was also featured on "My Friend, the Dictionary" and in my favorite song, "The I Love You Song," alongside Tracy and Jecklin, the latter of whom bowled me over in this number.
While "fantastic" is an easy word to spell, results befitting that description are not easy to achieve. But if you asked me for a definition of the word, it would be: "The 25th Annual Putnam County Spelling Bee, currently in production at The Black Box Theatre." Go, see, and enjoy.
The 25th Annual Putnam County Spelling Bee runs at the Black Box Theatre (1623 Fifth Avenue, Moline) through December 16, and more information and tickets are available by calling (563)284-2350 or visiting TheBlackBoxTheatre.com.