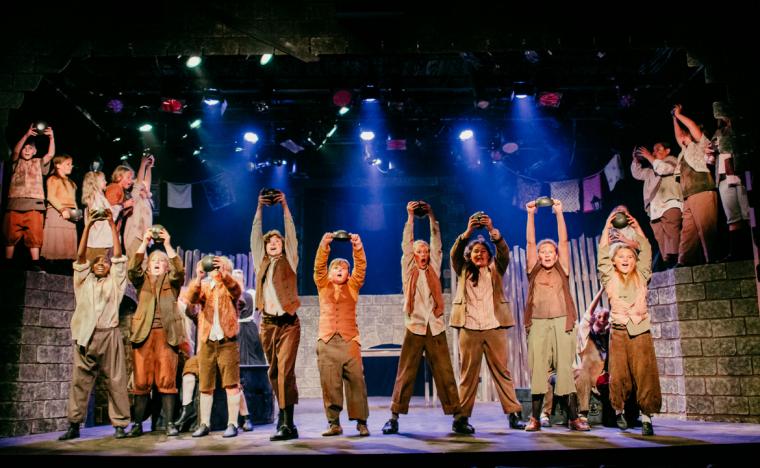 W.C. Fields was famously quoted as saying, "Never work with children or animals," probably because they're scene-stealing and completely unpredictable. And they certainly were, in the best way, when Thursday's opening-night performance of composer Lionel Bart's Oliver! played to a sold-out crowd at the Clinton Area Showboat Theatre. At the show's start, dozens of exceptionally talented children, playing half-starved orphans, stormed the stage with empty bowls in their hands singing "Food, Glorious Food," and this classic tale of struggle and hardship was immediately delivered with skilled, scene-stealing, completely unpredictable song-and-dance performances.
Directed by Lara Tenckhoff with musical direction by Laurie Lewis, this popular production brings Charles Dickens' beloved novel to life in its tale of Oliver Twist (Lucas Asay), a boy living in an orphanage workhouse who longs for love, along with some food that isn't gruel. Oliver's request for more gets him into trouble with Mr. Bumble (Nick Berninger), the cruel master of the orphanage, which lands the orphan in a funeral parlor working as an apprentice. Eventually, Oliver becomes a runaway trying to make his way through the corrupt underworld of London, and Asay was adorable as Oliver, possessing a great way of looking off into the distance, almost teary-eyed, as he sang heartfelt songs such as "Where is Love?" that really tugged at the old heartstrings.
Berninger's booming singing voice, meanwhile, made me feel as if I was attending an opera, and after he was paired with Samantha Bonzi's Widow Comey – a character who becomes Mrs. Bumble – the two actors were phenomenal together. On Thursday, Bonzi commanded the stage, seeming to fully release her fierce acting and singing abilities and not hold anything back.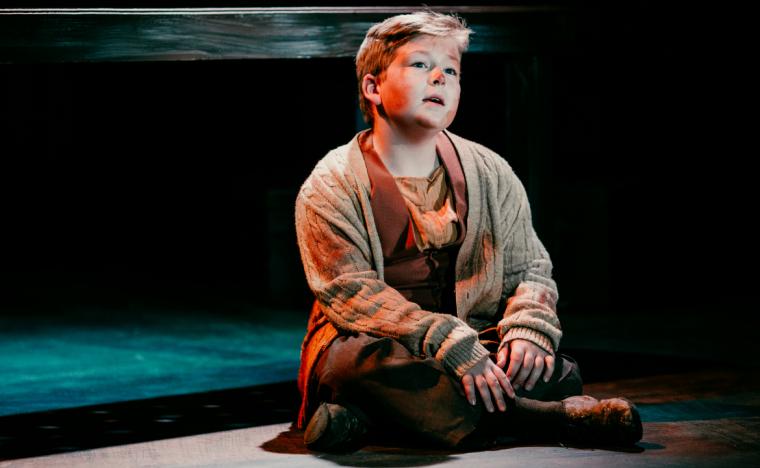 Oliver finds himself out and about on dangerous streets when he meets the Artful Dodger (Joseph Brune), a pickpocket and leader of a gang of child criminals. For such a young actor, Brune has great stage presence, an exceptional singing voice, and polished acting skills, and was especially good at scrunching up his nose with a cunning smile that lent itself well to this ornery figure.
The Dodger's mentor Fagin (Jay Berkow) consequently teaches Oliver how to survive on the streets by snatching valuables from strangers with his crooked song "Pick a Pocket or Two," and Berkow was effective in his subtle movements and creepy gestures that made me slightly repulsed yet simultaneously fascinated. Fagin's oversize handlebar mustache and long goatee, as well as his mismatched outfit by costume designer Rebecca Holcomb, made for a convincing street-criminal look.
My favorite Oliver! performance, though, was that of Erin Niebuhr, who did a stellar job as Nancy, a beautiful woman who's mixed up with Fagin and his gang. Niebuhr belted out songs including "As Long as He Needs Me" and "Oom-Pah-Pah" with great passion and lovely intonation, and her overall appearance and style reminded me of Bernadette Peters, who I've always admired. Nancy is in an abusive relationship with Fagin's evil gang member Bill Sikes (Dom Pagliaro), whom she continues to be loyal to even though he beats her, and Pagliaro did a great job portraying this dark, brooding, malicious criminal – a role that required some intense physicality and stuntwork between Niebuhr and himself. (He also showed off his impressive singing skills with his solo "My Name.")
Later in the show, one particularly entertaining scene found a group of vendors singing in rounds and harmonizing to "Who Will Buy?" There was a rose seller (Aria Braswell), a strawberry seller (Rosalind Blume), a milkmaid (Madison Deadman), and a knife grinder (Emerson Taylor), all of whom had fantastic voices and played their roles in a very appealing, over-dramatic way that actually made me want to buy a rose, some milk, or a strawberry. And talk about scene stealers: Eloise Fender portrayed the tiny blond orphan girl Nipper and proved herself quite a talented young actress. At one point during her performance, she stood alone sweeping the floor and singing, and projected just the right amounts of charm and natural charisma.
The whole production made me feel like I was transported to the streets of 19th-Century London, especially given the scenic design by Anthony Karpinski that consisted of dingy brickwork and dark cabinets offset by clotheslines hanging from the ceiling. There was also a large gray-and-white coffin in the funeral parlor that added great dramatic effect, as well as lots of dark corners and alleyways in which the actors made entrances and exits.
I was truly impressed with the high level of talent I saw in the Clinton Showboat's Oliver!, and in particular, how synchronized the children were performing Aria Braswell's intricate choreography while also managing props and singing. The large cast of kids moved about the stage effortlessly while remaining in character, demonstrating great discipline and professionalism, and although these youngsters didn't steal all of their scenes, they sure did give it their best shot.
Oliver! runs at the Clinton Area Showboat Theatre (311 Rivervire Drive, Clinton) through August 5, and more information and tickets are available by calling (563)242-6760 or visiting ClintonShowboat.org.