Making a silk purse from a sow's ear. That's what director/ choreographer Ann Nieman and her talented cast and crew are doing in the Circa '21 Dinner Playhouse's Seven Brides for Seven Brothers, but why on Earth anyone would try to rehabilitate this porker is quite beyond me. Don't get me wrong, though: At evening's end, I, along with seemingly every other patron in the house for the July 20 preview, heartily applauded during the curtain call. Even though I think the material is awful, the production itself is very good.
In truth, I'd been dreading this show based on the fact that, seeing it as an eighth-grader, I'd been quite insulted by its premise of men kidnapping women to be their wives – or, as it felt to me at the time, slaves. Yes, I was an earnest girl. Fortunately, though, I've grown up and out of my literal-mindedness, and now can see Seven Brides' real problems: an improbable (and kind of stupid) plot, and undeveloped, unrealistic characters that, developmentally speaking, go nowhere. With its book by Lawrence Kasha and David Landay, lyrics by Johnny Mercer, music by Gene de Paul, and additional songs by Al Kasha and Joel Hirschhorn, I also find the score – especially the lyrics – mediocre and trite.
I realize I'm probably in a minority on this, especially among Circa 21's regular patrons, but there's nothing about this show that I like. Yet there are many reasons why the theatre's production works, especially the overall energy and quality of acting, singing, and dancing on part of the entire cast. They really hammed it up, but I mean that in a good way. Thursday's preview also featured wonderful choreography, with a particularly terrific ensemble dance number – one of the best I've seen on the Circa '21 stage.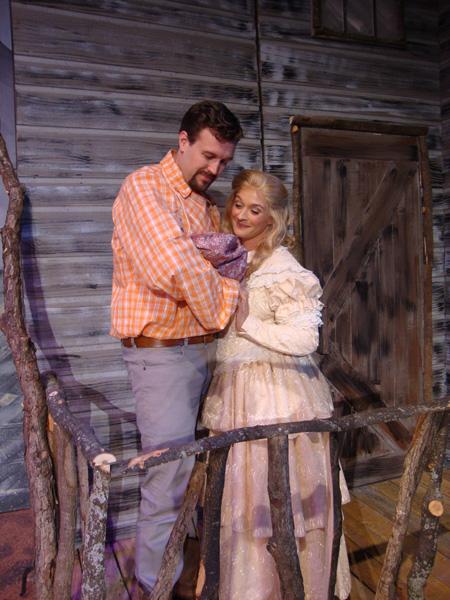 And then there's Sara Tubbs, who perfectly embodies the role of Milly; Tubbs is the heart and soul of the show, and the reason, for me, that the whole thing holds together. She's featured in several numbers, and Tubbs' beautiful singing voice and gutsy, forceful spirit made her character believable and true, despite the improbable circumstances Milly has to face. Jon Reinhold, meanwhile, has a commanding presence, and when he first takes the stage as Adam, booming out the goofy song "Bless Your Beautiful Hide," I was smitten; Reinhold's wonderful, rich voice filled the room and made me breathe a silent "Wow."
At Seven Brides' start, it's sometime in the 1850s in the mountainous west, and Adam is in search of a wife. After briefly encountering several women, the first he finds more than acceptable is Milly. She says yes when he proposes during their initial meeting, and is consequently whisked up to Adam's mountain cabin – a "pigsty" (in Adam's words) where she learns that she'll be tending to him and his six brothers.
When Milly realizes she'll be responsible for cooking and cleaning and picking up after the brothers – metaphorical sow's ears just waiting for transformation, if you will – for just a moment my eighth-grade shock and outrage kicked in. Really, even though I knew this was coming, I was quite irked, and found the aw-shucks, hick-like behavior and roughhousing of the brothers more than a little irritating. Plus, I could never understand why Adam was the only sibling among seven who knew how to converse somewhat intelligently and behave in polite society.
Yet the show has its fans. First produced as a movie musical in 1954, it was an adaptation of "The Sobbin' Women," a short story by Stephen Vincent Benet. The original story, however, goes back to the Roman myth of The Rape of the Sabine Women, wherein the first settlers of Rome abducted women from other regions and brought them home to help populate their city. Seven Brides' Adam actually finds Milly's copy of this tale, thinks it a good idea, and encourages his brothers to do whatever they must to get women. So, you see, the musical demonstrates the fun side of hostage-taking.
As Seven Brides for Seven Brothers progresses, the brothers sing lyrics that involve "sobbin'" and "throbbin'." Six women are abducted and brought through the high mountain pass. An avalanche occurs, keeping everyone at the cabin at least for the winter, although Milly refuses to let the men live in the house with the women (not wanting to cast pearls before swine, so to speak). The brothers go to live in the barn. Adam storms off angrily. Will Adam come home? Will the brides marry the brothers? Will you select the ham that's also on offer from the buffet? Whatever the answers, I think you'll find many merits to Circa '21's latest production, even if, like me, you don't like the material itself.
Seven Brides for Seven Brothers runs at the Circa '21 Dinner Playhouse (1828 Third Avenue, Rock Island), and more information and tickets are available by calling (309)786-7733 extension 2 or visiting Circa21.com.