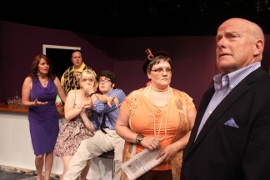 The Playcrafters Barn Theatre's production of The Fox on the Fairway is a bit of a conundrum, as the script isn't as consistently funny as much of playwright Ken Ludwig's other fare, specifically Lend Me a Tenor and Moon Over Buffalo. But his tale of rival golf clubs duking it out at their annual tournament remains riveting nonetheless. While the laughs were there during Friday's performance - and those laughs were oftentimes hearty, if not as plentiful as they could've been - it was the uncertainty regarding which direction Ludwig's tale would go, and the outcome of his plot, that maintained interest in this story.
Directed here by Nicholas Waldbusser, Ludwig's golf comedy takes place in the tap room of the Quail Valley Country Club on tournament day. Certain of his eventual triumph, given an outstanding player on his roster, club president Henry Bingham (Greg Bouljon) makes a bet with rival Dickie Bell (Mike Kelly) in which, if Henry wins, Dickie will pay him $200,000. If Dickie wins, however, Henry will pay him $100,000 and hand over his wife's cherished antique shop. But after the bet is made, Henry finds out that his prize player actually switched country clubs the day before, and he's left scrambling to find a suitable replacement.
Enter Alex Richardson's hysterically oddball Justin Hicks, Henry's newly hired assistant. As it turns out, this young man with a laughably weird pre-swing ritual is a gifted golfer who could win the tournament for Quail Valley. That is, he could if Justin isn't thrown off his game by becoming upset, which is likely to happen once he finds out that his overly emotional fianceé Louise Heindbedder accidentally flushed her engagement ring down a club toilet. (With a characterization that's a pleasingly mild version of a typical Anna Faris character, Clare VanEchaute, as Louise, frequently wails with tears while running with short, quick steps and her hands waving in the air - and later looks stunning in costume designer Mary Bouljon's choice for her evening attire.)
As if this weren't enough, Dickie relishes playful condescension, a humorous mixing of metaphors, and acting out and sounding like trains and tanks when appropriate (as it sometimes is in this play). And Kelly is hysterical in the role, with his sound effect while stating the name of Dickie's club - Crouching Squirrel Country Club - alone worth the price of a Fox on the Fairway ticket. Adding to Kelly's natural humor is Mary Bouljon's decision to costume Dickie in truly hideous golf pants and mismatched sweaters and cardigans, which are oftentimes the butts of jokes. (At one point, Dickie is advised that he shouldn't use box tops to purchase clothing.)
As for Henry, he must also contend with Melissa Scott's deliciously over-sexed lush Pamela Peabody, a club member and Dickie's ex-wife. Played by Scott, laudably, as a strong woman with a good sense of humor, Pamela aids Henry's efforts in getting Justin on the tournament team and, in one of the play's most hysterical scenes, works her wiles to help calm Justin down once he finds out about the lost ring. (The character also comes up with a hilarious excuse - one that she's forced to act out - as to why she and Justin were kissing when Louise walked in on them.)
And as if all that weren't enough, enter Henry's tank-of-a-wife Muriel, a force with which to be reckoned, and one played with amusing bravado by Mollie A. Schmelzer. While flirting outright with Dickie, Muriel also takes matters into her own hands in helping - or rather, commanding - Justin to win the tournament so she can keep her store.
All of this comedic drama takes place on director/designer Waldbusser's lavish set, which could very well pass for a real country club tap room, with a full bar, a (remarkably well-painted) granite floor, and a television set on which Waldbusser wisely airs golf programming prior to the performance's start and during its intermission.
My only complaint with Waldbusser's direction is his choice to use golf-themed song parodies during scene changes and - rather than playing them merely for the required lengths for the scene changes - allowing the songs to play out for an uncomfortably long time, seemingly only for the sake of allowing the audience to hear the mildly humorous lyrics. Otherwise, when Ludwig's plot reaches its multiple, delightfully ridiculous climaxes, Waldbusser plays up the uproariously funny scenes with amusing chaos and high energy from his cast. The Fox On the Fairway may not be consistently funny - driven instead by its interesting and ever-shifting plot - but when it is funny, Playcrafters' production is really funny.
The Fox on the Fairway runs at the Playcrafters Barn Theatre (4950 35th Avenue, Moline) through July 21, and more information and tickets are available by calling (309)762-0330 or visiting Playcrafters.com.