Playwright J.C. Luxton's writing has a beautiful eloquence about it, with poetic word choices and graceful rhythms in his verse. And while I did not understand all of the finer details in the Prenzie Players' Friday-night production of Luxton's Bear Girl - due solely to my own shortcomings when it comes to dialogue delivered in verse - the themes and main plot points were clearly told, and also, thanks to director Cait Bodenbender's treatment of the material, interesting, entertaining, and educational.
Luxton's story centers on a young, headstrong girl named Bear Girl who challenges the traditional behaviors of her Native American nation. Following the capture of her mother by a rival nation known as the Down Belows, Bear Girl is set on rescuing her, certain that her mother is still alive despite her father's dream suggesting otherwise. Defying the traditions of who is and isn't allowed in certain council meetings, and who is and isn't allowed to speak, Bear Girl sets into motion acts designed to retrieve her mother, the gods' wishes be damned.
Luxton's work possesses an unmistakable feel of authenticity, and Bear Girl actually feels like a small part in a larger story, as though there were an epic-event exterior to the proceedings and we're merely seeing one group's viewpoint and its influence on the greater scheme of things. Whether or not the details of the language, traditions, relationships, lineage, and hierarchy of the Native American people depicted here are historically accurate, they seem unwaveringly so because these elements are so meticulously wrought in Luxton's script. Add Bodenbender's choice of presenting the play in the round - with audience members seated in four groups and action taking place in front of and around them - and there's a thrilling sense of being a true part of the Native Americans' council meetings, battles, and encounters here, which makes for a lot of fun during the two-and-a-half hour presentation (including two intermissions). On top of that, further authenticity is provided by Bodenbender's simple set design, with branches strategically strung together and hung from the ceiling to effectively mimic trees overhead, and by sound designer Terry Skaggs' ever-present bird, wind, and other woodland noises.
Jen Brown impressively layers her Bear Girl with more thought than emotion, with her character's mental workings clear in the performer's looks of consternation, pondering moments, and efforts to come up with proper responses to those with whom she's speaking. Bear Girl's confidence is thoughtfully nuanced as she carefully weighs the advice given to her before either taking or ignoring it; she's a vital young woman with fire in her belly, but it's her wisdom that helps her calculate decisions, rather than run forward with guns-a-blazing.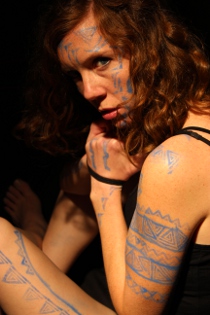 Brown is supported by a Prenzie Players staple: a mixed cast of various but equally interesting talents with a commitment to dynamic presentation. Beth Woolley, Maggie Woolley, and Becky Wren are delightful when depicting the youthful, gossiping, tittering teens Already Fish, Molting Feather, and Flying Over, respectively. (Wren deserves special props for muting the buffoonery inherent in Luxton's running flatulence gag, rendering Flying Over pitiable through Wren's sincere shame and embarrassment whenever she breaks wind, which is often.) Cole McFarren, Jake Walker, and Andy Lord make admirable warriors, with palpable bravado in their depictions of Yellow Thunder, Black Falcon, and White Feather. Jeremy Mahr softens the patriarchal conviction of his Blessinghouse Man with just enough concern to layer the character without softening his mettle, while Matt Moody's Swollen Hand is just slimy enough to be creepy without being a caricature. And Jarrod DeRooi impresses with his Shining Shoulder's conflicted bluster mixed with an almost doting concern for his captured enemy-turned-wife.
It's refreshing to see the Prenzie Players continue to branch out from their Shakespearean norm, especially when it involves an original work by one of its members, and by one as talented as Luxton. His Bear Girl is a worthy addition to the troupe's history of exceptional productions of exceptional works, and hopefully, it won't be the last play we'll see by such a clear master of poetic storytelling.
Bear Girl runs at the QC Theatre Workship (1730 Wilkes Avenue, Davenport) through June 22, and for more information and tickets, call (309)278-8426 or visit PrenziePlayers.com.