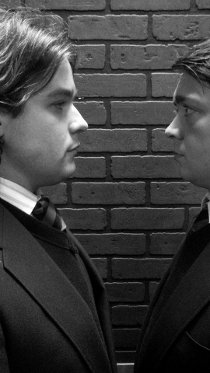 Director Dino Hayz sets the sexual tone for the Center for Living Arts' Spring Awakening right away, as each of the young female cast members appear, one by one, in spotlight, and run their hands along their pubescent characters' newfound curves as if admiring their blossoming womanhood in a mirror. This sensuality, which never crosses over into baser lewdness, carries throughout the production, highlighting the innuendo and double entendres present in playwright and lyricist Steven Sater's and composer Duncan Sheik's musical tale of sexual discovery.
As with the Center's 2012 production of the piece, this presentation's greatest strength is the passion with which Hayes and his cast perform the material. There's no question that these artists appreciate the story, as evidenced by the exuberance in their telling of it. It feels as though the experiences of the show's German teens, confronted with their first physical urges for one another, are experiences that Hayz's actors think important to share with the world because they ring true to the human experience. And/or, perhaps like me, they love Sheik's songs for their hauntingly poetic lyrics and soul-piercingly emotional melodies. Either way, there's an undeniable earnestness in every actor's performance here.
For Anastasiya Newkirk, that sincerity plays out as pure innocence in her virginal Wendla Bergmann, Spring Awakening's female lead. With Wendla's interest in Garrin Jost's brooding intellectual and progressive thinker Melchior Gabor growing, the wide-eyed-wonder at the core of Newkirk's portrayal amplifies the theme of innocence lost as she enters their sexual relationship almost blindly, unaware of its potential consequences. Jost, reprising his role from 2012, lends the show a gorgeous baritone voice - both in speaking and singing - and a cool, collected approach to the character that creates an impression of wisdom; Jost's Melchior seems to be constantly pondering everything he experiences. Impressively, he also balances the harsher aspects of Melchior's lust and sexual experimentation - such as when Wendla asks him to beat her with a switch - with a sense of control, as if his intellect was in conflict with his urges. But Jost also justifies them through his concerted approach.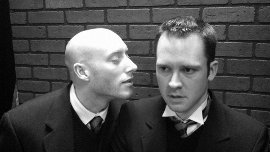 Also performing a role he played two years ago, Aaron Lord once again entrenches himself in my mind as the actor I picture as Moritz Stiefel - the plot's village idiot, so to speak - whenever I listen to the Broadway-cast recording of this musical. His eyes carry both sweet innocence and fear as they are opened to the world around him with things his mind struggles to comprehend. There's a stainless quality in his Moritz, and a sincere wonder and hope behind his character, that's easy to sympathize with, especially in his plight to not flunk out of school and to avoid his father's beatings. (Those beatings, as well as the scene in which Melchior repeatedly whacks Wendla at the back of her legs, are some of the production's most intense moments, with Hayz's staging effectively discomforting.)
In addition to colorful, flashing lights that invoke a rock concert during several songs, Hayz works some wonders with his set design. Using a thrust-stage layout for the performance space, Hayz includes a platform at the back of this area, and toward the end of the first act, four male actors enter with boards in their hands, which they insert in the corners of a roughly four-by-eight front portion of the platform. As Jost stands atop it, singing "The Mirror-Blue Night," the actors then pull the platform section to the center of the thrust area and spin it slowly, as Jost makes motions suggesting that Melchior is taking a night walk while contemplating recent actions with Wendla. During Thursday's performance, my jaw literally dropped at the beauty of this imagery.
Prior to the start of the production, Hayz announced that Spring Awakening will henceforth be an annual springtime presentation at the Center for Living Arts. Given the artistry with which he and his cast subsequently told this tale, I now look forward to seeing how he and future cast members present the moving material.
Spring Awakening runs at the Center for Living Arts (2008 Fourth Avenue, Rock Island) through May 24, and more information and tickets are available by calling (563)340-7816 or visiting CenterForLivingArts.org.