I could've left Saturday's Playcrafters Barn Theatre production of Ghost of a Chance at intermission and been quite pleased with the evening's entertainment. Unfortunately, I exited after the night's second act frustrated almost to the point of anger - not at director Patti Flaherty or her cast, but at the show's playwrights Flip Kobler and Cindy Marcus.
Playcrafters' latest tells the story of a young widow who, joined by her fiancé and soon-to-be mother-in-law, arrives at her late husband's cabin in the woods with the intention of selling it, only to find his ghost haunting the place. And I was amused by the entire first act, which provided bursts of hearty laughter throughout thanks to Flaherty's guiding of her actors to both dry and not-quite-over-the-top deliveries of some very funny lines. My nine-year-old daughter and I frequently laughed loud and hard during Act I and entered intermission with big smiles on our faces, hopeful that the fun would continue in Act II.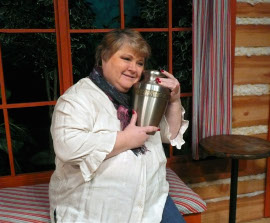 Instead, though, authors Kobler and Marcus indulge in the over-familiar tendency to move from a comedy in Act I to a lesson-filled drama in Act II. And not only do they take things too far on the side of serious in the second half, but they also force their characters to blather on and on about not just one point, but a handful of lessons that we, the audience, are supposed to take with us after seeing their show. What was, for quite a while, an almost uproarious play turns into a hit-you-over-the-head attempt at teaching you to (a) appreciate life while you have it, (b) appreciate those who love you while they're around, (c) accept love from others, be it platonic or romantic, and (d) accept the cards life deals you without letting the hand you're dealt drag you down. Ugh. As I walked to my car, I contemplated calling up Kobler and Marcus and chewing them out for forcing me to endure such a melodramatic killjoy of a second act. Why do playwrights, especially those who have a knack for comedy, feel the need to put lessons into their plays and wreck the fun?
Yet there are also the show's plot holes to content with. One example involves the titular ghost named Chance - portrayed with comedic vivacity by the dependably funny Joshua Kahn - who first awakens to his ghostly state at the play's beginning, just after his widow's fiancé and mother-in-law-to-be arrive for the weekend. We learn that Chance is one of those departed souls who refuses to "go into the light" for some reason or other and is consequently stuck in the world of the living. It turns out that the longer these beings remain on Earth, the more solid they get, and are eventually able to be seen and move objects almost as if they were alive again, though they're unable to leave the place where they died. But later in the first act, Chance says, "I'm gaining more substance every day" less than 24 hours after he first gained ghostly consciousness. (The rest of the holes I'd like to mention would give away key plot points, so I won't detail them here.)
Still, if I ignore Kobler's and Marcus' attempts at making Ghost of a Chance a morality tale, and ignore my issues with its plot, I can say that I enjoyed Playcrafters' production. Cayte McClanathan proves adept at maneuvering between comedic and heavily emotional deliveries as Chance's widow Bethany. Jordan L. Smith continues to be one of my favorite actors to frequent both the Playcrafters and Richmond Hill Barn Theatres, portraying Bethany's fiancé Floyd as a risk-averse man who is also charming and endearing for his gentility and unassuming nature. Jan Golz, who I more frequently see in the audience with me, has me hoping I'll see her more often on stage, thanks to her comically acerbic, slightly dismissive moxie as Floyd's mother Verna. I adored Donna N. Weeks for the way her character Crystal - a psychic hired to remove Chance from the premises - possesses an intellectual, somewhat condescending, and fantastically humorous nature. And Al Whitmore manages to leave a positive impression as the cabin's bumbling buyer, despite the relatively brief amount of time he spends on stage.
If not for its second half, I'd have nothing but high praise for the highly amusing comedy that is Playcrafters' Ghost of a Chance. But unfortunately, because the play has to continue after intermission, I'm left cursing Kobler and Marcus for not avoiding the cliché of becoming too serious in Act II, and for their show, as a result, taking too big a turn for the worse.
Ghost of a Chance runs at the Playcrafters Barn Theatre (4950 35th Avenue, Moline) through January 20, and more information and tickets are available by calling (309)762-0330 or visiting Playcrafters.com.