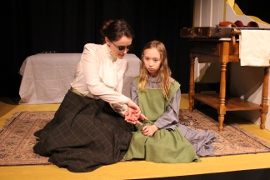 When it matters most, the Playcrafters Barn Theatre gets A Miracle Worker right, and does emotional justice to author William Gibson's tale of Annie Sullivan (Cayte McClanathan) teaching the blind, deaf, and mute Helen Keller (Emma Terronez) how to communicate through sign language. The scenes shared by McClanathan and Terronez are powerful, and their chemistry palpable, in Annie's fight to force young Helen to learn, and Helen's stubborn efforts to resist. But in truth, Saturday's performance didn't really find its footing until McClanathan and Terronez first shared the stage about halfway through Act I.
When the central pair is absent, director Rae Mary's production lacks energy, with uneven pacing and slow, almost boring progression. On Saturday, the opening scene in which Leigh VanWinkle's Kate and Bill Peiffer's Captain Keller stood over their infant Helen's cradle and first realized their daughter could neither see nor hear was a bit clunky, as the actors seemed uncertain about how they were supposed to emotionally maneuver their way through the scene. It wasn't until McClanathan's fiery Annie was introduced in the third scene that the performance got the spark it much needed. As the formerly blind woman assigned to help calm Helen and give her a "voice," the captivating McClanathan possesses the necessary stubbornness and spirit of this independent and proud character. Still, it took a few more scenes for Mary's staging of this classic piece of theatre to find its rhythm, which happened when Annie arrived at the Keller home and first met her young pupil. At that point, the battle of wills that ensued, following their introduction, drove Playcrafters' production.
Terronez (who understudies the role of Helen and substituted for Laila Haley on Saturday) is believable in her portrayal of a deaf and blind girl; her characterization is so complete that at no time did I ever sense that Terronez could see anything around her, and she never once responded as if reacting to sound. Her stubborn fits of resistance lend credibility to one of the play's most poignant scenes, which shows Annie's attempts to get Helen to sit still at the table, eat from her own plate with a spoon, and fold her napkin. McClanathan's and Terronez's skirmish is especially enthralling as Annie wrestles with Helen, who constantly escapes her grasp.
What really doesn't work in this Miracle Worker, however, are Annie's flashbacks, staged as voice-overs with Annie washed in red-light effects by designer Donna Weeks. Other than that of first-grader Thom Elliot's Jimmy - the younger brother of Annie who was separated from her during their time together living in an asylum - the voices heard lack inflection and sound read rather than acted, which diminishes their impact. During these moments, even McClanathan, who is otherwise impressive in the play, seems to be forcing her emotions, overdoing her reactions beyond believability. In truth, I found these scenes so awful that I cringed every time I saw the red light come on or heard the voice recording start, knowing I'd have to endure yet another one.
Yet while McClanathan and Terronez are the highlights of the production, there are other notable performances, particularly Betty Cosey's portrayal of Viney, the Kellers' servant. Cosey's character is so full of moxie and attitude that she elicited an ear-to-ear grin on my face with her every word, delivering some much-needed comic relief to the otherwise serious proceedings. Peiffer offers some noteworthy moments of conviction with his Captain Keller, particularly when facing off against Annie; he maintains a stalwart air while caving to her every demand regarding Helen. Tyler Henning delivers his lines as Helen's stepbrother James with just a tinge of sarcasm, getting his points across sharply without seeming overly disrespectful. VanWinkle's Kate, meanwhile, first struck me as too mild-mannered and meek - and, thus, not very memorable - but I eventually realized that her gentility was fitting for the Southern woman she plays, especially one as long-suffering as Mrs. Keller.
Mary also makes excellent use of the space in the barn theatre, with most of designer Weeks' set made up of pieces of period furniture rather than backdrops. And happily, the leading performances are key to the most poignant points in The Miracle Worker, such as the climax in which something finally clicks in Helen's brain regarding what Annie is trying to do with her fingers, and the girl finally understands that these signs mean something. Previous missteps in this production aside, Mary's final scene proves moving, especially in the sincere emotional connection between McClanathan and Terronez, and it leaves a positive, lasting impression of Playcrafters' production.
The Miracle Worker runs at the Playcrafters Barn Theatre (4950 35th Avenue, Moline) through November 17, and more information and tickets are available by calling (309)762-0330 or visiting Playcrafters.com.