Let me begin by stating, honestly, that I am a huge Disney fan, and have a major bias toward anything Disney-related. So when seeing The Little Mermaid come to life during Quad City Music Guild's June 8 preview, the show would've had to be a catastrophe for me to not enjoy myself. Thankfully, it wasn't one. Right from the get-go, as we took our seats, director Heather Beck did an excellent job of setting the oceanic scene through projections on the walls and watery sound effects that reminded me of a Disney-theme-park ride – which, again, made my inner Disney fan excited to be there before the curtain even rose.
If, by chance, you're unfamiliar with this Little Mermaid, it's the story of Ariel (played by a spot-on Hillary Erb) – the mermaid daughter of the underwater mer-King Triton (Nathan Bates) – and her desire to travel to the human world. Considered part of Disney's 20th-Century renaissance period, what really made the 1989 film stand out was the amazing music by composer Alan Menken and lyricist Harold Ashman, and the stage show's chief merit – with added musical numbers by Menken and lyricist Glen Slater – is no exception. Once again, under the music direction of Valeree Pieper, Music Guild's pit orchestra sounds fantastic.
With her program biography stating that she's a big fan of Ariel, Erb had the character's mannerisms down to a T, making it clear that she has seen the film a few (or few hundred) times. Right down to her wobbly legs when trying to stand on them for the first time, Erb definitively embodied Ariel.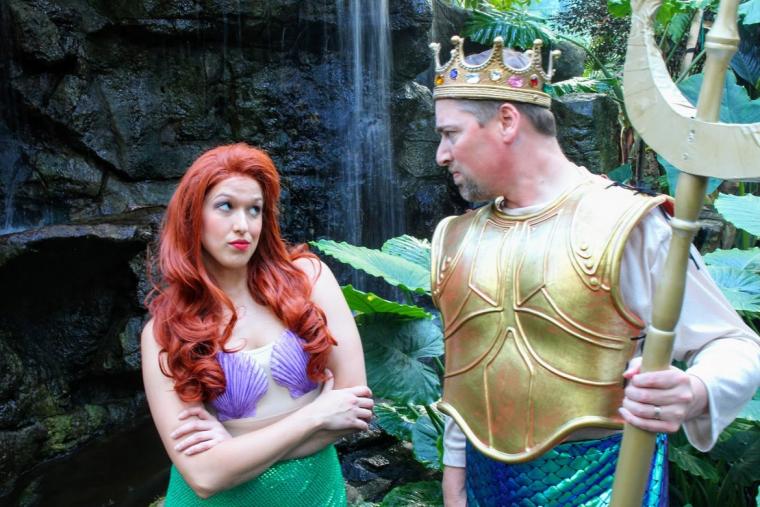 In a rare and unique opportunity, Hillary Erb gets to play opposite her husband John Erb, whose Prince Eric is the human Ariel risks everything for in order to join him on dry land. John delivers a few strong vocal moments, particularly in the song written expressly for the stage show ("Her Voice") that finds Eric, after being rescued by the mermaid, trying to remember what Ariel sounded like.
Ariel's sisters, meanwhile, pack a powerful vocal punch when performing together, and Sheri Olson, Megan Warren, Olivia Gasper, Danielle Clark, Michelle Steen, and Kailey Ackermann sounded fantastic in their group numbers. In another tune I'd never heard before, titled "She's in Love," these women were soulful and full of energy, and that number that also marked the first time we got to hear the singing of Ariel's best friend Flounder (played by the wonderfully impressive 12-year-old Lillian Cobert).
Some say that in every great story, you find a great villain, and that's certainly the case with Beth Marsoun's delightfully wicked sea witch Ursula. Arriving complete with purple skin, four moving tentacles, and a wildly evil laugh, Marsoun's vocals sent her performance into the sky (rather than the sea). In Ursula's "Poor Unfortunate Souls," especially, Marsoun's voice will blow you, too, out of the water.
Other members of The Little Mermaid's cast include J. Adam Lounsberry as Sebastian – the Jamaican crab with the funny one-liners – and the always funny and delightful T.J. Green as Chef Louis. A tap-dancing Faith R. Hardacre plays the very confused seagull Scuttle, while Harold Truitt, as Eric's caretaker Grimsby, treated us to stage voice that was crystal clear and a pleasure to listen to.
I did have some issues with the show, based mostly on its script and some confusing staging toward the end. Considering that most of The Little Mermaid takes place in one of two different worlds – one undersea, one human – I knew it would be intriguing to see how Beck handled the worlds' collision, even if the stage script's finale wound up different from the film's. (And it was: Rather than a wedding between Ursula and Eric that Ariel and her friends have to break up, the climax here involves a singing contest.) In this staging, though, seemingly out of nowhere, Ursula is suddenly in the castle ballroom – as are the other sea creatures and mermaids – and it became confusing as to whether we were actually on land or in the sea. (If Flounder really was in that ballroom, that might make for some serious breathing issues.) Some more-creative staging might have helped clear up the audience's bewilderment, even if this was purely a script-based problem.
But in the end, if you know and love The Little Mermaid as either a movie or a stage musical, you'll still see all of the story's iconic visuals in Quad City Music Guild's latest presentation, thanks to the hard work of Beck, costume designer Angie Stark, scenic designer Michael Turczynski, and lighting designer John Weigandt. And, of course, you'll hear all that wonderful music.
The Little Mermaid runs at the Prospect Park Auditorium (1584 34th Avenue, Moline) through June 18, and more information and tickets are available by calling (309)762-6610 or visiting QCMusicGuild.com.