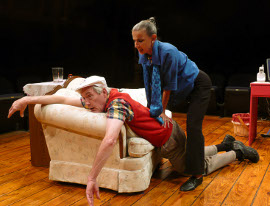 As suggested by the title, the Richmond Hill Barn Theatre's current offering, Sex Please, We're 60, involves men and women of a certain age and their libidos, but thankfully it maintains a modicum of decency by placing the "action" off stage. The piece also features many clichéd jokes and absurd situations, but while I cringed at the images conjured by the title, it's when the work is at its (relatively) raunchiest that the play and the cast work best.
Under the direction of Jalayne Riewerts, Sex Please, We're 60 takes place in a bed-and-breakfast run by Mrs. Stancliffe, played here by Liz Blackwell. Her neighbor, Bud Davis, believes he's the reason Mrs. Stancliffe's establishment attracts so many female guests, presuming that they frequent her inn for their annual physical liaisons with him.
If ever there was a part for actor John Donald O'Shea, it's Bud, as his joyful smirk - one that reads in both his facial expression and vocal inflection - well suits this character who refers to himself as "Bud the Stud." O'Shea's mixture of friendly and silly confidence helps make his lusty lothario likable, and while I never found myself rooting for him to get the girls during Friday night's performance, I did see him as an amusing, harmless chap who just talks a little too much about having sex. (Well, a lot too much, actually.)
O'Shea also does a lot of scenery chewing, as seems to be the wont of most of the cast members. Their careful enunciation and exaggerated looks do much to expose the unnatural dialogue written by playwrights Michael and Susan Parker. The Parkers rely on wordy explanations from their characters to let the audience know why they're at the B&B, delivered in frequent and annoying bouts of exposition. (Throughout the production, I kept thinking, "Who talks like that?") The audience isn't allowed to figure anything out about the characters on its own, because each character clearly, continually explains his or her motivations.
Stan Weimer, though, somehow manages to effectively overcome the play's awkward, labored lines while portraying Mrs. Stancliffe's other neighbor, the gentle and unassuming Henry Mitchell. Having proposed to, and been rejected by, Mrs. Stancliffe daily for 24 years, Henry has concocted a female version of Viagra - which he calls Venusia - and hopes the pill will finally garner a "yes" from his post-menopausal, hoped-for wife. Weimer's natural flow of speech, delivered with touching meekness, is endearing, and on Friday earned Weimer an audible "Aw-w-w!" when he entered with an armful of flowers before (again) proposing to Mrs. Stancliffe.
Blackwell, too, avoids overacting, though she does deliver her lines a bit too purposefully for them to feel natural. It doesn't help that she has the most unrealistic lines in the play, with her constant mentions of the time including the phrase "post meridian" instead of "p.m." However, while her innkeeper begins as a fairly callous, task-driven person, Blackwell notably shades Mrs. Stancliffe through the course of the play, softening her into a welcome love interest for Henry.
Rounding out the six-character cast, Melissa Scott plays the Southern belle, Charmaine Beauregard - the only B&B guest who is actually interested in Bud. Scott has a way of exuding that stereotypical Southern charm so that, while the character is slutty, Charmaine is instead rendered as enticingly sweet. Rita Bowen has many moments of beautiful sincerity as romance novelist Victoria Ambrose, another guest at the inn, but goes a bit over the top when extreme emotions are required. And Susan Philhower plays her Hillary Hudson with playful charm, but also with somewhat odd twists and spins, as she oftentimes nearly dances across the stage. (I also can't, for the life of me, figure out why her character wears athletic toe shoes with a skirt.)
The barn theatre's intimate space requires more subtlety than is delivered by Riewerts' cast, at least in the first act. However, the grandiose characterizations appropriately fit the second half of Sex Please, We're 60, when the women switch Bud's Viagra with Henry's Venusia. Both men, and each of the women, end up taking the pill, causing the men to suffer the effects of menopause, and the women to be filled with lust. This tawdry slapstick had Friday's audience in stitches - especially the women, who were roaring with laughter at what I'm guessing was an all-too-familiar knowledge of just how accurately the men's menopausal symptoms were portrayed.
For tickets and information, call (309)944-2244 or visit RHPlayers.com.