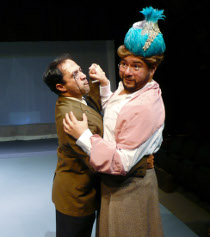 Judging by Friday's performance of The 39 Steps at the Playcrafters Barn Theatre, it's apparent that director Tom Morrow likes sight gags and British humor. He handles playwright Patrick Barlow's comically melodramatic take on the 1915 spy thriller - and Alfred Hitchcock's 1935 film - with care, avoiding over-the-top staging but highlighting the humor in ways that elicit a lot of laughs. (Whereas overselling the gags would likely elicit groans.)
It certainly helps that Morrow is working with cast members who have true knacks for comedy. Jonathan Grafft, who brought the house down last year with his Yooper's speech impediment in the Richmond Hill Barn Theatre's Escanaba in da Moonlight, plays more of a straight man here, though he's still quite funny. His Richard Hannay is the dashing hero of The 39 Steps, a man on the run after being accused of murdering a woman named Annabella (Leigh VanWinkle), whom he attempted to hide from two assassins. Her death sets off a run of visual gags, beginning with Richard's attempt to escape from under Annabella's dead body after she collapses on his chair, and over his lap.
There are laughs aplenty throughout the production, among them the ones that reference Hitchcock's best-known films, that occur after a phone continues to ring despite being picked up off its receiver, and that find the assassins (James Driscoll and Ed Villarreal) crouching after we're told they're actually standing under a lamppost. (The prop is only five feet tall, if that.) But two scenes, in particular, stand out.
While on the run, Richard takes a train ride to the home of Professor Jordan (Jason Platt), hoping he can identify the head of an espionage organization called "The 39 Steps." During the ride, Richard sits across from two salesman, played by Platt and Driscoll. (The play requires that all of the actors but Grafft play multiple characters - sometimes within the same scene - with split-second changes.) And each time one of the salesmen gets up to exit the train car, Morrow has the men spin, stumble, and move around each other in ways that make it look as though there isn't much space between them and they must shuffle around to let each other pass, while repeatedly saying, "Sorry ... excuse me ... sorry ... ." While this may not sound funny as described, the repeated gag's visual comedy is hilarious. Add several quick character flips at the drop of a hat, and small touches such as Platt quivering his cap while sticking his head out the train-car window, and I was laughing so hard I was certain my sides were going to bust.
My unbridled laughter returned during a death scene toward the end of the play, when one of Platt's characters is shot at the top of the stairs in the middle of the audience. While dying, Platt makes his way down the steps to the stage, commenting to individual audience members about how much being shot hurts and how much more it'll hurt in the morning - also uttering other, even better quips - until he finally falls flat on his back on the stage, dead. While humorously written, the actor's performance makes the slapstick scene even funnier; Platt, who is consistently likable on stage, seems to relish the lengthy moment, and it's easy to relish it with him, in what now is one of my all-time favorite stage-death scenes.
There are so many laugh-worthy moments, situations, and touches between those two scenes that Playcrafters' The 39 Steps emerges as fantastically entertaining. Morrow and his cast deserve thunderous applause - and the standing ovation given them Friday night - for presenting a comedic diversion that'll likely be remembered well beyond the two hours it took them to deliver it.
The 39 Steps runs at the Playcrafters Barn Theatre through September 16, and information and tickets are available by calling (309)762-0330 or visiting Playcrafters.com.