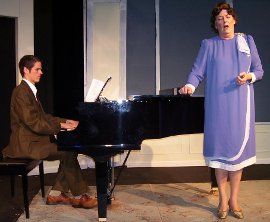 Susan Perrin-Sallak is currently one of the bravest actors in the Quad Cities. Starring in New Ground Theatre's Souvenir: A Fantasia on the Life of Florence Foster Jenkins, she's required to sing badly, and Perrin-Sallak delivers a daring vocal performance that's intentionally off-pitch and off-key, with poor placement, intonation, and timbre. It leaves her vulnerable to audience perception that the performer really can't sing. However, since her caterwauling is required by the role, and presented with such abandon, Perrin-Sallak's vocally painful singing is actually awfully good.

The role of Foster Jenkins - a real-life socialite who thought herself one of the greatest opera singers in the world, but was far from it - requires singing of a sort that would cause pain to even the least discerning of ears, and Perrin-Sallak certainly pulls this off. With her head held high, and an air of condescension that expresses pity more than it does arrogance, Perrin-Sallak's characterization also lives up to Foster Jenkins' reputation of being so self-unaware and so proud of her self-perceived abilities. Her Foster Jenkins is endearing in her delusions.

While it would be easy to laugh at Perrin-Sallak's Foster Jenkins, the actor's portrayal, author Stephen Temperley's script, and director Lora Adams' handling of the material quickly make it clear that Foster Jenkins is not the butt of a joke. Rather than being mocking in tone, Adams' approach to Souvenir is empathetic to Foster Jenkins' self-delusions, suggested through her show's simple, realistic delivery.


Bryan Tank, the only other actor in the play, bears the weight of telling the tale as Foster Jenkins' gay accompanist, with numerous monologues providing the details of the pseudo-singer's life. And were Tank's emotional highs and lows, well, higher and lower, some of his character's humor might not have been lost in the translation. (Tank could easily play his Cosme McMoon with more flamboyancy, but it could be argued that such an interpretation would cross over into caricature.) As it stands, though, Tank's performance is still quite good, nicely showcasing his piano and vocal skills.

The only significant problem with Friday night's performance lay in its lighting, with multiple missed cues and lights inexplicably changing mid-scene, as if the light-board operator kept hitting buttons at the wrong time. Execution aside, though, designer Tristan Tapscott does make good use of simple effects to transform the set's window, backlighting it to reveal trees outside Foster Jenkins' studio, and surrounding it with bulbs to give the impression of a Carnegie Hall stage flanked by lights.

The entire experience of Souvenir, however, hinges on the actress playing Florence Foster Jenkins. I don't know whether or not Perrin-Sallak can sing well, but I do know she can sing badly quite well, and in such a way that leaves you always rooting for her. It's her work that buoys this New Ground Theatre effort, and helps create a truly touching, delightful production.


For tickets and information, call (563)326-7529 or visit NewGroundTheatre.org.

Thom White covers entertainment news for WQAD Quad Cities News 8.