Quad City Music Guild's A Christmas Survival Guide, with its sentiment, irreverence, and cheeky humor, is almost exactly my kind of holiday celebration. Wednesday night's dress rehearsal - and the show was so finely polished that I hardly think it necessary to state that it was a dress rehearsal - had me smiling, chuckling, and itching to sing along with the familiar songs included in this musical revue.
Written by James Hindman and Ray Roderick, with music arranged by John Glaudin, A Christmas Survival Guide presents a collection of holiday music both familiar and lesser-known, and with the exception of some sacred medleys toward the end, every song delivers a tinge of naughtiness, or some comically less-than-festive attitude. The show takes a particular look at the craziness of the holidays, as exemplified in the cell phones, watch alarms, and car horns that take the place of the "Silver Bells" ring-a-ling-ing in the city. Zach Hendershott, Tom Naab, Jennifer Sondgeroth, Chris Castle, and Faith Hardacre sing their way through 21 songs and medleys, while Dave Bailey's genial Dr. Ted interjects with snippets from his book, which bears the same title as the musical itself.
Director John Weigandt seems to embrace the fun of the piece, relishing the humor without allowing it to go over-the-top - unless that's called for, as in Castle's showstopping rendition of "The Twelve Steps of Christmas," a twist on the familiar song that replaces turtledoves and golden rings with codependency, nicotine patches, and chocoholism. Hendershott also offers a rocking-good Elvis impersonation on "Santa Claus is Back in Town" while donning designer Sue Woodard's most creative costume, which blends Santa and Elvis outfits in one sparkly purple jumpsuit trimmed with white faux fur. (Woodard's costuming also includes a parade of gorgeous gowns, dapper tuxedos, and even some ugly holiday sweaters, with my favorite piece being the red, sleeveless, 1950s ball gown that music director and pianist Randin Turner dons during the first act.)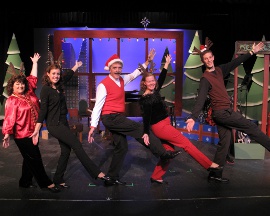 I did find Hindman's and Roderick's decision to close the revue with a selection of sacred songs a bit jarring. After sexual references such as "Yes, that is a candy cane in my pocket, and I'm happy to see you" and the mention of a horse-crop being "like the one we have at home," this musical answer to "Doesn't anyone know the true meaning of Christmas?" comes as something of a shock. This segment starts with Tom Naab reciting the same biblical passage that Linus shares in A Charlie Brown Christmas, after which the cast members then sing their way through some beautiful medleys of Christmas hymns that feature the production's best harmonies and palpable sincerity. Yet while it could easily be argued that the inclusion of these songs makes sure all bases of the holiday are covered, from secular to religious, it reads as a tad patronizing, considering the sacred pieces are preceded by Faith Hardacre's delightfully seductive "I'd Like to Hitch a Ride with Santa Claus" and her energized delivery of "Surabaya Santa," a song performed from the perspective of Mrs. Claus talking of divorcing St. Nick.
That's a mild criticism, though, as the production is altogether enjoyable. And even if the show itself weren't good, Weigandt's set design would remain remarkable - and is perhaps my favorite holiday display of the season. Stylized, snow-trimmed, wooden-cutout trees diagonally flank the show's jazz ensemble sitting on platforms - they look like center-stage gifts - with a backdrop of Christmas-light-outlined skyscrapers seen behind an oversized window. Add in the performances of the cast, and the aesthetics of Quad City Music Guild's A Christmas Survival Guide would rival those of any holiday window display at Macy's.
A Christmas Survival Guide runs at the Prospect Park Auditorium (1584 34th Avenue, Moline) through December 8, and tickets and information are available by calling (309)762-6610 or visiting QCMusicGuild.com.