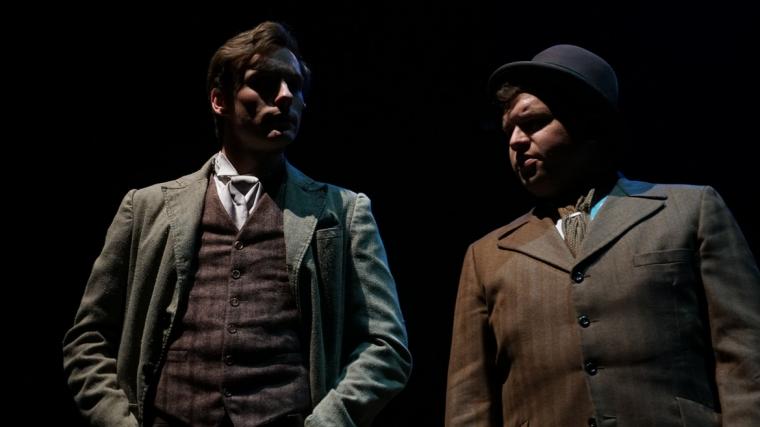 Does a wild hellhound prowl the moors of Devonshire? Leave it to the brilliant detective Sherlock Holmes (Alex Rudd) and his distinguished assistant Dr. Watson (Max Bahneman) to solve this legendary case of an alleged curse in Ken Ludwig's Baskerville: A Sherlock Holmes Mystery at the Timber Lake Playhouse. In a totally marvelous theatrical display of talent and special effects, Saturday's matinée performance was one of the best non-musical productions I've seen in a long time.
Artistic Director Paul Stancato got my attention right away during his opening remarks, announcing that five actors would take on 45 roles. Directed by Kevin Theis, this murderously funny story begins with the mysterious death of wealthy Devonshire landowner Sir Charles Baskerville, and it's now up to Holmes and Watson to figure out exactly what happened. Meanwhile, Sir Henry (Ben Senneff), an heir to the Baskerville fortune, arrives to claim his part of the wealthy estate, and Dr. Mortimer (James Tweedale) tells Holmes about the old family legend of an evil hound that lives in the moors. With that, our heroes set out to solve the mystery.
Rudd was well-cast as the distinguished Sherlock, and although he stumbled over a few of his lines on Saturday, he never broke character, and the actor's slender frame and British handsomeness were perfectly suited for the intelligent, witty, pipe-smoking Holmes. Bahneman's rendition of Dr. Watson was also quite good despite his microphone seeming to malfunction during the first act, which consequently made it difficult to hear some of his dialogue. But Bahneman overcame this obstacle by really projecting his voice, and by the second act, the microphone issue was corrected.
In my opinion, though, supporting actors Senneff, Tweedale, and Rebecca Marowitz were so over-the-top talented that they overshadowed the two leads, taking on multiple roles in which they executed various accents while portraying a wide diversity of male and female roles.
Marowitz was phenomenal speaking in English, German, and Irish accents that were all completely believable. One of my favorite characters was Inga, a German maid who is absurdly sinister and has a speech impediment that makes her unable to pronounce certain letters. Marowitz curls her fingers and contorts her face while thunder and lightning effects by Cameron Strandon and Jacob Alamanzar emphasized her line deliveries, making for very funny scenes.
Tweedale steps into multiple roles as well, and one I particularly enjoyed was Jack Stapleton, who was the true antagonist of the story – an innocent-looking former schoolmaster found to be chasing butterflies on the moors. Jack is polite at first, but later, at key moments, his hot temper reveals itself, and Tweedale flutters about the stage practically skipping as he tosses about a net to capture rare butterfly species. The actor also played a hotel clerk who not only had an English accent, but a lisp to go with it, and was positively hilarious.
Senneff, meanwhile, played so many characters that it was mind-boggling, and I had a hard time keeping up with them all. But what I do remember was that he had a fantastic ability to change his voice instantaneously from a cowboy with a deep Southern drawl to a brilliant English constable. After reading Senneff's program bio, I discovered that he impersonates the voice of Frank Sinatra in his free time, and it was obvious that he consistently works hard to fine-tune his craft.
Baskerville's special effects consisted of a rotating stage, fog machine, strobe lights, rushing winds, and howls, to name just a few. The overall scenic design by Spencer Gjerde created an eerie ambience while also providing two smaller side stages to accommodate the actors in their multiple roles. (A large, Muppet-type hound with glowing red eyes is also used for the hellish creature lurking in the moors.) I can only imagine how much technical direction and stage management was required in this production to keep everyone safe on a spinning stage, so added congratulations to Will Hughes and Laura Krouch for a job well done.
As for the costumes by Sarah Lake-Rayburn, they were extremely well-designed and assembled, and appeared to be of very high quality, which added to Baskerville's authenticity. This was my first time attending the Timber Lake Playhouse, and I was simply overwhelmed with the professionalism and talent that exuberated from everyone involved as they delivered such a well-polished presentation.
Baskerville: A Sherlock Holmes Mystery runs at the Timber Lake Playhouse (8215 Black Oak Road, Mt. Carroll) through July 28, and more information and tickets are available by calling (815)244-2035 or visiting TimberLakePlayhouse.org.