The awe and mystery behind the technical workings of the brain are topics that have been explored for ages, and in 1966, author Daniel Keyes' Flowers for Algernon was published, his brain-y themes diving deep into our fundamental humanity and the costs of scientific ventures versus their rewards. Having read and enjoyed the novel in high school, I re-read it before seeing the Richmond Hill Barn Theatre's and playwright David Rogers' stage adaptation, and am happy to say that director Dana Moss-Peterson and his cast provided an evening of thought-provoking theatre with relatable characters – one that was true to the book and, for me, just as moving.
You may be familiar with Flowers for Algernon; back in my day, it was assigned reading in many high-school English classes. It's the fictional story of Charlie Gordon, a mentally challenged adult who works a menial job in a bakery, where he is teased by his fellow workers whom he mistakes for friends. He can read and write at a basic level, although his cheerful, childlike persona hides his loneliness and need to be loved, and after scientists select Charlie for an experimental surgery to increase his IQ – having already successfully increased the "intelligence" of a mouse – it rises from 68 to 185. Charlie, however, faces many unexpected challenges, such as dealing with the emergence of childhood memories, his emotional growth not matching his intellectual growth, and his anger and mistrust of those he considered friends. Charlie gains intelligence, but loses his kind nature.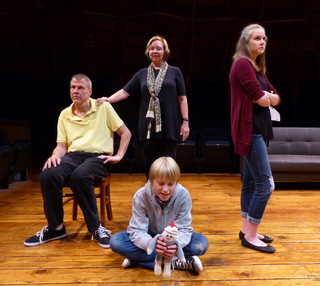 Moss-Peterson had challenges of his own to overcome here, and on October 6, did so with professional adeptness. Given the in-the-round staging, presenting such an emotional play in which the actors' faces aren't always visible to patrons could have been off-putting. But along with stage manager Mike Skiles and his production crew, Moss-Peterson employed lighting and the effective use of sparse furnishings to create a cohesive and satisfying theatre experience. (When actors' faces weren't visible, their body language and voices also helped carry scenes.) Designer Terry Wilkerson's lighting effects were particularly mood-setting when their changes from bright to dark blue matched the changes in Charlie's personality, and although they were incongruous to the time period, Moss-Peterson effectively connected scenes with snippets of modern music by artists such as Judah & the Lion, gnash, and Cage the Elephant. I was emotionally spent at the play's end, but hearing Mumford & Sons' "After the Storm" really brought on the tears.
The character of Charlie is a demanding one that shouldn't be portrayed as a caricature, and Jonathan Grafft received a well-deserved standing ovation for his most impressive performance. His shift from Charlie the slow-witted innocent to Charlie the arrogant genius was done in a gradual, believable way, and the amazing Grafft captured every conceivable emotion in the journey – hope, pain, awkwardness, embarrassment, anger, and introspection.
In the role of Charlie's mother, Lona Friedman expressed a parent's irrational hope of "curing" her child and, later, her cruel rejection of him, and one of the play's more powerful scenes found Charlie visiting this now aged, senile woman who – in a heartbreakingly accurate moment – shows pride in her son right before turning on him. As the father who doesn't have the backbone to stick up for Charlie, Don Faust plays his role with just the right demeanor as a broken man who must choose between his son and his wife and daughter. Meanwhile, two other stand-outs are Nicholas Waldbusser as the lab assistant who tests Charlie and Terri Nelson as Charlie's boss. Both are genuine in their humane treatment of Flowers for Algernon's lead, and their conversations felt natural and real.
Portraying academics, Tom Morrow and Justin Raver performed with a stiffness that exaggerated their characters' detachment and haughty egotism, but for me, the actors didn't always appear comfortable in their roles. And Jackie Patterson, as Charlie's teacher and love interest Alice Kinnian, played her character as more fragile than Charlie, and frequently had a distressed, worried look that wasn't always warranted. (When on a date with Charlie, she seemed to pity him more than respect him.) But Patterson did deliver her lines with earnestness, and was sometimes very effective in her scenes with Grafft.
Flowers for Algernon is a reminder that our humanity comes from having respect for each other and that every person wants to be treated with dignity, and in bringing this script to life, Richmond Hill delivers a powerful piece of theatre that is timeless – but also very timely.
Flowers for Algernon runs at the Richmond Hill Barn Theatre (600 Robinson Road, Geneseo) through October 16, and more information and tickets are available by calling (309)944-2244 or visiting RHPlayers.com.