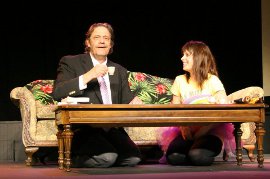 New Ground Theatre's current offering, Mr. Marmalade, is about four-year-old Lucy and her imaginary friends. Suicidal, coke-snorting, physically and mentally abusive imaginary friends. And it's incredibly funny. One particularly dark scene during Thursday's performance, in fact, had me laughing so hard, for so long, that I was wiping away tears by the end of it.
Remembering how impressed I was with director Patti Flaherty's handling of playwright Michael Callahan's dark one-act in New Ground's January presentation Bad Habits, I had no doubt she would treat author Noah Haidle's dark comedy with equal abandon here, and more than adequately highlight its humor. But it's also to the production's benefit that Patti isn't the only Flaherty involved; in his role as the titular character, her husband Pat Flaherty's gravely voice and gritty style seem perfect fits for the cocaine-addicted, abusive imaginary friend.
The intensity of his performance, with its tinge of acknowledgment of the humor in it, is over-the-top funny at times, particularly in the scene where Mr. Marmalade is snorting coke, yelling at his pretend wife (a four-year-old, mind you), and repeatedly calling her a "bitch" and other, even less respectful words. That a little girl is conjuring up a man who has to pencil her into his schedule (with the help of his personal assistant), and who berates her as if they've been married for years and he can hardly stand her, is, frankly, awful. However, knowing that all of this mature content is coming from the mind of a girl far too young to have experienced much, if any, of this stuff makes it shockingly funny.
Haidle's work does, eventually, cross a line for me with an action on Lucy's part that I find far too reprehensible to be funny - and, indeed, that elicited a momentary end to any laughter from Thursday's audience. This lull, however, was fleeting, as the hilarity of the rest of the show and the actors' performances eventually overshadowed any discomfort.
While Pat Flaherty masterfully handles the darker humor of his character, Jessica Denney's Lucy holds her own against him in every scene. Given her appropriately pouty face and vocalizations, the young age of Denney's character is clear, even though the innocence of the physical portrayal doesn't match Lucy's corruptly imaginative mind. Yet it's precisely that mismatch of purity and nefarious behavior that makes Denney so damned funny, and that drives home Haidle's irreverent jokes.
As Lucy's newfound friend, five-year-old Larry, Dana Moss-Peterson offers a similar combination of the blamelessness of a child with the tainted mind of an adult, but with an added sense of misery. Moss-Peterson delivers his dialogue as though he's sighing while he speaks, which adds unexpected, but not inappropriate, comic emphasis to each sentence. And whether real or imaginary (or some hybrid of both), his wrist-slitting, kleptomaniacal, pre-school flunky is a likably shocking character, thanks to Moss-Peterson's blend of sweetness and woe-is-me style.
Stephanie Moeller, who I'm used to seeing portray characters a lot more naïve than her disengaged sexpot of a babysitter here, shows great range shaping a figure so unlike her Juliet in the Prenzie Players' Romeo & Juliet last year, or her Tuptim in 2009's The King & I with Quad City Music Guild. Barb Engstrom, as Lucy's mother Sookie, seems a bit too doting and kind to be the source of her child's psychotic creativity (as I assume it's Lucy's family life that inspires her fantasies), but as a lusty, disrespectful boyfriend and Sookie's one-night-stand, respectively, Thomas Alan Taylor and Michael King enjoy only a short time on stage yet make big impressions with their clearly fleshed-out characterizations.
Rounding out the cast, Paul Workman brings delicacy and calm to his role as Bradley, Mr. Marmalade's assistant and the only imaginary friend who is consistently kind to Lucy. And Allen Whitmore's and Susan Perrin-Sallak's crass behavior and intentionally awkward dialogue as Larry's imaginary friends Cactus and Sunflower reminded me of those family members you don't want visiting you because they're so annoying - although watching someone else experience that familial frustration is familiarly funny.
What perhaps strikes me most about Mr. Marmalade, however, is how unexpected it is; with the play being a physicalized portrait of a four-year-old's imagination, I had absolutely no idea, on Thursday, where the story was going or what was coming next, which is part of what makes this comedy so much fun. There's a point in the show where Sookie asks her daughter, "What are you doing pouring ketchup all over yourself?", to which Lucy replies, "It was that kind of night." Happily, it's also that kind of play.
Mr. Marmalade plays at the Village Theatre (2113 East 11th Street, Village of East Davenport) through April 1. For tickets and information, call (563)326-7529 or visit NewGroundTheatre.org.