This past Friday was freaky. Because at the opening night for the Circa '21 Dinner Playhouse's Freaky Friday musical, the many stories of the evening – director Erin Thompson's return to the theatre where she got her start in 1993's Annie; her show being Thompson's first professional directing credit – included the sheer splendor of the entire performance, from the acting to the dancing to the incredible singing. My wife and I definitely left the experience saying, "That was freaky good."
Based on both Mary Rodgers' novel and the popular Disney films, Freaky Friday tells of a mother and daughter who don't see eye-to-eye on just about anything, and who, with the help of a magical hourglass, end up switching bodies to see what it's like to be the other for just one day. And while the material could have easily been presented as campy, cheesy, and over the top, what this show's entire production team and cast did with it was fantastic.
Daughter Ellie Blake, played by Michaela Moore, is in the throngs of her adolescent, rebellious stage when the story begins. But Moore has the challenge of playing an older, uptight mother trapped in a high schooler's body through the majority of the show, and the performer's physicality really made the magic believable. Along with her fine acting, Moore also delivers a very well-rounded vocal performance, with her breathing technique particularly impressive in the wordy opening number "Just One Day."
Ellie's flip-side is her mother Katherine, and Adrien Swenson's performance left me speechless. While completely embodying a teenager with spot-on mannerisms and impeccable timing, Swenson's vocal talents were not something I saw coming, and the most memorable song of the night – "Bring My Baby Home" – made my eyebrows shoot up due to Swenson's incredible singing voice, leaving me asking, "Where did she come from?!" Her acting was also a highlight of the evening, and in what was possibly my favorite song, "After All of This and Everything", Katherine-as-Ellie fights back tears as she sings to her brother Fletcher (Brennan Hampton) about everything she's been feeling. Swenson, here, does an amazing job of showing us a teen who is on the verge of crying but absolutely not wanting to.
One of the great things about this production is the overall-terrific ensemble acting. Hampton, as Ellie's puppet-handling younger brother, is a very talented up-and-coming local performer to keep our eyes on; considering his wonderful singing voice and very funny "Angry Bob" puppet timing, he clearly has a bright future ahead of him. Hampton also has a touching duet with Ellie's love interest Adam concerning "Women and Sandwiches," and Jake Perrotti plays this dreamboat hipster that all the girls have a crush on to a T.
Brittany Church portrays Ellie's nemesis, the uppity mean girl Savannah, and Church's sassy attitude and excellent hair flips make her downfall that much more satisfying. Paige Denton, as Katherine's personal assistant Torrey, is always a comedic scene-stealer, with her versatility as an actor always so nice to see.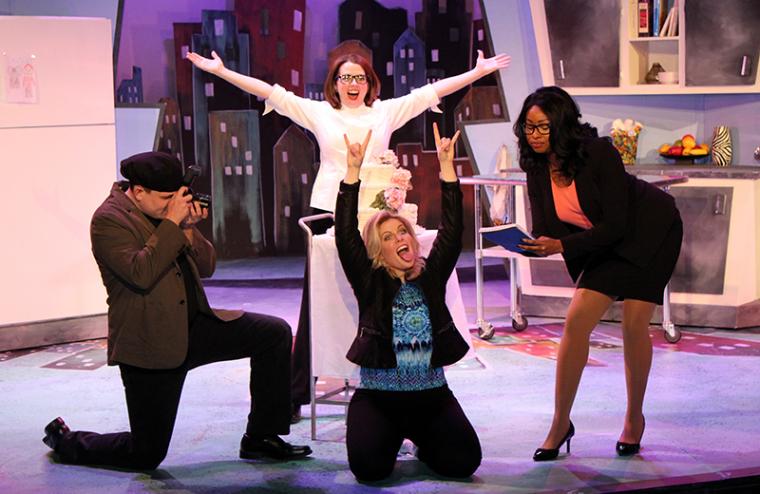 Kenton Fridley performs a very funny song as Katherine's fiancé Mike, singing his vows to the woman he thinks is Katherine but who is really Ellie, while she's desperate to avoid his physical affection. And included in Freaky Friday's stellar cast are Circa '21 regulars Brad Hauskins, Antoinette Holman-Nebinger, and Deborah Kennedy, all of whom pull triple duty playing at least three different characters. (Each one has their stand out moments, as well – Hauskins as an operatic school counselor, Holman-Nebinger as an all-business gym teacher, and Kennedy as clock-store owner Mrs. Time – and each gave truly enjoyable performances throughout the night.)
Scenic designer Erica Zaffarano created a beautiful city skyline highlighted by LED lighting, musical director Travis Smith no doubt helped every vocalist bring out their strengths, and designer Greg Hiatt provided a slew of different costumes ranging from police officers to caterers. The real surprise of the evening, however, was learning that this was director Thompson's first professional show. Not only did she direct, but she also choreographed, and the dancing and movement in this production were among the elements that fascinated me most. Thompson's choreography was precise yet not overly difficult (which was to the show's benefit), and all of the characters' blocking and physicality added to an already well-rounded production.
I, for one, look forward to what I hope are many more Thompson-directed productions, because this Freaky Friday is a superb one that brings an incredible cast of actors together for a freaky-good time.
Freaky Friday runs at the Circa '21 Dinner Playhouse (1828 Third Avenue, Rock Island) through March 24, and more information and tickets are available by calling (309)786-7733 extension 2 or visiting Circa21.com.