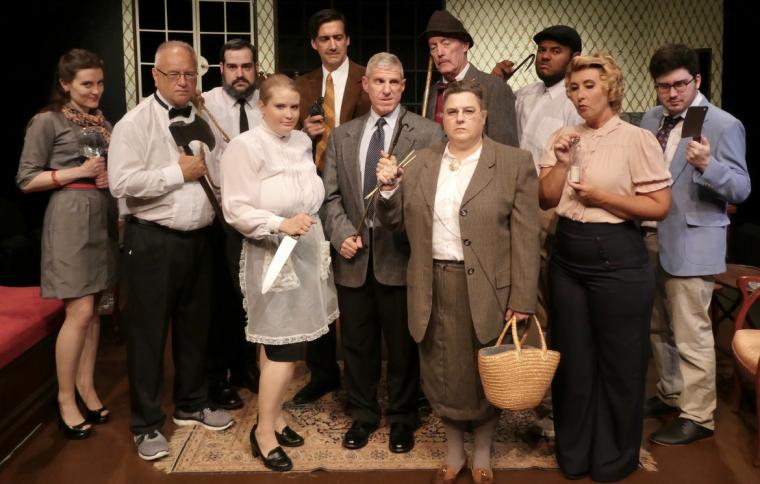 Agatha Christie's And Then There Were None – the story of murder on a remote island – was published in 1939 and adapted into a play in 1943, and is one of the top-10 bestsellers of all time. If you like the game Clue, or just a good whodunnit, you will likely enjoy this mystery, as the audience is taken on a suspenseful ride that's filled with twists and turns until its last scene. And while the Playcrafters Barn Theatre's current presentation of the piece, under the direction of Cynthia Safford, has a straightforward approach and is less scary than some productions I've seen, it's still effective.
And Then There Were None finds a mysterious Mr. and Mrs. U.N. Owen inviting eight guests to an island mansion accessible only by a boat that lands once per day. The absent Owens have newly hired a maid and butler to tend to the guests' needs, and as the visitors become acquainted with one another, they begin to question the purpose of the gathering, considering none have ever met the Owens. Tensions build early, and it's soon revealed that all of the guests have been responsible for the deaths of innocent people – acts for which they were never punished. Consequently, as the first of these guests is killed by poisoning, they realize that retribution is imminent in the form of their own murders that will be tied to an old English nursery rhyme in which 10 soldiers die, one by one, until "there were none."
The guests must subsequently discover the mastermind of this sinister plot before it's too late, and set builder Bob Hanske and his crew added all the right touches to the production's 1940s-mansion living room; the furniture and set pieces – including a large, floral area rug, chandelier, fireplace with mantel, bar cart, phonograph, and French doors – are all of the period. Playcrafters' thrust stage, meanwhile, didn't deter the actors' movements, as the set and Safford's direction allowed them to exit and enter in natural ways.
And Then There Were None's plot builds in suspense, and during September 8's performance, the scene changes and removal of some props were a little slow, causing unintentional breaks in Christie's tension. (Hopefully, this opening-night problem was remedied afterward.) But staying true to the author's original intent, Safford's actors spoke in British accents, and happily, they were totally comprehensible. When watching BBC productions on TV, I generally need the closed-caption feature on, but here, the actors spoke clearly and distinctly.
David Lane's Captain Lombard and Marissa Franks' secretary Vera Claythorne played well against each other as the mystery's two most likable characters. With Lane's debonair manner and Franks' occasionally furtive looks, they kept me guessing as to their guilt or innocence. Another solid performance was given by Mike Bennett as Judge Lawrence Wargrave, whose impressive rendering of character was strongest when he took charge and tried to help the others survive as their numbers dwindled.
John Donald O'Shea was perfectly cast as General John Mackenzie, his stoic demeanor and sadly resigned attitude made manifest in his heartbreaking admission about his wife and a soldier once under his command. And Jim Driscoll was equally well-suited to his role as William Blore, a man whose past we aren't quite sure of, as he's clearly concealing his true identity at the beginning of the night. Driscoll plays Blore as a cunning, in-your-face type of guy – a cunning sort who naturally suspects everyone.
As Emily Brent, a character with a dire secret in her past, Yvonne Siddique had the task of playing a woman whose moralistic judgment of others made her most unpleasant. And although Siddique delivered her lines well, I wanted more sneer and self-righteousness, which would have made the revelation of her secret more discordant and shocking. Sondra Karben's interpretation of Dr. Edwina Armstrong, meanwhile, was intense … yet something was amiss, as her character's nervous edginess made me question her medical abilities and stability from the get-go. I would've liked to have seen this talented actress portray her character as a capable doctor who instead regresses into a desperate, scared woman – one who's eventually duped by another guest.
On opening night, there were some hits and misses by others in the cast, but overall, this And Then There Were None was not only entertaining, but thought-provoking. Who among us has not thought of judgment and justice, and doesn't carry some form of guilt for a past indiscretion? These human shortcomings are exposed in this story of murder and retribution by Agatha Christie, and performed with adept guile by Playcrafters' cast. It's a literal guilty pleasure.
And Then There Were None runs at the Playcrafters Barn Theatre (4950 35th Avenue, Moline) through September 17, and more information and tickets are available by calling (309)762-0330 or visiting Playcrafters.com.