During Friday's performance, the QC Theatre Workshop's The Pillowman had me in stitches. While I didn't laugh loudly often, I did chuckle repeatedly throughout the performance, only subduing my laughs out of concern that the subject of my delight was too dark to be funny. But playwright Martin McDonagh's dark comedy is both unquestionably dark and outrageously funny. I mean, it has a young girl (Laila Haley) who considers herself Christ-like proclaiming, "I don't think I'm Jesus. I [effing] am Jesus!" That is some dark comedy.
McDonagh's tale of short-story writer Katurian (Thomas Alan Taylor) being questioned by detectives Tupolski (Reader employee Mike Schulz) and Ariel (Cole McFarren) for initially unknown reasons also boasts some of the most intriguing theatrical tales I've heard. As the policemen bring up Katurian's stories, they're read aloud, and every one of them had me riveted and proved as interesting as the play as a whole. Then, about an hour into the first act, Katurian stands, designer Robert Poston's lighting scheme changes to a darker look with washes of light, and scenic designer Matthew D. Elliott's interrogation-room side walls (which look like they're lined in brushed metal) swing forward to create stage wings. From behind these wings, Brooke Schelly, Sam Jones, Brody-Tucker Ford, and Laila Haley emerge, fully done up by costume and makeup designer Ashlea Meyer to look like puppets. Portraying the mother, father, boy, and girl in Katurian's stories, director Tyson Danner has these four actors move about like marionettes, adding an increasingly creepy air to the already creepy tales they're acting out.
I was fascinated with The Pillowman from beginning to end, not only for McDonagh's genius script, but also for Danner's tense, humorous, surreal staging. This encompasses not only the puppet sequences, but the beautifully paced scenes in which Katurian is questioned, and his conversations with brother Michal (James Fairchild), who is also being questioned for the deaths of several local children - kids killed in ways that closely resemble the fantastical, disturbing deaths of children in Katurian's stories.
In his role as Katurian, Taylor once again adds a new color to his chameleonic talent, creating another character markedly different from any other I've seen him portray. His Katurian begins as a soft-spoken, somewhat fearful, almost slow-minded man trying to figure out why he's being held by the police. But as his stories are put into question and he learns that Michal is also being held, Taylor's Katurian grows ìnto a passionate, bold man who defends his writing talents and demands to check on and care for his brother. (For his part, Fairchild is never more believably mentally challenged than when delighted by something, offering a childlike glee in his scrunched-up face and small hand claps.)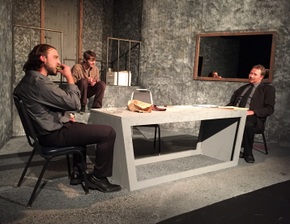 Schulz is ideal for the part of Tupolski - or rather, the role is perfectly suited to Schulz's acting sensibilities. Here, the actor is able to employ what seems to be a favorite technique of his, which is to turn on a dime. He'll start with a deadpan or condescending look at someone as that person prepares to respond, generally in an aggressive manner. But then he'll suck in air and offer a softer, increasingly quick speed of speech that's funny both for being unanticipated and for the delight in Schulz's tone. As the "good cop" of the duo, Schulz also wears an air of superiority over both Katurian and McFarren's hotheaded, violent Ariel. I was amused and frightened by him, knowing I'd hate to be questioned by this detective for the shaming way in which he interrogates.
Yet again, the QC Theatre Workshop proves that it sets the bar high for itself and its subsequent productions, as well as for the surrounding community. The Pillowman is an exceptional play staged exceptionally well here. With sharp wit, extraordinary creativity, soul-piercing provocation of thought, and remarkable performances, this production reminds me why I love theatre.
The Pillowman runs at the QC Theatre Workshop (1730 Wilkes Avenue, Davenport) through November 15, and more information and tickets are available at (563)650-2396 or visiting QCTheatreWorkshop.org.