The women of The Two Gentlemen of Verona shine in the Prenzie Players' latest production. Maggie Woolley's effervescent Julia and Catie Osborn's enrapturing Silvia - characters courted by the two gentlemen of the title - are especially captivating, thanks to Woolley's and Osborn's layered portrayals of ladies in (and later out of, and then back in) love. They're among a group of female actors here that offer dynamic, entertaining performances filled with notable nuance, aplomb, and, when called for, titillating humor. And they are a credit to director Andy Lord's vision for what seems to me one of William Shakespeare's weaker, less refined plays. The women help add emotional depth to the text, while Lord wisely places the comedic aspects of the tale at the forefront through his cast's energetic performances.
The men don't deserve to be ignored, though. As the titular characters, Cole McFarren is every bit a stately gentleman as Valentine, while Joey Curtiss offers a relatively youthful Proteus less jaded by life's experiences. While Curtiss, to the detriment of his deliveries, did tend to (attempt to) speak some of his longer lines all in one breath during Friday's performance, his Proteus is presented as less dramatically dark than simply realistic. As a result, Proteus' decision to forsake his newfound love Julia for Valentine's true love Silvia seems more a mistake of the, um, "heart," rather than a dastardly scheme at the expense of his friends.
I must admit that I did not catch anything that Proteus' servant Lance (Adam Michael Lewis) said during his initial scene, as I was so captivated by the dog - Sergeant Leon Maxwell Edison VonPepper - that accompanies Lance throughout the play. Judging by the steady flow of "Oh"s and "Ah"s, the scruffy canine, playing Crab the Dog, managed to win over the crowd with his unwittingly timely barking at the audience and other cast members, all the while being easily placated with treats from Lewis. Yet these barks oftentimes fell in between Lewis' lines, as though planned, and rendered the dog's scene-stealing ways all the more entertaining. Fortunately for Lewis, though, he also has a scene that does not include the dog, in which - with the aid of a female he plucks from the audience - he explains his list of positive and negative (-until-creatively-explained) attributes for his ideal woman. Lewis' delivery is so believably extemporaneous that, were his lines not hilarious, the scene would still be remarkable for the actor's sincere delivery.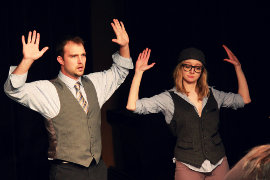 As Valentine's page Speed, Stephanie Moeller is every bit spunky and sprightly, traits I've found consistently enchanting in her various portrayals in past productions. While Kitty Israel is firm yet friendly as Lucetta, Julia's waiting woman, Andy Koski portrays Proteus' father Antonio with toughness, and Denise Yoder plays Antonio's servant Pantina with self-assurance and dignity. Together, however, the three are most delightful as a trio of outlaws that overtakes Valentine and Speed after the former is banished by Silvia's father for attempting to use a rope ladder to reach Silvia in a tower. Israel, Koski, and Yoder are so goofy that it's hard not to smile throughout their scenes and buffoonish banditry.
Koski, however, outdoes his work even in those sequences while playing Eglamore, a suitor of Julia's who later helps Silvia escape. Koski's Eglamore, with his Latin bravado, is reminiscent of Mandy Patinkin as The Princess Bride's Inigo Montoya, with a dash of Antonio Banderas' Puss in Boots (of Shrek fame) thrown in to spice things up even more. The result is a charismatic character that is utterly enjoyable. Adding Tracy Skaggs' unforgiving and stately Duke of Milan and Andy Curtiss' amusingly foolish suitor Turio, Lord's cast presents Shakepeare's The Two Gentleman of Verona in its most entertaining light.
Two Gentlemen of Verona runs at the QC Theatre Workshop (1730 Wilkes Avenue, Davenport) through December 15, and more information and tickets are available by calling (309)278-8426 or visiting PrenziePlayers.com.