Annoyed by local radio stations that switch to 24 hours of holiday music on November 5, as well as stores that set up holiday displays before Halloween, I wasn't all that keen on seeing a Christmas musical in early November. However, Irving Berlin's White Christmas is my kind of holiday production: It's light on its emphasis on Christmas cheer, and plays out as a musical that just happens to take place ahead of the holidays.
With its latest, the Circa '21 Dinner Playhouse's production set me on my first step toward the holiday spirit, with Berlin's wonderful songs boasting fantastic vocals and rich harmonies during Saturday's performance. The cast could drop the book by David Ives and Paul Blake and simply perform the songs, and the piece would be just as superb, especially given director/choreographer Ann Nieman's energetic, infectious dance steps. (This is particularly of those numbers featuring tap, among them the showstopping Act II opener "I Love a Piano.") They don't drop the book, though, and White Christmas' plot featuring two servicemen seeking a female duet for their musical act - a means of honoring their former general - only adds to the fun.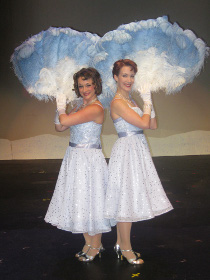 Despite Circa '21's delicious, holiday-spiced meal and one of the most entertaining, energetic pre-shows I've yet seen from the Bootleggers (who perform songs related to year-round weather), I was initially a bit underwhelmed by Susan D. Holgersson's minimalist scenic design, with the stage's ornamentation limited to period, German-style, two-story buildings on the sides of the performance space. I was, at least, until I realized the beauty of Holgersson's set lies in its adaptability by way of backdrops, employed to depict settings such as the ski lodge and barn owned by Michael Kennedy's General Henry Waverly, and the show's roll-in set pieces. Those include the train cars that show one side of the train traveling to the Vermont ski lodge, where Trey Getz's playboy Phil wants to convince stage partner Bob (Daniel S. Hines) to add sisters Betty and Judy Haynes to their musical revue - sisters played by the beautifully paired Sara Tubbs and Erin Churchill. (Along the way, there's an effort by Phil and Judy to get Bob and Betty to fall in love, which seems an insurmountable task given their tense first meeting.)
The story of these four is supported by a cast of colorful characters, including Kennedy's lovably crotchety General Waverly and the woman who runs his ski lodge, Rachelle Walljasper's Martha. Walljasper offers another of White Christmas' several showstopping numbers in her Ethel Merman-esque delivery of "Let Me Sing & I'm Happy," with Jordyn Mitchell, on Saturday, offering a sweeter reprise of the number as Waverly's plucky daughter Susan. (Mitchell shares the role, on alternating performances, with Laila Haley.)
Kelly Lohrenz and Allison Nock delight as a couple of dimwitted, squeaky-voiced bimbos, and Brad Hauskins elicits laughs with his handyman-of-few-words Ezekiel. My only complaint with any of the characterizations would be with Tristan Layne Tapscott's Mike, who serves as Bob's and Phil's stage manager. Tapscott, whom I usually enjoy seeing perform, here attempts a nasally voice for his tense, over-stressed character that renders his Mike as an obvious character, one not unlike a Muppet (which might be understandable, given that the voice is similar to the one Tapscott employed for Rod in the District Theatre's Avenue Q).
I otherwise enjoyed Circa '21's Irving Berlin's White Christmas, with its parade of fabulous gowns - and a particularly snappy white tuxedo with a yellow vest and tie - by costume designer Gregory Hiatt. It may be too early for Christmas, but this musical is an excellent way to usher in the holiday season.
Irving Berlin's White Christmas runs at the Circa '21 Dinner Playhouse (1828 Third Avenue, Rock Island) through December 28, and more information and tickets are available by calling (309)786-7733 extension 2 or visiting Circa21.com.