Thank goodness for second acts, because Saturday's production of the Circa '21 Dinner Playhouse's Funny, You Don't Look Like a Grandmother, with its first act that almost put my own mother-who-doesn't-look-like-a-grandmother to sleep, had us laughing fairly heartily during its second half. Director Ann Nieman's staging of this modern-granny revue is fun and comfortably paced, and her choreography is oftentimes peppy and clever, especially in the yoga-class number and the jazzy, early-20th-Century-styled footwork of the musical's high-energy "Grandmas to Go," which features the play's three leads - Karen Pappas, Deborah Kennedy, and Andrea Moore - singing gorgeous, tight, impressive Andrews Sisters-type harmonies.
Not working in Nieman's favor, however, is the music. Composer Robert Waldman's songs feel monotonous when chained together, as they're too similar in style, and lyricists Lois Wyse's and Sheilah Rae's lyrics seem uninspired, sounding more like poorly written monologues that have been musically altered with weak and obvious rhymes. To their credit, though, Wyse's and Rae's book for Funny's song-less scenes is sometimes hilarious, particularly the "Grandmother of the Year" speech that Pappas delivers about winning over her grandson to the point that he begged for her over his mother. (This bit climaxed with a sharp, unexpected punchline that had Saturday's audience guffawing and applauding louder than after any other scene.)
Costumer designer Gregory Hiatt does an exceptional job, as always, dressing our three nameless grannies. He differentiates them by character - businesswoman, modern "everyday" mother, and stereotypical, doting grandma - with age-appropriate attire that's still somewhat stylish, while also having them begin to cross over into grandmother-who-doesn't-care-about-fashion ensembles. His greatest triumph, in my estimation, is the 16th Century dress Kennedy wears during Act I's best scene, "When Harry Met Annie," designed as a fairytale in which, halfway through, Kennedy strips down, tosses the long gown aside, and reveals a spaghetti-strapped, mid-thigh-length, shimmery gray cocktail dress. That outfit looks stunning and sexy, as does Kenney wearing it, as she delivers a jazzy number about returning to the dating scene and taking a chance on a man who wants a younger woman.
This sequence, particularly given the show's title, demonstrates what I think the entire musical should have been. Embodying the attitude of a woman who's still active, flirty, and sexy even though she's just become a grandmother, the scene is funny, the song is inspired (though the lyrics are not), and the tempo is upbeat and rousing. Instead of maintaining these qualities throughout, however, Wyse, Rae, and Waldman instead opted for a nice and sweet take on new-grandmotherhood. Act II is peppered with more of a modern-grandma attitude than Act I, but "When Harry Met Annie" left me wishing there were more scenes like it than there are.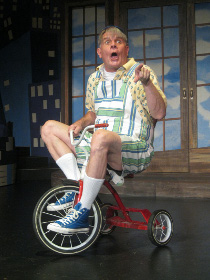 All is not lost, though, as in addition to Pappas and Kennedy, Moore also performs her heart out, especially when her character goes through old clothes prior to moving into a smaller home, and has trouble letting go of long-unfashionable fashions because they make up who she was and is now. In this "Out of the Closet" scene, Moore also shares some beautiful harmonies with Rachel Schimenti, who plays the generic Daughter of the musical. Will Aaron, the generic Son, impresses most during a number featuring him (in a flattering sleeveless shirt) as a dance instructor teaching Kennedy's grandmother modern moves, and Paul Gregory Nelson excels at differentiating a number of universal Grandfathers.
One of the best bits, however, is the scene that has Moore, Nelson, and Pappas dressed as babies, riding tricycles in big bonnets and petticoats. Performing a comedy style reminiscent of Hee-Haw's cornfield-gag routines mixed with Lily Tomlin's Edith Anne, the three elicit laugh after laugh as they lament their grandmothers' actions, such as dressing them up and pinching their cheeks. The jokes are sometimes uproarious, as when one of them asks what a "pee pee" is and Pappas says, "I don't know, I've never seen one."
In truth, when my mother told me at intermission that she was having trouble staying awake, I told her that I wouldn't be offended if she wanted to leave. She declined and, at the end of the evening, was glad for it, as we both enjoyed the latter half - and wound up discussing some of our favorite bits - of Circa '21's Funny, You Don't Look Like a Grandmother.
Funny, You Don't Look Like a Grandmother runs at the Circa '21 Dinner Playhouse (1828 Third Avenue, Rock Island) through November 1, and more information and tickets are available by calling (309)786-7733 extension 2 or visiting Circa21.com.