Genesius Guild's Ecclesiazusae is perhaps the most ridiculous thing I've ever seen on a local stage, and that's what I found so charming about it.
Inspired by Aristophanes' Greek comedy about women taking over Athens, Genesius Guild's production is a hodgepodge of pokes and jabs at local icons, including Genesius Guild itself. Director and writer Don Wooten's show lampoons Mary from Good's Furniture, Circa '21's Bootleggers, Quad City Music Guild, Bill Wundram, and many more familiar faces and groups.
Sunday night's performance marked my first time seeing one of Genesius Guild's season-ending comedies, and I had very little idea of what to expect beyond (as I was told) Guilders running around on stage acting silly. The show is certainly silly, but it's also witty and jovial, the entire production playing like a celebration after a summer of hard, serious work. And yet, it's not exclusive; I felt like Genesius Guild was letting me be part of the fun, and not condescendingly allowing me to watch the group's revelry. There were inside jokes in spades, but they weren't so inside that most members of the audience wouldn't be in on them, as well.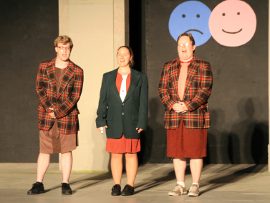 The evening begins with Bryan Woods setting the stage as the Stage Manager. Deftly spouting sharp, often self-deprecating comedic lines, Woods kicks off the evening's laughter with not just chuckles, but hearty guffaws. Pat Flaherty, Hanna Munden, Joe Curtiss, and Melita and Philip Tunnicliff then follow as the Bootlickers, hilariously parodying Circa '21's performing wait staff, and responsible for two of the night's jokes that caused me to wince a bit (while laughing) at their pointed nature.
Andrea Braddy takes on Mary from Good's in a mocking monologue as Mary Monotone, and thrives later in the play as Grizzly Mom, quickly recognizable as Sarah Palin. Braddy's looks give Tina Fey a run for her money in portraying the Tea Party darling, and Tim Miller - like Braddy, costumed to perfection - is consistently funny as the hunchbacked, leg-dragging, non-speaking Igor.
As for the women central to Ecclesiazusae's storyline, Lisa Pilgrim' Bedraglia and Patti Flaherty's Praxagora lead a chorus of singing, dancing, speaking-in-unison housewives intent on overthrowing the government. Their musical numbers aren't very polished, but are incredibly amusing and endearing in their imperfection, and the songs also offer a welcome change of pace in the midst of so many monologues. My personal favorite among the women, however, was Flaherty, who was so impressive in her comedic delivery, and boasted such stage presence, that my jaw literally dropped. Why is this the first time I've seen this woman perform? She's so captivating, so comically adept, that I'd welcome seeing her in every comedy produced in the Quad Cities from this point forward.
While the women shine, they don't entirely overshadow the men. Michael Phillips and Joe Curtiss are particularly delightful as the French Army (familiar characters to fans of Monty Python & the Holy Grail), while Bob Hanske's Blepyros, Earl Strupp's Pheidolos, and Michael Miller's Chremes continually one-up one another, fighting over everything from the show's plot to which of them is the play's dirtiest old man.
Andy Curtiss counters them with the play's most sincere character; the actor doesn't play for laughs in his role as Epigenes, but is charmingly likable. That is, he is until he portrays one of the Oracles alongside Bryan Woods and Sarah Murphy, when the trio's parodies of Glenn Beck, Bill O'Reilly, and Rachel Maddow unashamedly induce laughter at the expense of the commentators. So, too, does Ken Roberts' turn as Rush Limbaugh, while Don Faust is equally hilarious as Billy Wonder, an amicable mockery of Bill Wundram.
The only cast member who felt a little off on Sunday night was Earlene Gould, who portrayed Anne Hathaway portraying Mrs. Shakespeare (if I caught her character's introduction correctly). Gould could stand to tighten up her pacing, which would keep the comedy from falling a bit flat during her monologue, but otherwise, the show was funny from start to finish, and oftentimes downright hysterical. I'm stingy with my standing ovations, but I was so delighted by Sunday's performance of Ecclesiazusae that this was one of the rare occasions when I actually wanted to lead one.
For more information, visit Genesius.org.
Thom White covers entertainment news for WQAD Quad Cities News 8.