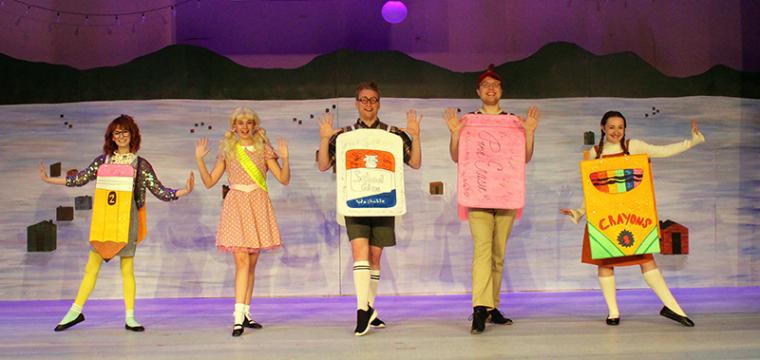 Thursday, March 30, through Saturday, April 22
Circa '21 Dinner Playhouse, 1828 Third Avenue, Rock Island IL
Described by the New York Times as "effervescent and entertaining," and by Online America as an all-ages show that delivered "fresh bursts of energy," Rock Island's Circa '21 Dinner Playhouse opens its 2023 season of high-spirited family musicals with Junie B.'s Essential Survival Guide to School, an adaptation of Barbara Park's beloved children's-book series about the riotous and winning young Junie B. Jones.
With its young heroine returning in this joyful show filled with new songs and new essential lessons, the saga of everyone's favorite wisecracking first-grader continues in Junie B.'s Essential Survival Guide to School. A self-appointed expert on all things elementary school, Junie B. is determined to write the ultimate guide to help fellow students through these difficult formative years. Yet as she deals with writer's block and, as usual, constantly gets into trouble without meaning to, Junie B. quickly realizes that she still has a lot to learn. Featuring cheerful, upbeat songs from Marcy Heisler and Zina Goldrich (composers of Junie B. Jones: The Musical and Dear Edwina), Junie B.'s Essential Survival Guide to School is an enjoyably goofy, heartwarming show about owning up to your mistakes, reminding audiences, in a delightful way, that no one is ever done learning.
Circa '21's latest family musical is being directed, choreographed, and set designed by venue veteran Ashley Becher, who previously helmed such Rock Island productions as Irving Berlin's White Christmas, Seussical, Just Desserts, and Santa Claus: The Musical. Serving as the show's musical director is Circa '21 favorite Shelley Walljasper, an on-stage presence in Disney's Beauty & the Beast and the current Grumpy Old Men: The Musical, with additional members of Becher's creative team including costume designer Bradley Robert Jensen, sound designer Ben Takitch, production manager Jeremy Littlejohn, scenic artist Becky Meissen, stage manager and props/lighting designer Kendall McKasson, and assistant stage manager and deck manager Emmett Boedeker, the latter of whom also appears in the cast. Junie B. herself, meanwhile, is portrayed by Taylor Lynn (of Circa '21's recent We Will Rock You), with the ensemble completed by Bobby Becher, Savannah Bay Strandin, Krianna Walljasper, and Rachel Winter.
Junie B.'s Essential Survival Guide to School runs at the Circa '21 Dinner Playhouse from March 33 through April 22, with 10 a.m. and 1 p.m. show-only performances held on scheduled Tuesdays, Thursdays, Fridays, and Saturdays. Admission is $10 per person with group rates of $8-9.50, and more information and tickets are available by calling (309)786-7733 extension 2 and visiting Circa21.com.