There's an early point in the Richmond Hill Barn Theatre's Murder on the Run in which Sara Laufer's angel-to-be Kitty follows her explanation of the "rules" behind playwright Fred Carmichael's universe by saying to the audience, "I bet you're really confused, right?" Um, no. You just explained the story's rules very clearly and in great detail. And this exposes one of the flaws of Carmichael's writing: He makes sure absolutely nothing is left to the imagination. But at least the setup to this comedic murder mystery, though a bit convoluted, is kind of fascinating.
It finds Kitty trying to help three-years-dead screenwriter Jane (Stacy Herrick) figure out who murdered her at a ski lodge in Vermont. The suspects are several actors, a columnist, and a movie director who all have motives for killing Jane in order to get their hands on her latest and best film script. To solve the mystery, Kitty gathers the players in a sort of sideline reality in which they replay the events related to Jane's death. At times, they interact with Kitty (and even the audience); at others, they aren't aware she's there. If Kitty can help Jane figure out which of five people murdered her, the angel-wannabe will work off her final demerits earned from earthly bad behavior, and finally earn her wings and her way through the pearly gates (which, she explains, are not actually pearly - that's just PR).
All this could be confusing if Carmichael didn't over-explain things, and he also takes plenty of time introducing his suspects by having them talk with Kitty about themselves. Such introductions were fine the first time or two, but quickly got old and annoying. Doesn't the fun of a murder mystery lie in allowing the audience to try to solve it and figure things out for themselves?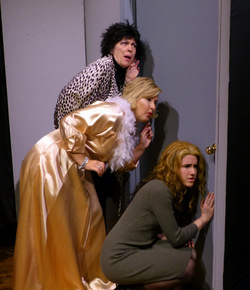 Yet I didn't hate Thursday's Murder on the Rerun, and actually somewhat liked it. Kitty's ethereal Blu-ray player, of sorts, with which she can pause and replay events is intriguing and imaginative. The characters are also fabulously, fascinatingly dressed by an uncredited costume designer, especially Jackie Patterson's immoral columnist Edwina, who wears nothing but black-and-white, usually in an animal print, and dons a black wig. (Were the wig itself black-and-white, she'd be Cruella de Vil). Sondra Karben's aging, arrogant performer Valerie Vickers wears the most stunning gowns, one of them accented with a gorgeous red shawl trimmed in black fringe, while Elizabeth Buzard's ingénue Betsy dons an aesthetically magnificent ombré wig with wavy curls.
Director Eugenia Giebel overcomes Carmichael's sometimes draggy script with peppy pacing and elicits performances that delight for not completely crossing the line into ridiculousness. Tech director Jennifer Kingry also has some creative fun with the lighting, using washes of various colors, such as pink and blue, to delineate changes in reality and time period. (While the set, for which no designer is credited, is cohesive in style and impressive in look with its black couches and glass bar, it unfortunately reads more "1980s club lounge" than "ski lodge.")
The actors also rise above the mildly funny script with their compelling interpretations. Herrick offers one of her more sincere performances, much to my delight, as does Don Faust as director Justin Wills, playing him as nonchalantly confident and not at all cocky. In contrast, Patterson tickled me with her columnist's dramatic airs, as did Karben with her nasally snotty line deliveries as an actor past her prime but refusing to accept it. (I want to read Edwina's stories about Valerie's life!) The continually furrow-browed Buzard rises above previous, emptily perturbed characterizations by layering Betsy with feigned genuineness and blossoming self-importance, and Archie Williams also improves on past portrayals as actor Hugh Lawton, who was Jane's husband when she was alive and became Betsy's after Jane's death.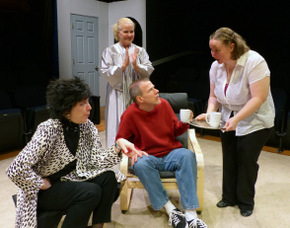 It's Laufer, though, who gives a performance that appears to employ every bit of her acting talent; she's believable, charming, engaging, and utterly lovable. There's this thing she does whenever Kitty encourages the others to figure something out: If they offer a smart answer, Laufer puts on a big, closed-lipped smile that stretches through her eyes and into her raised eyebrows, joyously nods her head, and offers an affirmative "Mmm-hmm!" While there are many things to praise about Laufer's performance, this routine, which recurs often, embodies the beauty of her stage time. She provides subtlety and an amiable nature in the way she floats through the proceedings, sharing conversation with Jane and then talking to herself, joyfully, over the discovery of some earthly delight she can eat.
Interestingly, though, my favorite part of the entire night came in the last few moments. While I chuckled here and there throughout the performance, I laughed heartily as Herrick turned Jane's attention to the audience, and started to work off her own demerits by helping others overcome sin - the "others" being several specific Richmond Hill patrons. The humor in this scene is so infectious, it would be worth sitting through the previous two hours even if they were almost unbearable. They aren't, though, and Herrick's final bit serves as icing on the decent cake that is Murder on the Rerun.
Murder on the Rerun runs at the Richmond Hill Barn Theatre (600 Robinson Drive, Geneseo) through October 11, and more information and tickets are available by calling (309)944-2244 or visiting RHPlayers.com.