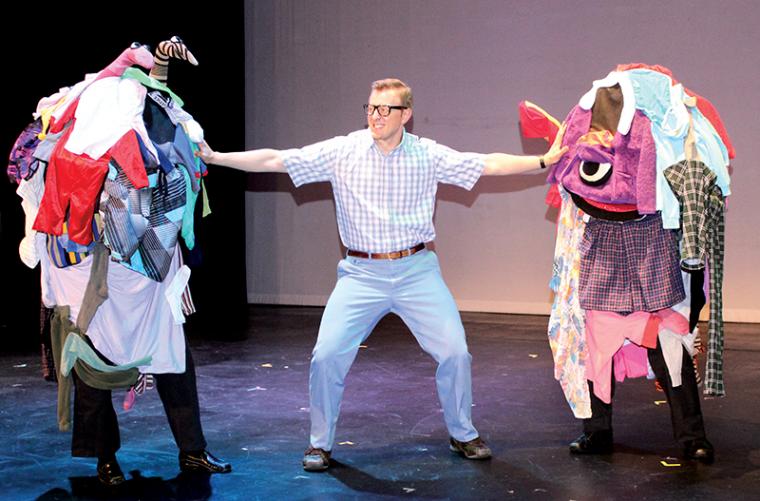 Tuesday, June 12, through Saturday, June 30
Circa '21 Dinner Playhouse, 1828 Third Avenue, Rock Island IL
Based on the beloved Caldecott Honor-winning picture book by six-time Emmy Award winner Mo Willems, Knuffle Bunny: A Cautionary Musical will delight family audiences at the Circa '21 Dinner Playhouse from June 12 through 30, its tuneful score, charming sentiment, hilarious comic adventures, and on-stage puppets resulting in a show that, according to ChicagoTheatreReview.com, "hits it out of the park."
With its score by Grammy Award-winning composer Michael Silversher, Knuffle Bunny: A Cautionary Musical features a perfectly simple setup: Girl loves stuffed animal; girl loses stuffed animal; girl fights to get stuffed animal back. In this family entertainment, Trixie, her father, and her favorite stuffed toy Knuffle Bunny – pronounced with a hard "k" – set off on a trip to the Laundromat. The trip brings wonder, excitement and joy to the lively toddler … until she gets home, that is, and Trixie realizes that she has left Knuffle Bunny at the laundromat. The child consequently does everything in her power to make her father understand the emergency and help her retrieve the cherished plaything, but Dad, unfortunately, fails to see the importance of the issue at hand.
The first of Circa '21's family musicals to incorporate puppets alongside its human actors, Knuffle Bunny: A Cautionary Musical is being directed by Andrea Moore, whose additional children's shows for the venue have included Fancy Nancy Splendiferous Christmas, Jingle Arrgh the Way, and Lyle the Crocodile. Cydney Weitzel, who recently appeared in Circa '21's Madagascar: A Musical Adventure, portrays Trixie, with her parents played by Michael Peck and Miranda Simone. And serving as puppeteers in the presentation are Kirsten Sindelar, Jeremy Weinstein, and Erin Churchill, the latter a venue favorite (Cats, Elf: The Musical, Route 66) who, as Knuffle Bunny, will get to employ the puppetry skills she acquired as a performer in the District Theatre's two productions of Avenue Q.
Knuffle Bunny: A Cautionary Musical will be staged on scheduled Tuesdays, Thursdays, Fridays, and Saturdays from June 12 through 20, with showtimes at 10 a.m. and 1 p.m. and tickets $7.50-8.50. For more information and reservations, call (309)786-7733 extension 2 or visit Circa21.com.