From the moment you step foot into the Playcrafters Barn Theatre for its production of Mama Won't Fly – a comedy by the popular team of Jamie Wooten, Jessie Jones, and Nicholas Hope – you'll hear Route 66 cruising music that gets you in the mood to take a road trip. The show itself subsequently delivers that trip, plus a few extra surprises.
When Southern charmer Savannah Honeycutt (Stephanie Moeller) promises her brother that she'll get their mother to his California wedding on time simply by flying her there from Alabama, she has no idea that Mama has other plans. And Karrie McLaughlin does a fantastic job as "Mama" Norleen Sprunt, playing the hard edges of a woman that her daughter initially despises for meddling in her business, and the soft tenderness of a mother who, in the end, really just cares – though maybe too much. McLaughlin's performance, which walks a fine line between mean and loving, has a Roseanne Barr quality to it; she may appear to merely be a likable eccentric quick with catty one-liners, but at her center is someone longing to connect with her daughter.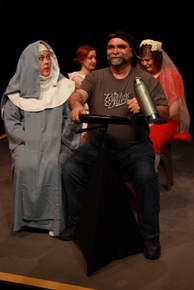 Mama tells Savannah she has a fear of flying, and decides instead to drive to California with Savannah riding shotgun, much to Savannah's chagrin. To top off this scenario ripe for disaster, Mama's son's fiancée Hayley Quinn shows up to take the trip with them. Hayley is a ball of energy, laughs, and a thousand words per minute, and Sydney Dexter portrays this Southern-belle bride-to-be with a perfect amount of pep, smiles, and nerves. During Mama Won't Fly's March 8 preview performance, one of Dexter's shining comedic moments came with Hayley in the backseat of the car during a singing montage – a bit that proved that while she may be a Southern belle, Hayley's singing voice sure doesn't sound like a bell.
After many last-minute bathroom breaks, the ladies' road trip gets underway and the script plays out like a sketch-comedy show, taking us to different locations and having one-liners or punchlines cap the end of every scene. The fast pacing in each sequence allows the audience to travel through a long list of locations including an Irish cowboy bar, a family reunion in Texas, a dingy hotel room, a wedding chapel in Vegas complete with disco ball and bubbles, and even a bra museum whose curator Essie is played by Jim Strauss. (Yes, you read that right. There are a few moments in the show in which men take on female roles.)
Director Aaron Lord and the set designer (unnamed in the program) did a creative job of fashioning what seems to be a minimalist set, but ends up featuring rotating walls that suggest each new location. With so many location changes involved, this clever design, along with the actors, did a fine job of keeping the storyline moving, and Lord's direction was especially great during scenes that took place in the car, all of which were mimed. These sequences showcased a lot of realistic mime work – which, being a part-time improviser myself, I greatly appreciated – and I particularly enjoyed Moeller's fidgeting with her invisible seat belt and mirrors.
Actually, it was a pleasure watching Moeller make a full character transformation all throughout the show. At the start, Savannah is a successful, cute-as-a-button cosmetics-business owner who seems to have it all together, even if she can't stand to be around her mother for very long. Over the course of the play, we see her slowly pushed to her limits as she becomes disheveled and filthy. But we also watch as Savannah begins to see the love that's behind all of her mother's actions. By the time she breaks down at the end, in a truly charming moment, Moeller has detailed Savannah's character arc like a pro.
Mama Won't Fly's story is filled with crazy characters and roadside antics. But the heart of the play is about family and not giving up on them, and may even suggest some road trips you yourself have had; everything that happens may seem like the product of bad luck, but it all turns out exactly the way it's supposed to. While Mama may not fly, this show certainly does.
Mama Won't Fly runs at the Playcrafters Barn Theatre (4950 35th Avenue, Moline) through March 20, and more information and tickets are available by calling (309)762-0330 or visiting Playcrafters.com.