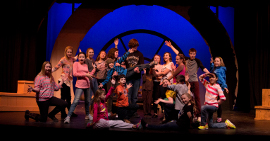 Fans of Jules Verne's 20,000 Leagues Under the Sea - either the novel or 1954's live-action Disney movie - should be excited to attend Davenport Junior Theatre's debuting stage version of the adventure classic, running February 15 through 23. Just as long, says playwright Aaron Randolph III, as those 20,000 Leagues fans aren't also 20,000 Leagues purists.
"Before I wrote it," says Randolph of his Verne adaptation, "I talked with a lot of people about 20,000 Leagues Under the Sea, and not a lot of people had read the book. But a number of them remembered the movie. So I asked, 'What about it do you remember?', trying to get a sense of the core components of the story, and the three things that everyone remembered were Captain Nemo, his submarine the Nautilus, and the part where the squid attacks the submarine.
"So I was like, okay, as long as the play has those three parts, everyone will see it and say, 'I remember that!'" continues Randolph with a laugh. "The rest of it, to be honest, is pretty wildly different." And while I haven't read the script, I'm presuming that's true, unless I'm forgetting Verne's choice to have Nemo and his crew burst into song.
"This is the first musical we've done in five years," says Junior Theatre's artistic director, and 20,000 Leagues producer, Daniel D.P. Sheridan. "But I'm guessing that we'll be doing one every season now, because the kids will demand it. When I've listened to them sing at rehearsals or watched them dance, seeing how excited they are, it kind of makes me go, 'Huh. We should've done one of these sooner.'"
(Longtime friends Randolph and Sheridan, it should be mentioned, are also longtime friends of mine, and last summer I was a cast member in the author's and director's local production of A Green River.)
Randolph and Sheridan actually came close to staging a 20,000 Leagues in 2011, when the pair was hired to write and direct a new family musical for St. Ambrose University. Their planned adaptation, instead, morphed into an original, similarly aquatic-themed work titled Dakota Jones & the Search for Atlantis. But the duo held onto their idea of staging the adventures of Verne's obsessed sea captain, and the notion became a reality after Sheridan determined that Junior Theatre's 2013-14 season would be one composed entirely of locally written plays.
"We like to work on classic stories that are tied with literature," says Sheridan, "or tied to literature in some way, like [2012's] Mia the Melodramatic. But it's growing continually more difficult to find plays that meet the goals of Junior Theatre in terms of the number of kids we want to have involved, and especially the quality of the scripts. I mean, you can tell when a script is talking down to the kids, or when it seems to be just for the adults, or when there's no passion to tell the story ... - no consideration for the overall quality of the experience.
"So for this season," he continues, "rather than sending money [for previously published scripts] to other communities, we decided that we could spend it here, and develop our own work with local playwrights. And maybe, in a few more years, we could have a small catalog of five to eight plays that we feel would impact the audience and the kids involved in a positive way. And maybe get those plays out to other children's theatres in the country, and become a reliable source of good, classic storytelling."
This past October, Junior Theatre staged a new version of Cinderella written by area playwright Roger Pavey, and this April will find the organization producing Sheridan's own adaptation of Pinocchio. Given their earlier plan for 20,000 Leagues, then, Randolph's Verne adventure seemed a logical choice for the season's third mainstage slot, even though the play's author concedes that the original work wasn't one intended for young audiences.
"It's not a children's story," says Randolph, "and that makes it a little difficult to turn it into a children's show. But there are certainly parts of the story that kids can grab onto. Like Captain Nemo's obsession to protect the sea. Kids can understand that idea of having something you're really passionate about, and being willing to fight for it. And they can understand that when that passion goes too far - when you're too focused on one thing - you can begin to hurt other people, like the captain does.
"So while I had to take a lot of liberties with the original material, there are still key elements that are intact. The characters are the same and, in general, have the same personalities as they do in the book - although we did change the gender of the professor character so there were more female parts. And there was one specific adventure that I picked out of the book that I thought would be appropriate for kids: when Nemo takes the crew to his underwater garden."
This segment, says Sheridan, is one he's particularly excited about. "Not only are we doing the show as a musical, but for the underwater scenes, we're doing a black-light puppetry seascape. Everyone on-stage will disappear, and all you'll see will be these fluorescent puppets in these special black lights that we had to order out of Chicago ... . We've never tried that kind of puppetry here before, but musicals always bring out the best in us in terms of wanting to do spectacle."
"I really wanted a scene where we could kind of see the wonder and the majesty of the ocean floor," adds Randolph, "because I love giving kids an experience that makes them excited about the possibility of what theatre can be. It's so rare, in children's theatre, to have the opportunity for spectacle, and for the opportunity to create exciting stage pictures that really hit their imaginations."
Among them, it should go without saying, is that squid. "We're planning to use some of our resources from Davenport Parks & Rec," says Sheridan, "and make the tentacles out of vent tube hoses, which are kind of like those garbage-chute-looking things you see at construction sites. We're going to try to take them and modify them so they can collapse, reach out, fall down from the ceiling ... .
"At least that's the solution we have so far," he adds with a laugh. "We'll see how it goes."
As for the rest of Junior Theatre's 20,000 Leagues, it's probably best not to enter with Verne-ian expectations of cannibals and human skulls - although you should be on a lookout for good-natured swipes at the Disney regime and a subplot involving the Nautilus' run-in with the Titanic.
"I guess my hope with the play would be that kids would see it and want to know more about it, and when they were an appropriate age, they'd be interested in wanting to read the Jules Verne story. Because with what we're doing," says Randolph with a laugh, "you would definitely not be able to follow along with the book."
20,000 Leagues Under the Sea runs at Davenport Junior Theatre (2822 Eastern Avenue, Davenport) February 15 through 23, with Saturday performances at 1 and 4 p.m., and Sunday performances at 2 p.m. Tickets are $5 to $7 at the door, and more information is available by calling (563)326-7862 or visiting DavenportJuniorTheatre.com.